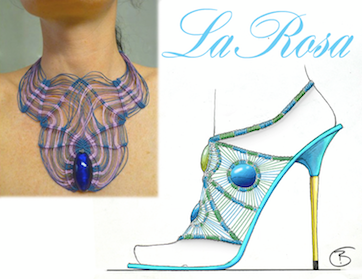 This summer, University of Houston student Cody Blazek put his best foot forward during three shoe design competitions.
Recently, Blazek, a senior in UH's Gerald D. Hines College of Architecture's Industrial Design program, took first prize in the Future of Footwear /Mesh01 Live Project in Las Vegas. The competition was conducted as part of Footwear Network (FN) Platform Magic Market Week, one of the largest fashion tradeshows in the U.S.
Blazek and other designers were given just 24 hours to design a shoe by rendering sketches live in front of hundreds on the trade show floor. His winning design for a woman's high heel dress shoe was inspired by a line of handmade women's neckwear he had spotted at the show.
"The design that won was a combination of about 10 or so variations I came up with," he said. "During the trade show, I laid my sketches across the table and asked passersby what they liked or disliked about each one. They pointed out different features on each drawing. I then combined some of these ideas in a new sketch that eventually won."
Blazek's presence at the popular fashion trade show was made possible by his participation in an online competition earlier this summer sponsored by Pensole Footwear Design Academy. More than 600 students submitted hand drawn designs to this competition. Blazek was one of 24 who were selected to participate in a four-week design camp at Pensole's headquarters in Portland, Ore. Blazek and other students learned more about the footwear industry from designers such as D'wayne Edwards (designer of top selling shoes including Air Jordan models XX1 and XX2).
During the four-week learning experience, 13 top students were selected for a paid trip to FN Platform Magic Market Week. Blazek's design for a construction boot for roofers earned him a spot among these designers.
High heels and construction boots are not usually mentioned in the same breath much less created by the same kind of designer. Still, both design challenges brought out his talents.
"You have to show range as a designer," Blazek said. "Being creative in general is very rewarding for me. I like to design anything and everything. The high heel project was a great exercise and an opportunity to expand and show my range."  
Blazek has long been interested in footwear designs. A long distance runner himself, he often felt frustrated by the running shoes on the market. During his high school years, he spent class time sketching the ideal athletic shoes simply as a hobby.
While working at a running specialty store, Blazek met a former UH industrial design student, who inspired him to pursue his interest in designing footwear. Since then, he's expanded his design interests to graphics, furniture and other consumer products.
The experiences at Pensole Footwear Design Academy and FN Platform Magic Market Week were invaluable to Blazek. Both were made possible by the expert training he's received from UH's Industrial Design program. Blazek credits the program with taking students beyond basic aesthetics and offering insight on the elements that make product designs functional for consumers.
"UH's program really focuses on the research and understanding aspects of design," Blazek said. "Students are trained to learn and think more about materials and the manufacturing process. We look past creating things that just look cool. We're being prepared to develop designs that serve a purpose and change the way people live."
UH's Industrial Design program in the Gerald D. Hines College of Architecture grooms aspiring designers through a calculated curriculum program. First-year students learn design fundamentals in the classroom and the studio. During their second year, students familiarize themselves with industrial design history, materials, manufacturing methods and visual communications skills. Third-year students conduct research and apply their findings to design projects. By their fourth year in the program, students are prepared for careers through curriculum addressing diverse design issues, design ethics, business practices and strategies.
A graduate degree in Industrial Design is currently being developed for UH's Gerald D. Hines College of Architecture.
In addition to its curriculum, UH's Industrial Design program connects students with world-renowned designers through extensive workshops and special lectures. It also hosts an annual exhibition to showcase students' projects.
In addition to industrial design, the Gerald D. Hines College of Architecture offers bachelor's and master's degrees in a variety of disciplines. These include architecture, space architecture and interior architecture. Faculty members include esteemed professionals in the architectural community, as well as award-winning academic veterans. Facilities include studio spaces, the new Materials Research Collaborative, computer labs and the Burdette Keeland Jr. Design Exploration Center. To learn more about the college, visit http://www.arch.uh.edu/.
---