Last year, the University of Houston's Moores Symphony Orchestra and Wind Ensemble debuted the ambitious performance "Transcriptions-in-Reverse." The orchestra performed pieces originally composed for bands while the wind ensemble took on works that were specifically written for orchestras.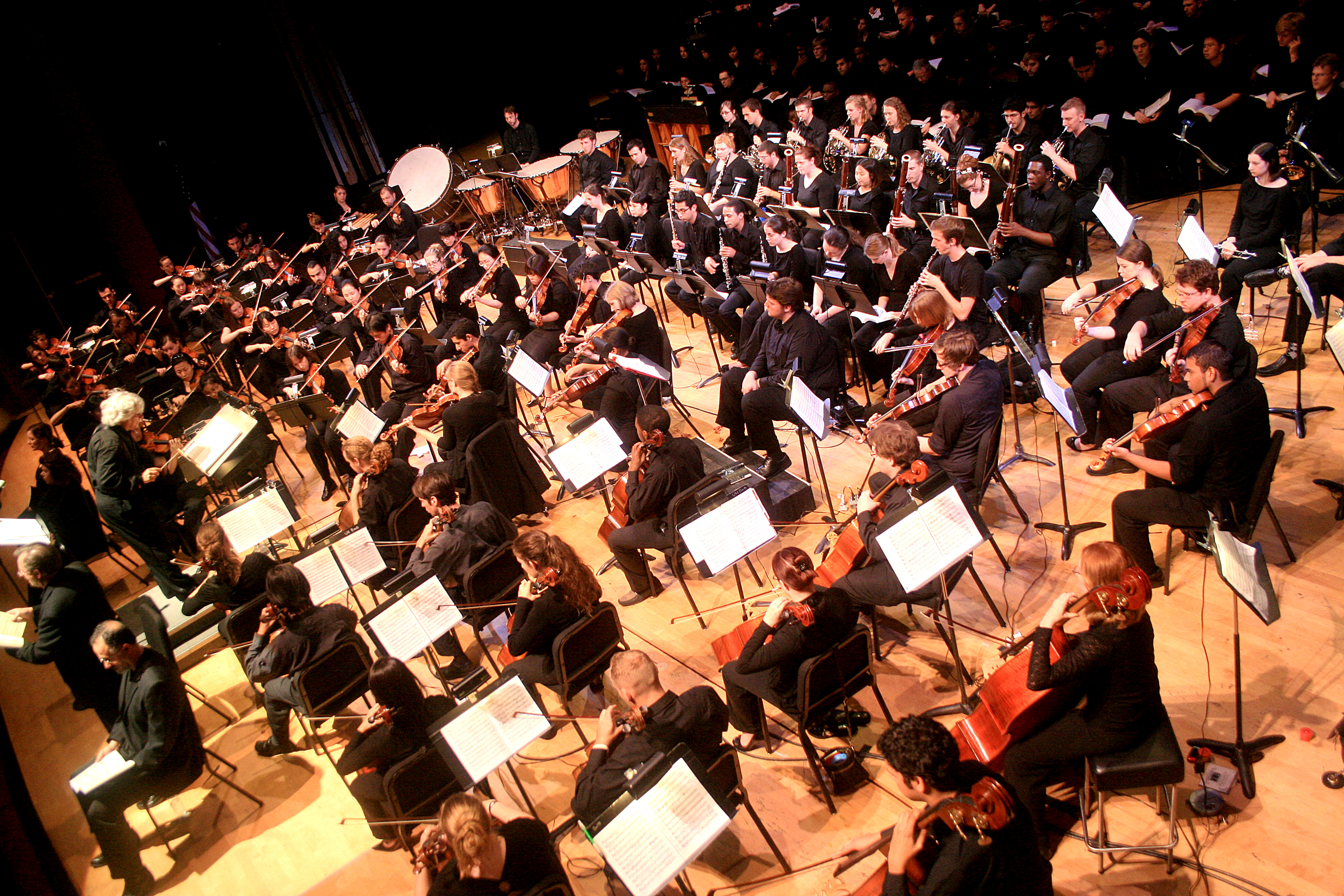 The novel concept wowed audiences and caught the attention of music professionals across the country. It also earned both groups invitations to perform at one of the world's largest music conferences, The Midwest Clinic in Chicago.
Before the orchestra and wind ensemble head to the Windy City, they will again share "Transcriptions-in-Reverse" with Houston audiences at 7:30 p.m., Dec. 7 in UH's Moores Opera House. Tickets are $17 and $12 for seniors, faculty, staff, students and alumni. For additional details, call 713-743-3313 or visit the Moores School of Music's website.
"University orchestra and band programs usually never meet," said Franz Krager, director of the Moores Symphony Orchestra. "They usually have different literature, different students and different conductors. We decided to show that fantastic things happen when our programs pair up. No one else is doing this."
Pieces to be performed during "Transcriptions-in-Reverse" include
Wind Ensemble: "Academic Festival Overture" by Johannes Brahms; "Slava" by Leonard Bernstein
Orchestra: "Folk Song Suite" by Vaughn Williams; "First Suite in E Flat" by Gustav Holst; "Lincolnshire Posy" by Percy Grainger
Combined: "The Ride of the Valkyries" (from "Die Wallküre"); "A Christmas Festival" by Leroy Anderson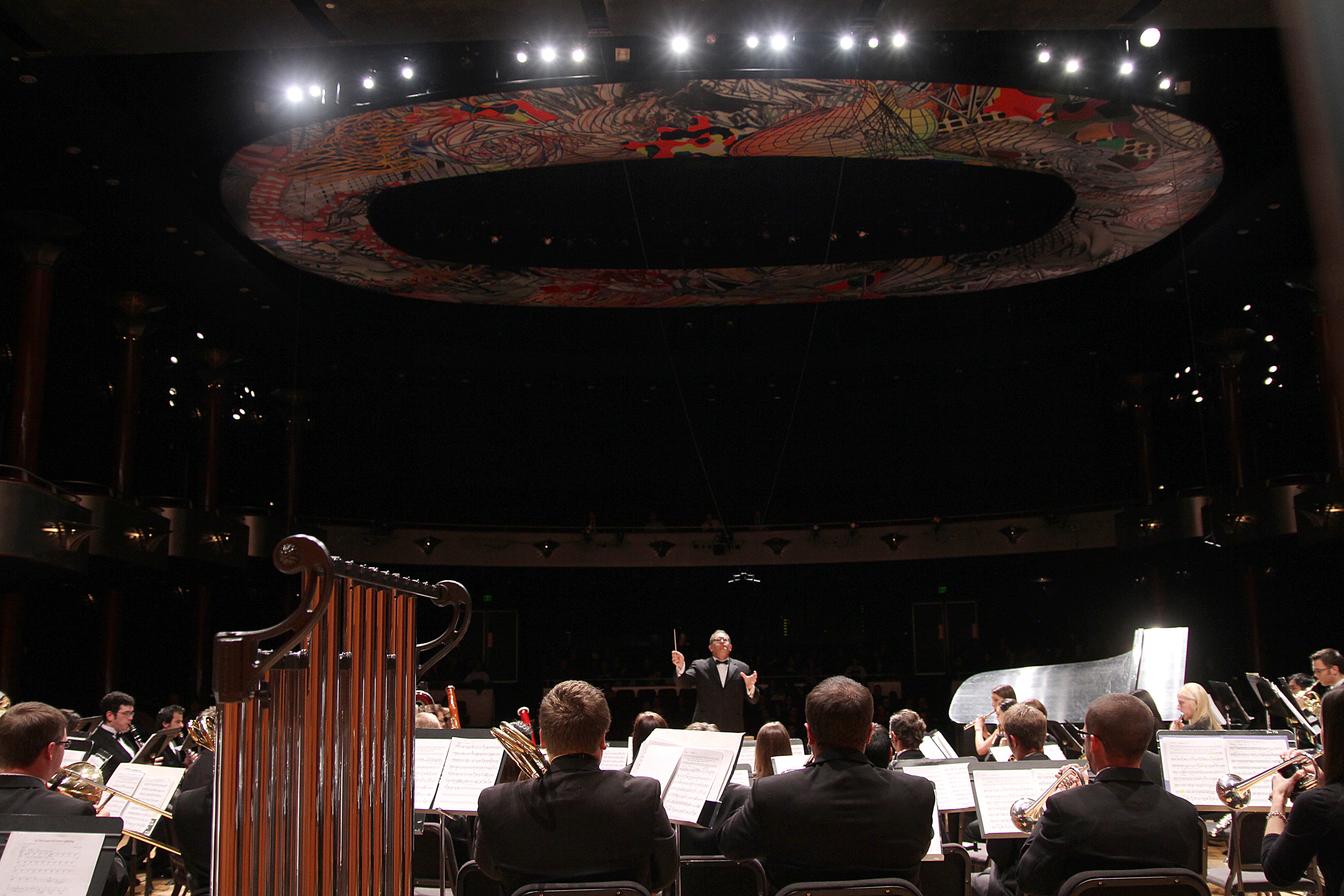 The concert serves as a preview of what audiences in Chicago will expect when Krager and David Bertman, UH wind ensemble director, take "Transcriptions-in-Reverse" to The Midwest Clinic. In Chicago, the orchestra and wind ensemble will perform at 11:30 a.m., Dec. 19 in McCormick Place.
Founded in 1946, The Midwest Clinic attracts thousands of musicians, educators and music fans from across the globe. In addition to performances, the international event offers learning opportunities for both teachers and students. In addition to UH's orchestra and wind ensemble, event guests include noted conductor Leonard Slatkin and jazz legend Wynton Marsalis. To learn more about The Midwest Clinic, visit its website.
"We will perform in a forum that is perhaps the biggest of its kind," Krager said. "We are anticipating a large audience of music students and professionals. They understand the fundamentals of music, so it will be a very discerning audience."
Guest conductors for the Houston and Chicago performances include Lowell E. Graham, James F. Keene, John L. Whitwell (Houston only), Richard Floyd (Chicago only) and Richard C. Crain.
The Moores School of Music is one of the premier music schools in America. Offering bachelor's, master's and doctoral degrees, it serves approximately 600 students annually. Areas of study include composition, conducting, performance, theory and musicology. Its faculty consists of internationally recognized performers, composers and scholars. Among its ensembles are the Moores School Symphony Orchestra, Moores Jazz Ensemble, Moores Opera Center, Concert Chorale, Concert Women's Chorus, Spirit of Houston Cougar Marching Band, Wind Ensemble and Percussion Ensemble. A majority of the school's concerts are performed in the 800-seat Moores Opera House. For more details on the Moores School of Music, visit http://www.music.uh.edu/.
---