The holidays put us in the mind of festivities and feasts with family and friends. They also move us to remember that others are less fortunate.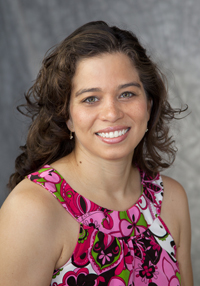 Daphne Hernandez, assistant professor of health and human performance at the University of Houston, urges all to be mindful of those who live with need all year, particularly families who are "food insecure." According to the U.S. Department of Agriculture (USDA) Core Food Security Module, "food insecurity" reflects rationing, portion control and inability to offer families balanced meals. All of these elements of "food insecurity" stem from  financial constraints that often prevent families from buying enough food for their households.
"The national average for children living in a household where there is food insecurity is near 22 percent. In Houston, the rate is 35 percent, and in Harris County the rate is 26 percent," she said.  "Harris County is third on the list of counties with the highest number of food insecure individuals behind Los Angeles and New York."  
When giving to food pantries, shelters or other organizations, she suggests:
Giving the kinds of foods that you would like to eat
Being mindful that your donations have not expired
Asking if your donation site accepts perishable items before you buy them
Considering healthy food donations, as well as the occasional treat
Hernandez's studies, which have previously been funded by the USDA, have found a negative impact on toddlers' cognitive development and mental health if a parent is experiencing food insecurity.
"How (a parent) decides to distribute the limited amount of food in the household is considered to be a 'managed process,'" she said. "If mothers are trying to determine who they are able to feed (and not feed), it is likely they are distracted and not engaging with their toddlers in cognitive stimulating ways."
Left unchecked, research has show that children are at risk of scoring lower on cognitive tests throughout elementary school, suffering from lower health status and attention difficulties.  Additionally, children from food insecure homes are more likely to be absent from school and become at-risk not to graduate from high school.
"With the lingering effects of the most recent economic recession more families are experiencing food hardship. Families that used to donate to food banks are now receiving assistance from food banks," she said. "It is important that we help families, especially those that are experiencing food insecurity for the first time, find the proper channels for assistance."
Hernandez is a developmental psychologist who studies how food insecurity influences child development.  Additionally, she researches adult health and the effect of family-related factors, such changes in marital status and income, on food insecurity.
---