ConocoPhillips is donating $1 million to the University of Houston's growing Energy Research Park (ERP) and $125,000 to a number of engineering, science and business programs at UH.
The $1 million gift will support the ConocoPhillips Petroleum Engineering Building, which is located in the ERP and serves undergraduate and graduate students. ConocoPhillips also gave $1 million to UH last year and intends to follow up with an additional proposed gift of $1 million in 2013. 
In recent years, UH has identified energy as a key strategic focus for faculty research and teaching. The vision for the ERP is to build a premier research and education facility for students and faculty as well as establish a unique environment for the best minds to forge new business approaches to the way energy is created, delivered and used.
Last year, an important element of the ERP's overall plan was accomplished when the ConocoPhillips Petroleum Engineering Building opened its doors as the new home for UH's petroleum engineering program. It houses three teaching laboratories, three classrooms, a computer lab, faculty offices and a student lounge.
"We are extremely proud to continue our support for the University of Houston's Energy Research Park and the petroleum engineering program. We are excited to help the university fulfill its goal of building a world-class petroleum engineering department," said Ryan Lance, current Senior Vice President of International Exploration and Production and designated Chairman and CEO of the future ConocoPhillips.  "UH's petroleum engineering program for undergraduates provides an excellent opportunity to expand the pool of top quality and diverse engineering graduates in support of our industry's needs for the future."
UH's petroleum engineering program has long had a master's degree program, and it launched a bachelor's degree option in fall 2009. Designed to fill gaps in the industry's aging workforce and equip graduates with the skills needed in the evolving energy world, the undergraduate program has grown to more than 260 students.
"We are honored to help the university and hope our gift will motivate others to contribute to this important mission," Lance said.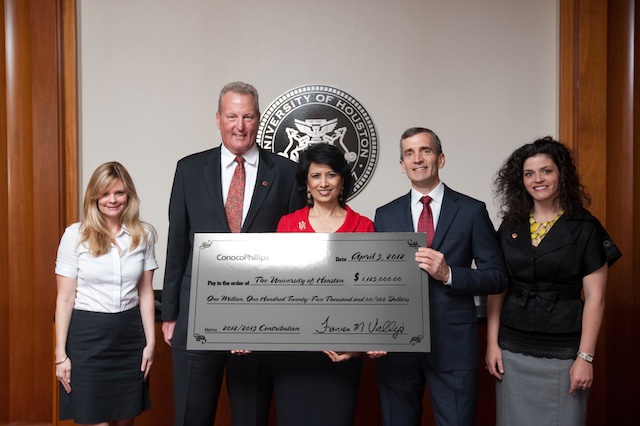 Additionally, ConocoPhillips is giving $125,000 to UH to help fund a number of programs in the Cullen College of Engineering, the C.T. Bauer College of Business and the College of Natural Sciences and Mathematics (NSM).
Cullen programs receiving money include the Program for Mastery in Engineering Studies, the Society of Women Engineers and the National Society of Black Engineers. At Bauer, the Emerging Leaders Academic Success Program, Alpha Kappa Psi and the Asian Business Student Association are among those receiving some of the funds. The NSM program beneficiaries include the Scholar Enrichment Program, American Association of Petroleum Geologists and Society of Exploration Geophysicists.
"This is a great vote of confidence in our Energy Research Park, the petroleum engineering program and a number of other great initiatives here," said UH President Renu Khator. "ConocoPhillips has made an important investment in UH's future and we're grateful for their support in helping us become a globally-competitive Tier One institution."
---