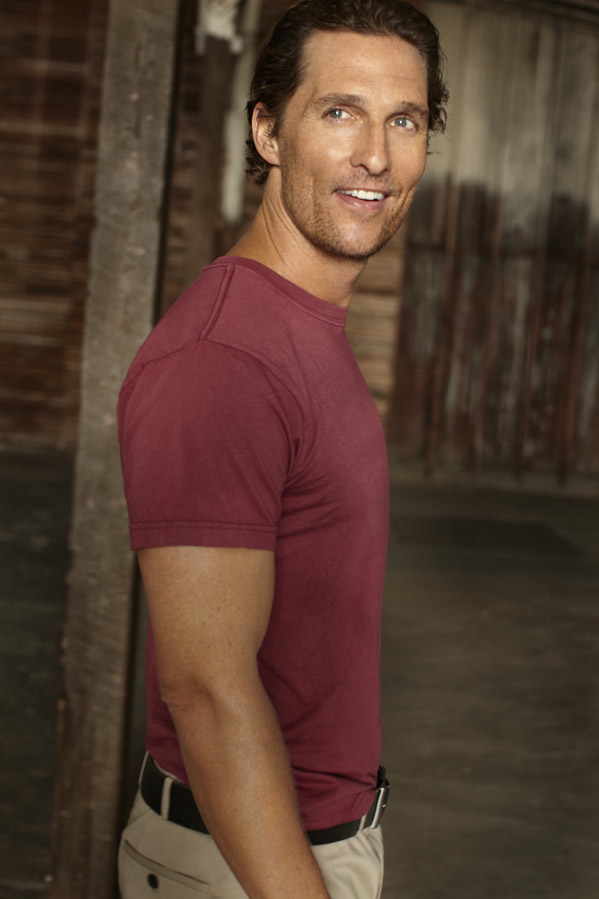 He may occasionally prowl the sidelines during a certain university's football games in Austin, but the University of Houston "hooked" him. 
As a result, the nearly 5,000 University of Houston students who will don caps and gowns for spring Commencement ceremonies can be forgiven if they yell a collective, "All right! All right! All right!"
Texas native Matthew McConaughey, an Academy Award-winning actor, philanthropist and one of Hollywood's most sought-after leading men, will give the inaugural University-wide Commencement address at TDECU Stadium on Friday, May 15.
It's the kind of star power that adds muscle to the University of Houston's bold reputation campaign "Welcome to the Powerhouse."
"We are delighted and honored that Matthew McConaughey has agreed to give the first Commencement address in our beautiful new football stadium," says University of Houston President Renu Khator, noting that his father, "Big Jim" McConaughey, once played college football at the University of Houston.
"He has captured the imagination of our students, and they will benefit greatly, as they head out into the world, from hearing his perspective as a highly successful actor, producer, director and philanthropist," Khator says.
McConaughey has appeared in more than 40 feature films that collectively have grossed over $1 billion. His current project has taken him to New Orleans and Lafayette, where he stars in the Civil War drama "The Free State of Jones."
While the professional awards and accolades are impressive, his philanthropic and humanitarian work on behalf of children and young adults through the jk livin Foundation he established in 2008 are aligned with the University's mission. 
The Foundation's name is shorthand for "just keep living," a personal mantra inspired by the passing of his father, who died just as the actor's career took off with 1993s cult classic "Dazed and Confused."
The jk livin Foundation is dedicated to empowering high school students by providing them with the tools to lead active lives and make healthy choices for a better future. It serves more than 2,000 students at 24 programs  in California, Texas, Louisiana and Washington, D.C. 
The actor was interested in working with teens "in that transition age, where the consequences aren't just another demerit if you screw up again." So, he designed a program that "prevents before you need to cure," he says.
The Foundation has partnered with Communities in Schools – the nation's largest, nonprofit, dropout-prevention organization – in West Los Angeles to implement fitness and wellness programs in two large urban high schools. Through an afterschool program, they are able to give kids a healthy start in life and the promise of a healthy future.
"I've had the instincts to help since I was a kid," McConaughey says. "I was raised that way. As a kid I was pushed to go give time in my community, and it felt good. You learn as a kid.
"The challenge," he says, "is to find out which way to do that, which way is best for you that makes it personal, but yet it's something people need, because there are a million things people need. What we do with my organization is something I love doing day-to-day."

2014 was a game-changing year for McConaughey. He made the move to TV, starring alongside Woody Harrelson in the HBO dramatic series "True Detective." The show earned McConaughey a Critics Choice and Television Critics Association Award for Best Actor in a Drama Series, as well as an Emmy Nomination.
He has also received numerous awards and accolades for the critically acclaimed "Dallas Buyers Club." McConaughey dropped 47 pounds to play to role of AIDS- stricken Ron Woodruff. For his riveting portrayal McConaughey received an Academy Award, Golden Globe Award, Screen Actors Guild Award and Gotham Award for Best Actor, the Best Actor Award at the Rome Film Festival as well as the Desert Palm Achievement Actor Award at the Palm Springs Film Festival.
 He also starred in "Interstellar," directed by Christopher Nolan, released in November 2014.
 In addition, McConaughey completed shooting Gus Van Sant's "Sea of Trees." 
In 2012 McConaughey was spotlighted in four diverse career-changing performances. He won a Spirit Award for his portrayal of Dallas Rising in Steven Soderbergh's "Magic Mike," and was named the year's Best Supporting Actor by both the New York Film Critics Circle and the National Society of Film Critics for his work in "Magic Mike" and Richard Linklater's "Bernie."
McConaughey also received acclaim for his performance in Lee Daniels' "The Paperboy," and was a Spirit Award nominee for playing the title role in William Friedkin's "Killer Joe."

He followed this up in 2013 with the release of Jeff Nichols' "Mud," which received rave reviews and was a sleeper hit in the national box office top 10 for five weeks and Martin Scorsese's "The Wolf of Wall Street," which opened in December 2013. 
His other films include Brad Furman's "The Lincoln Lawyer," Ben Stiller's "Tropic Thunder," McG's "We Are Marshall," Jill and Karen Sprecher's "Thirteen Conversations About One Thing," Bill Paxton's "Frailty," Jonathan Mostow's "U-571," Ron Howard's "EDtv," Richard Linklater's "The Newton Boys," Steven Spielberg's "Amistad," Robert Zemeckis' "Contact," Joel Schumacher's "A Time to Kill," and John Sayles' "Lone Star." 
---