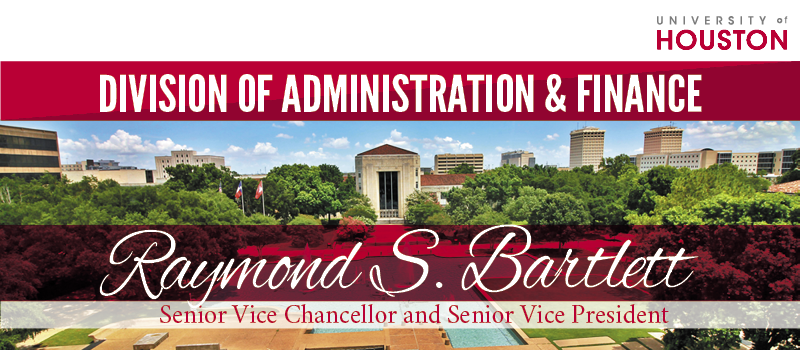 Comprised of Division features, accolades and achievements, as well as valuable "In Case You Missed It (ICYMI)" news you can use, each edition of the newsletter highlights key information and resources across the Division's departmental, operational and service unit areas. To subscribe to this listserv, click HERE.
Leadership Message from the Chief Financial Officer
Greetings colleagues:

It is my pleasure to share with you the August divisional highlights in this month's newsletter. The accomplishments are many, and I hope that you continue to be as proud as I am of the great work that happens every day within Administration and Finance. Some notable achievements include:

· An incredible divisional team effort from Enterprise Systems, University Services, Equal Opportunity Services, Finance, Human Resources, and Campus Safety was critical to the development and implementation of the Cougar Vaccination Incentive Program (VIP), and the expanded COVID-19 testing incentive to include faculty and staff.

· Human Resources continues their work with campus constituents to enhance the ePerformance process, with a goal of developing an improved process for the calendar year 2022 performance cycle. As part of this effort, HR has interviewed several employees and leaders in various departments across all divisions.

· This summer, Facilities deployed a new filter coating technology in buildings that had less than MERV-13 rated filters in time for the start of the new academic semester, coating 35,000 filters across campus. This new technology, called Capture Coating, was developed at the University of Houston by Seamus Curran, professor of physics. This coating improves the ability of air filters to trap the coronavirus that causes the COVID-19 illness.

· Facilities and Copy & Print Services printed, deployed, and installed thousands of signs for all building and classroom entrances to encourage the use of masks as classes begin for the semester.

· Facilities and University Information Technology made great progress this summer on the Classroom Refresh Initiative, revitalizing 15 classrooms this summer, as part of their long-term plan with the Registrar's Office to upgrade nearly 160 general purpose classrooms by 2028.

· Auxiliary Services launched food lockers in the new Asado burrito and bowl concept at the Student Center, and re-opened McAlister's Deli in the Welcome Center Parking Garage.

I also want to thank the more than 180 employees who participated in the recent Division communications survey. We are grateful for your feedback, and will highlight some of the requested improvements in next month's newsletter.

I hope you enjoy reading about the division-wide August updates and accomplishments. I am grateful to each and every one of you for all that you do to support our university community.

As always, stay safe and healthy,
Highlights & Features
New Faculty, Student, Staff Vaccine Incentive Program

UH launched the Cougar Vaccination Incentive Program. Now through Wednesday, Sept. 30, all faculty and staff who voluntarily participate in this program will receive $50 in ShastaBUCKS, and 10 randomly selected participants will have their faculty/staff parking permits paid for the 2021-22 academic year. If you do not have a parking permit, you will receive $445 in ShastaBUCKS.

Faculty, Student, Staff COVID-19 Testing Incentive

Stay safe, get tested, get $2 Cougar Cash or ShastaBUCKS added to your account. By appointment only, the free testing service is located in front of the UH Student Center South from 8 a.m. to 5 p.m., Monday through Friday. For more information, visit the UH COVID-19 website.

For the latest information about how to enter your adoptions through the Faculty Center, check out easy step-by-step instructions about how to adopt your course materials in six steps or less!

In addition, the UH Campus Store Follett Discover module within Access UH is an easy way to submit your adoptions. The module allows you to easily discover, research and adopt course materials all in one place. Previous adoptions are also available for quick re-adoption.

Visit the 2021 Faculty Textbook Adoption website to learn more.

Nearly 160 general purpose classrooms scheduled by the Registrar's Office will be renovated over the next eight to ten years as part of a Classroom Refresh Program. Now in its second year, the program has completed 19 general purpose classrooms with an additional 10 classrooms and three lecture halls selected for FY23. Read the latest update here.

Check out this step-by-step video on how to order from the new on-campus self-serve food lockers from the Boost Mobile Ordering app. UH and its food service provider, Chartwells Higher Education, have partnered with Apex Order Pick Up Solutions to offer self-serve automated food lockers on campus with the new food concept, Asado Burritos and Bowls, becoming the first institution of higher education in the state of Texas with the convenient and contactless food pick-up solution.

"Prepare to Protect": Get Ready for National Preparedness Month

With an emphasis on planning and preparation, the Office of Emergency Management encourages everyone to always #beready by focusing on different aspects of preparedness.

This year's campaign theme: "Prepare to Protect. Preparing for Disasters is Protecting Everyone You Love" highlights the importance of making a plan, building a kit and preparing for potential disasters in advance.

Look for more preparedness tips beginning in September from the Office of Emergency Management on Facebook and Twitter. For more information on National Preparedness Month. Visit FEMA's Ready.gov to learn more.

UHS Facilities Forum 2021 Highlights "Finding the New Normal"

UH System Facilities leaders gathered to collaborate, network and gain knowledge at the recent 2021 UHS Facilities Forum held this month. This year's theme was to contemplate the concept of "finding the new normal" under these very unusual global circumstances.

Associate Vice Chancellor/Associate Vice President David Oliver said, "The time we spend together during the forum builds our knowledge base and helps to encourage the continuous development of new ways of thinking. Out of the four years we have had this event, this was the best one. It gets better each year."

Read more here.

Event Screening Committee Update

With the transition on August 1 to 100% capacity for events, the Event Screening Committee plans to continue operations and review event exception requests, including for events that are held outdoors on campus or in non-managed University venues. The Committee will operate on a month-by-month basis and will continue to evaluate event guidelines regularly. For managed venues, there should be no impact to operations. For the latest Event Screening Committee updates, click here.

COVID-19 Event Guidelines Information Session Aug. 19

The Event Screening Committee will hold a COVID-19 Event Guidelines Information Session on Aug. 19, from 10 a.m. - 11 a.m. hosted by Dr. Emily Messa, AVC/AVP Administration, and Jeff Palmer, Associate General Counsel, who will share updates and information about the UH Event Guidelines, followed by a Q&A session.

Click here to register to attend the live session. The session will be recorded and the replay will be made available on the UH Event Guidelines web page for viewing at a later date and time.

Houston Public Media: I SEE U Series Gives Voice to Those Who Have Often Been Unheard

I SEE U takes an intriguing look at the 1981 court case that brought justice to Vietnamese fishermen in East Texas who were terrorized by the Ku Klux Klan. Host Eddie Robinson looks back at a Texas court case that brought justice to Vietnamese fishermen in East Texas who were terrorized by the Ku Klux Klan.

I SEE U airs Saturdays at 1 pm on News 88.7. You can listen and subscribe to the podcast online or join in the discussion at talk@iseeushow.org or @ISEEUshow.

A&F Student Ambassadors at Your Service

The A&F Student Ambassadors support divisional strategic goals of student success by providing an opportunity for engagement and connectivity among the Division departmental areas and the UH student community. The student ambassadors welcome your service request. Click here to learn more about how the student ambassadors can assist you in your departmental area.

UH Dining Announces Composting Program

UH Dining is proud to announce a new composting program at Cougar Woods Dining Commons. With this program, UH Dining is slated to divert 15 to 20 cubic yards of waste from landfills each week, which is the equivalent of 3 to 5 large blue trash dumpsters. Through a partnership with Zero Waste Houston, a compost pick-up service, UH Dining will help create a greener community one pick-up at a time.
ICYMI: News You Can Use
Permitless Carry Update

The Texas Legislature enacted the Firearm Carry Act, HB 1927, which provides for Permitless Carry (sometimes referred to as "Constitutional Carry") in certain places and under certain circumstances. HB 1927 excludes universities from the places where permitless carry is allowed. More information can be found at MAPP 07.01.05 – Campus Carry Policy and on the UH Police Department campus carry website.

As your one-stop shop for printing services, check out the latest new equipment from Copy, Print and Delivery Services for "On Brand, On Time, On Budget, and Non-Negotiable Quality."

UH Parking Virtual Town Hall Replay Answers Qs and More

Many students, faculty and staff are returning to campus for the first time in nearly a year and a half. Some of you may have questions about campus parking and shuttles. The virtual town hall held Aug. 4 featured recent changes and updates, along with Q&A.

Check out the replay through the Teams link below:

Rewind! Auxiliary Services Town Hall Replay Available

Check out the latest update held July 29 from Auxiliary Services about upcoming plans for UH Dining, Campus Store, vending and more.

Click the following Teams link below and listen at your leisure!

Simply click here to register or log-in and follow the prompts to enjoy your next catered event! To learn more, click here.

Division Communications Survey Update

Thank you to the more than 180 employees who provided valuable feedback about Division Communications within the recent survey as an outreach opportunity to continually improve based on collective input.

Congrats to the following incentive winners who were randomly-selected from all participants as a small gesture of appreciation for completing the survey:

Gift card winners include Areil Mancillas, Mariela Raudales, Dawn Mopkins, Leslie Skweres-Fluharty, Heather Cilny and Yolanda Brooks-Brown

ShastaBUCKS winners include Dylan Hartman, Tamika Cain-Proctor, Armoni Spencer, Angelica Olivos and Genille Rodriguez.
A&F Resources