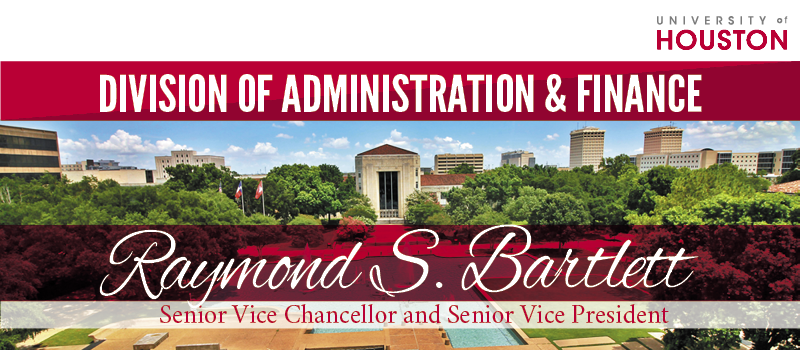 Comprised of Division features, accolades and achievements, as well as valuable "In Case You Missed It (ICYMI)" news you can use, each edition of the newsletter highlights key information and resources across the Division's departmental, operational and service unit areas. To subscribe to this listserv, click HERE.
Leadership Message from the Chief Financial Officer
Greetings everyone --

In preparation for the upcoming transition and reopening plans shared in recent communications, our overall readiness is fundamental to a successful path forward. This month, we highlight many of the vital readiness work already underway across the Division and in your respective areas.

From emergency preparedness for the upcoming hurricane season to ongoing business continuity planning processes, this issue is an opportunity for you to learn more about the latest news as we prepare for what promises to be a very busy and exciting fall semester.

With these important and critical tasks already in progress, I would like to commend the teams for the work done to date and invite each of you to take the time to not only continue to look for innovative ways you and your teams can further enhance cost-efficiency in support of our mission of customer service excellence, but also further heighten our support of the University's strategic goals.

As we kickoff the summer session, thank you for all you do each and every day, and remember to

Stay the course,

Stay safe, and

Stay healthy.
Highlights & Features
The Continuity of Operations Planning Program (COOP) is already in full swing for the 2021 review cycle. Recognized by the State Office of Emergency Management for the proactive approach to continuity planning, the COOP cycle requirements specify that each department, college and division assess and update its corresponding continuity plans annually. To learn more about COOP requirements, click here.

A Special Dialogue: A Mitchell Center Event "Policing, Performance and the Question of Reform"

​The UH Cynthia Woods Mitchell Center for the Arts presents a special dialogue with artist, Shaun Leonardo and UH Chief of Police, Ceaser Moore, moderated by Deputy Director of Contemporary Art Museum Houston, Janice Bond: "Policing, Performance and the Question of Reform" on May 20, 3-4 pm. Free and open to the public. Watch the livestream event here.

Time to Prepare-- Hurricane Season Begins June 1

For any emergency, begin by preparing a plan. For more tips and resources that can help you prepare for hurricane season, visit the Office of Emergency Management Hurricane Preparedness page.

Cougar Woods Dining Hall was the first campus building to be certified as LEED Silver by the U.S. Green Building Council. There are currently five campus construction projects in the pipeline to be LEED Silver Certified upon completion, including the new medical school. Each one of these buildings will be held to strict performance standards in energy and water use, require robust recycling amenities, and even have better indoor air quality than other buildings. Learn more here.

E-Waste Recycling Drive Keeps Going Green

For the seventh year, the UH Electronic Waste Recycling Drive collected pallets of computers, monitors, wires and laptops available for recycling to avoid ending up in a landfill. To keep COVID safe, the event was held "drive-thru" style where guests popped a trunk and volunteers collected the goods to be recycled in a smooth and safe way. Learn more about the green effort here.

To maintain an adequate number of bicycle parking spaces on campus and enhance the overall aesthetics of our campus, Facilities/Construction Management and the UHPD continue to clean up the bicycle racks across campus. Read more about the spring cleaning, and check out the bicycle registration, which is now being coordinated through UH Parking & Transportation and is completely free.
ICYMI: News You Can Use
Check out the latest Shasta selfies with his "besties" in A&F. On any given day, you'll never know just who will stop by Coogs house!

Human Resources is helping Coogs prepare for a successful return to campus with the new Welcome Back to Campus Website. The site includes resources for all employees, both individual contributors and leaders. In addition, the HR Talent Development team has created two new training courses: "Take Control of Your Productivity" and "Leading Up." These courses feature valuable tools and tips for a successful transition back to campus. To enroll, visit the CATALYST Enrollment App.

Fresh Fork Contactless Catering Ready to Serve

Individually portioned and ready to serve, Fresh Fork Contactless Catering delivers to your office door -- perfect for a working lunch. Devour the latest menu options designed for any pallette.

Get the Latest Parking Alerts by Text

Sign up for text message alerts from UH Parking and Transportation. It's as simple as sending a text with the subject COOGPARK to 55744.

As a reminder from UH Occupational Health Services, the month of May is Stroke Awareness Month. Please take a moment to review this important information in order to quickly identify the signs of a stroke and when to call 9-1-1.
Accolades & Achievements
Designed to recognize those that demonstrate excellence in the field of educational facilities, this recognition is granted to one organization each year. Previous winners include University of North Texas and Baylor University.

Seven categories are evaluated for excellence: leadership, strategic and operation planning, customer focus, information and analysis, development and management of human resources, process management and performance results.

Executive Director Esmeralda Valdez, University Services, co-authored Creando Comunidad: Experiences of Latina Faculty and Staff Mentors at a Hispanic-Serving Institution, recently published in the National Association of Student Personnel Administrators NASPA Journal. The findings demonstrate the importance of mentoring programs at Hispanic-serving institutions, as well as how these programs for Latinx students can be designed in ways that benefit multiple stakeholders.

Thirteen outstanding student, faculty and staff advisory committee members from across the University were recently honored for their service and dedication on the committees for the 2020-21 academic year. Read more about the event recognition ceremony and honorees here.

Administered by the Project Management Institute (PMI), the Project Management Professional (PMP) certification is an industry-recognized credential for project managers and one of the most sought-after certifications, as it demonstrates experience, education, skill and competency required to lead and direct projects. The department would like to recognize three employees for their commitment and commend them for successfully fulfilling all the program requirements. Hussain Alkinani, Jennifer Rea and Tarek Rahal join Jennifer Brasher, Kerry Prejean and Barry Simmons as certified Project Management Professionals within the F/CM team. Read more here.
A&F Resources