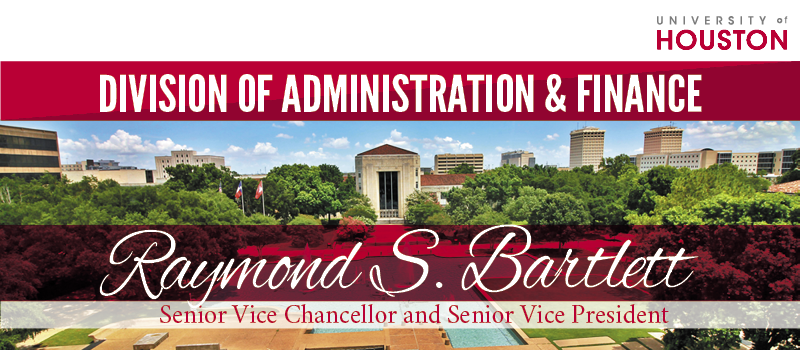 Comprised of Division features, accolades and achievements, as well as valuable "In Case You Missed It (ICYMI)" news you can use, each edition of the newsletter highlights key information and resources across the Division's departmental, operational and service unit areas. Subscribe to the A&F listserv.

Dear Colleagues:
In this month's issue, we highlight articles connected to National Campus Safety Awareness, as many of our departments, programs, and services provide the network of safety for our UH community. During this focused month of safety awareness, I also encourage you to review the resources on the Stay Cougar S.A.F.E. website. Our A&F Communications Council has collected and organized a number of safety resources to provide awareness about all the safety programs available on campus – from departmental trainings to videos about preventing crime on campus.
Many of you also experienced these services first-hand at our second annual Behind the Badge event on August 30, which connected almost 500 attendees with campus safety resources. Thank you to all of you who participated and attended, and thank you to our University of Houston Police Department for organizing the event.
In addition to divisional updates, accomplishments, and reminders in this month's newsletter, there are three upcoming events to highlight for A&F employees in October:
October 4 is the A&F Staff Appreciation Lunch from 12-2 p.m. at the Student Center South. I hope that you will be able to join us for delicious Texas barbecue, desserts, and opportunities to visit with colleagues from across the division.
October 12 is the annual President's Fall Address, which is scheduled at 10 a.m. in the Moores Opera House. I encourage all of you to save the date as we collectively celebrate university achievements and accomplishments.
October 29 is the annual Staff Tailgate, held in partnership with Staff Council. I hope to see you and your families at this annual event. Event details will be coming soon.
I am so grateful to every one of our divisional employees and all you do to support our community daily. I consistently hear feedback from community members about how team members in Administration and Finance have provided exceptional service to members of our community. I hope to see all of you at the A&F Staff Appreciation and Staff Tailgate.
Thank you for your continued support.
Highlights & Features
Stay Cougar S.A.F.E. Websites Relaunches

September is National Campus Safety Awareness Month, and for the Division of Administration and Finance, it coincides with the official relaunch of the Stay Cougar S.A.F.E. website. The acronym S.A.F.E stands for Safety, Awareness, Friendship, and Education, and it's what the website aims to accomplish.

Stay Cougar S.A.F.E. is a one-stop shop where the University of Houston community can find campus safety resources and how to utilize them when needed. Learn more about the relaunch of this campus safety website.

Behind the Badge Event Surpasses Expectations

The University of Houston's Behind the Badge event returned to a smashing success with close to 500 attendees. Attendance was more than double what the first Behind the Badge event drew in 2019 when 200 people attended.

Behind The Badge is a community engagement event that allows the UH community to meet and talk with the UH Police Department, local law enforcement agencies, and university departments supporting safety on campus. Read more about the return of Behind the Badge.

A&F Student Ambassadors Lend a Helping Hand

The start of the fall semester at the University of Houston saw an uptick in business for some Administration and Finance departments, and the division's 11 Student Ambassadors were up for lending a helping hand. The Student Ambassadors aided departments like the Cougar Card office and Parking and Transportation, to name a few. Read more about how A&F's Student Ambassadors provided a helping hand at the start of the fall semester.

HR Assists Business Students with Resume Preparation

Talent Acquisition in Human Resources had the opportunity to impact student success by partnering with Bauer College of Business to assist their students with resume writing preparation. Senior Recruiters met with the students to critique and provide input on student resumes. Additionally, the recruiters provided students job interview tips.

Recruitment looks forward to participating in the next resume round and thanks Bauer College of Business for their continued partnership. Learn more about HR's recruitment practices.

Houston Public Media Celebrates Hispanic Heritage Month

Each year, Americans observe National Hispanic Heritage Month from September 15 to October 15 by celebrating the histories, cultures, and contributions of American citizens whose ancestors came from Spain, Mexico, the Caribbean, and Central and South America. Houston Public Media proudly celebrates and recognizes the contributions and impact of our country's Hispanic and Latino heritage. Visit our Hispanic Heritage Month Celebration guide to learn more.

Town Square with Ernie Manouse Reflects on 9/11

As we look to this year's 20th anniversary of the September 11th attacks, we reflect on what happened that day with an employee on the 85th floor of the World Trade Center and a New York writer. Listen as they share the collected stories of people who survived the collapse of the tower, came to help, witnessed it, or were interviewed in the weeks following the attacks. To hear more, visit Town Square with Ernie Manouse as we remember and discuss this moment.

Below The Waterlines: Houston After Hurrican Harvey

After spending the past several months trying to answer whether Houston is better prepared for the next major storm, we discovered the answer was not so simple. Throughout this podcast, you've heard reporters at Houston Public media analyze data, speak with residents who are still suffering and ones who have recovered and moved on, and ask local officials some hard questions. Listen to the bonus episode, where our reporters share their key takeaways, surprises, and what questions still linger.

DocuSign Now In Use at UH

The University of Houston has selected DocuSign as the digital signature software solution. DocuSign is an e-signature solution that allows users to quickly and securely access and sign documents. Using DocuSign will facilitate the electronic signing and sending of documents while providing insight throughout the signing process. Read more about DocuSign and watch the video below to see how it works.
Video of the Month

Staff Spotlight
Cougar Cudos

Cougar Cudos goes to Fire and Life Safety and Campus Safety members Wendell McCloud, Ernest Johnson, Joshua Hahn, and Marcus Hicks for their work in getting the UH Law Center and the Fertitta College of Medicine their required certificates in time.

Additionally, Cougar Cudos goes out to Elicia Davis for keeping Accounting Services moving smoothly, Dawn Mopkins for engaging with students during Cougar First Impressions Day 2, and Mark Rosanes for providing top-notch customer service.

To nominate a fellow Staff member and learn more about Cougar Cudos.

Facilities/Construction Management Welcomes New Assistant VP

Mike Oestereicher has joined the UH Facilities/Construction Management department as the Assistant Vice President of Facilities Services. Oestereicher brings over 25 years of experience in facility operations and services, engineering, and contracting.

As the new Assistant VP, Oestereicher has oversight over campus services, lab services, general maintenance, preventive maintenance, utility operations, and campus construction services. Learn more about Facilities/Construction Management's new assistant VP.

Custodial Appreciation Week at UH

Facilities/Construction Management celebrated Custodial Appreciation Week during September 11 – 17. This provided an opportunity to thank those who work behind the scenes to build the future of the students, faculty, and staff. Facilities/Construction Management has over 125 in-house custodians and close to the same number of contract custodians.

This strong leadership team has worked closely together through the COVID-19 pandemic, contract changes, and additional square footage. The Custodial Team are dedicated employees that cover the cleaning and maintenance of 160 campus buildings, twenty-four hours a day through three assigned shifts. Read more about Custodial Appreciation Week at UH.

Human Resources Adds Rida Tayyeb as Senior HR Business Partner

Rida Tayyeb has joined Human Resources as a Senior HR Business Partner supporting the Division of Administration and Finance. Rida has extensive experience in HR that includes employee relations, recruiting, reorganization, career development, data analysis, and metrics.

Rida has also worked with multiple levels of an organization and is eager to begin her journey at UH where she attained a bachelor's degree in Human Resources Development from the College of Technology.
ICYMI: News You Can Use
OEM Shares Tips for National Preparedness Month

September is National Preparedness Month, and the university's Office of Emergency Management has produced a four-part series on how to stay prepared on campus in case of a disaster or emergency. Each part deals with a different pillar of preparedness. The pillars OEM touches on are having a plan, staying informed, the UH emergency siren, and flood awareness. Learn more about these pillars of preparedness.

September is Prostate Cancer Awareness Month

UH Occupational Health Services wants to remind the campus community that September is Prostate Cancer Awareness Month. When cancer starts in the prostate, it is called prostate cancer. It is the second leading cancer prognosis in American men. Read more about Prostate Cancer Awareness Month including information from UH Occupation Health Services about the risk factors and prevention tips.

A&F in Action

The Division of Administration and Finance is pleased to announce the official unveiling of the A&F In Action website. The website aims to showcase A&F departments and individuals when they receive employee and departmental recognition and attend conferences, staff events, professional development seminars, or forums. Learn more about the website and see the A&F departments in action.

A&F Campus Snapshots

Photos galore! That's the premise behind the newly launched A&F Campus Snapshots website. In any given month, the many departments that make up the Division of Administration and Finance can be found at conferences, forums, staff events, professional development seminars, tabling events, or providing tours to university guests. Visit A&F Campus Snapshots to see how A&F employees make their presence known around campus.
Events & Reminders
UH Dining Events and Promotion

September is Hispanic Heritage Month! UH Dining celebrated the occasion by having traditional Hispanic dishes at Moody Dining Commons on September 20th. Plus, don't miss out on Mondo Subs special of the month, the Cuban sandwich.

Additionally, don't miss out on an in-person demonstration from Teaching Kitchen happening at the Cougar Club in TDECU Stadium on September 27th. Finally, if you've yet to use the Boost mobile app to order food, you're in luck. Use the code DINE20 for 20 percent off your first order. And check out the calendar to see this month's events and promotions from UH Dining.

Report Out-Of-Service Lights

Have you seen a parking light out? Or perhaps a light's out on the campus sidewalks? If you see an out-of-service light out, report it. The sooner it's reported, the sooner it's fixed. And with FIXIT, the UH community has four ways to report out-of-service lights.

Via AccessUH and clicking on the FIXIT icon.
Send a text message to fixit@uh.edu
Send an email to fixit@uh.edu
Call 713-743-4948 to make the report.

When making the report, please include the exact location of the out-of-service light. An exact location makes it easier for technicians to find it and repair it.
Submit a story to the A&F S.P.I.R.I.T. Newsletter by filling out the form.
A&F Resources