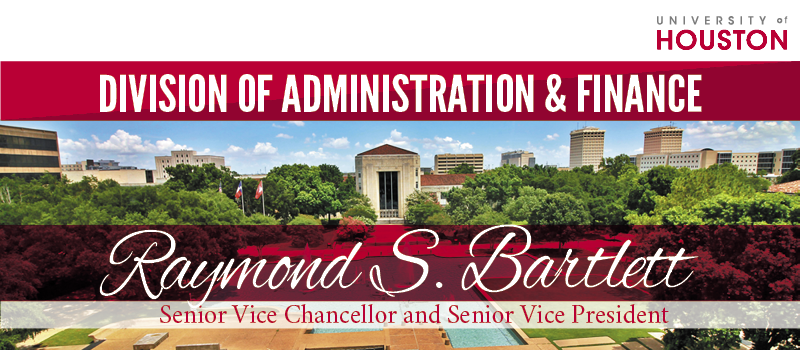 Comprised of Division features, accolades and achievements, as well as valuable "In Case You Missed It (ICYMI)" news you can use, each edition of the newsletter highlights key information and resources across the Division's departmental, operational and service unit areas. Subscribe to the A&F listserv.

Dear Colleagues,
The month of January brings the start of a new academic semester for our students and faculty. Congratulations to all Administration and Finance staff on the successful launch of the spring 2023 semester.
January also marks the release of the A&F 2022 Annual Highlights publication. I hope each of you enjoys reading about our division's accomplishments in 2022. I am delighted with the progress of Administration and Finance as we help move the University of Houston forward.
In addition to the 2022 Annual Highlights, this month's newsletter includes reminders and divisional updates, plus:
Information regarding the new Farmer's Fridge machine coming soon to the Student Center South and UH at Sugar Land.
An introduction to the A&F Communications Council and the departments they represent.
Numerous trainings that are available this spring from Human Resources, the University of Houston Police Department, and the Office of Emergency Management.
These are just some of the highlighted feature articles in this month's newsletter. Please read and explore all the divisional updates and accolades.
I am grateful for each divisional employee and the outstanding work and support you give daily to support our community and strengthen student success.
Highlights & Features
Administration & Finance Presents the 2022 Annual Highlights

The 2022 Annual Highlights publication showcases the tremendous accomplishments of employees and departments within the Division of Administration and Finance. The infographics and publication design highlight all staff members' stellar work and dedication as they exhibited the S.P.I.R.I.T. of service excellence. Recap a magnificent 2022 by reading the Annual Highlights.

UH Dining Celebrates Lunar New Year

UH Dining Services celebrated the Lunar New Year by hosting a collaborative dinner extravaganza that drew 1,100 students and was a partnership with seven departments, student organizations, and subject matter experts.

The Lunar New Year celebration was a partnership between UH Dining Services, the Institute for Global Engagement, the UH Residence Halls Association, Lambda Delta Psi Sorority, the Chinese American Language and Culture Organization at UH, the Chinese Student & Scholar Association, the Vietnamese Student Association, and Dr. Melody Yunzi Li, UH assistant professor of Chinese. Read more about UH Dining's Lunar New Year celebration.

Facilities Services Leadership Update

Facilities Services is proud to present the leadership team behind the daily operations including Campus Services, Utility Operations, Lab Services, General Maintenance, Preventive Maintenance, Campus Construction Services, Cougar Access Control Services and the Instructional Sites – Sugar Land, Katy, and Technology Bridge. Learn more about the leadership team.

UHPD 2023 Winter Leadership Retreat

The UHPD Winter Leadership Retreat is an annual event for UHPD supervisors and managers to come together to reflect on the previous year's lessons, accomplishments, and to discuss important topics that will shape the direction of the department in the coming year. Read more to learn about what topics UHPD discussed in their retreat.

UHPD Receives Cryptocurrency Investigative Training by the FBI

UHPD officers attended a cryptocurrency investigations training session hosted by FBI Houston. It featured instructors from Chainalysis who conducted a "Cryptocurrency Investigations for the Front Line" training.

The training aimed to equip law enforcement teams with the skills necessary to recognize cryptocurrency use by suspects while in the field, conducting search warrants, and during arrest scenarios. Learn more about UHPD's recent training session.

New Fresh, Healthy Meal and Snack Option Coming to UH

New Farmer's Fridge machines have arrived to the Student Center South and UH at Sugar Land. Farmer's Fridge is a smart refrigerated fridge stocked with fresh, healthy meals and snacks. Examples of what you might find include salads, grain bowls, breakfast items, and more!

Each meal includes a full serving of fruits or veggies and is packed in reusable and recyclable jars. Unsold food from the Farmer's Fridge is donated to community partners when possible. Guests can pay with a credit card, debit card, or through the Farmer's Fridge mobile application. You can learn more about the mobile app by searching Farmer's Fridge in your app store. So, lettuce celebrate the arrival of this super cool, always fresh, healthy eats machine!
Video - UH Dining Celebrates Lunar New Year

Staff Spotlight
Cougar Cudos

Cougar Cudos goes to Anthony Carpenter from the Purchasing Department, to Sheena John from Tax Accounting, to Brooke Kaiser from University Services, and Tiffany Taylor-Denson from the Department of Business Affaris.

To nominate a fellow staff member, fill out the Cougar Cudos Nomination Form.

Meet the A&F Communications Council

Many departments encompass the Division of Administration and Finance, and from each one, a team member is chosen to represent them in the A&F Communications Council. Below is a complete list of council representatives.

Facilities/Construction Management | Jennifer Rea
Auxiliary Services | Matt Oltremari
Campus Safety | Sharon Pellas
Copy, Print, & Delivery Services | Kathy Fieldcamp
Equal Opportunity Services | Mandisa Oliver
Houston Public Media | Kori Lee
Human Resources | Sandra Armstrong
Office of Administration | Cindy Crews
Office of Finance | Nancy Nguyen
Parking & Transportation | Richard Zagrzecki
Public Art | Ileana Yordan Cuevas
Police Operations | Sergeant Dina Padovan
University Information Technology | Catherine Ellett

Please contact your department's representative to share items for inclusion in the A&F newsletter.

Former UHPD Chief Honored with Challenge Coin

The University of Houston Police Department recently honored its former Chief of Police, Malcolm Davis, with a challenge coin for his dedicated service. The challenge coin is a special recognition of Chief Davis' leadership and contributions to the department and the University. Read more about Chief Davis and the recognition paid to him.
ICYMI: News You Can Use
HR to offer CDD Training

In 2023, Human Resources will offer Coaching, Discipline & Documentation training beginning February 15, through June 21, on every 3rd Wednesday of each month. After the June training, the next and last training of 2023 will be on October 18. The training is 2 hours and is designed for those in managerial roles to effectively develop their employees through coaching, management, and, when applicable, discipline.

Managers will learn to distinguish between coaching and discipline using day-to-day processes to help their employees recognize specific opportunities to improve and understand expectations. This course will also provide tools to learn and review how to navigate the Progressive Discipline Process and complete appropriate documentation. The eligibility requirement to attend the training is that you supervise direct reports. You can register for the training at CDD-Lunch & Learn.

UHPD Sets Schedule for Civilian Response to Active Shooter Events (CRASE) Training

The University of Houston has released the 2023 schedule for its Civilian Response to Active Shooter Events (CRASE) trainings. UHPD will host the course once a month. The course is held in the M.D. Anderson Library Rockwell Pavilion from 9 – 11 a.m. and is designed and built on the Avoid, Deny Defend (ADD) strategy developed by ALERRT in 2004.

UHPD can also conduct training for campus community groups, organizations, and departments when requested. Learn more about CRASE and view the calendar of upcoming CRASE training sessions.

Get to Know Your Building Coordinator

Do you know your Building Coordinator? The start of the spring semester is the opportune time to learn who your Building Coordinator is for the building(s) you may occupy. Each building is assigned building coordinators who becomes the point of contact to help facilitate building communications, support facility capital planning, and represent user needs within building.

Facilities/Construction Management facilitates the Building Coordinator Program and maintains the Building Coordinators list where you can find out who your building coordinator is.

Political Podcast Expanded to Local Public Television Audience

Houston Public Media's local programming soars with the television debut of Party Politics on KUHT TV 8. The weekly podcast and radio show launched Friday, Jan. 6. Hosts Jeronimo Cortina and Brandon Rottinghaus are both University of Houston political science professors. The duo delivers a smart and spirited recap of the week's biggest political news stories.

The series is also available at Houston Public Media's YouTube channel, and you can subscribe to the audio version of the podcast wherever you get your podcasts. Join the conversation on Twitter @HPMPolitics using #PartyPoliticsPod to ask Brandon & Jeronimo questions or email us at partypoliticspod@houstonpublicmedia.org.
Events & Reminders
UH Dining Services Upcoming Events & Reminders

UH Dining Services has exciting activities and events planned for the spring semester. For a limited time, McAllister's Deli will feature a Tomato Basil Soup, and Mondo Subs will sling a Bocadillo de Pollo. To stay connected with the latest activities and promotions, hours of operation, and daily dining commons menus, visit dineoncampus.com/uh.

January is Cervical Health Awareness Month

A reminder from UH Occupational Health Services: January is Cervical Health Awareness Month. To learn about the symptoms, risk factors, screening tests, and treatment for cervical cancer, please visit the CDC's Cervical Cancer page.

UH Population Health and HR POWER UP to launch #WALK30

UH Population Health and HR Power Up Employee Wellness will join forces to mark next month's National Heart Health Month observance with #WALK30, a new initiative that encourages people to walk 30 minutes a day! At noon on Feb. 8th, they invite UH faculty and staff to join them to relax, stretch, and enjoy the beautiful UH campus. Visit fithouston.org for more information on the #WALK30 campaign and to hear why our very own President Khator has thrown in her support.

Parking and Transportation Spring Semester Reminders

This is a reminder from Parking and Transportation that all parking permits are now virtual. Physical permits and stickers are no longer valid. Every permit holder must ensure that the vehicle they bring to campus is the 'active' vehicle on the permit. Learn more about how to verify the active vehicle on a parking permit.

With the addition of parking permits, permit holders must park their vehicles so that their car's license plate is visible from the driving lane. This allows the license plate reader to authenticate that the vehicle is associated with a valid UH parking permit. Learn more about this endeavor and how you can ensure you are in compliance.

Save the Date for the Auxiliary Services Town Hall

Check out the latest updates on UH Dining, Campus Store, vending, and more during the Spring 2023 Auxiliary Services Town Hall on Wednesday, February 1st from 2-3 p.m. Visit UH Auxiliary Services to learn more.
Submit a story to the A&F S.P.I.R.I.T. Newsletter by filling out the form.
A&F Resources