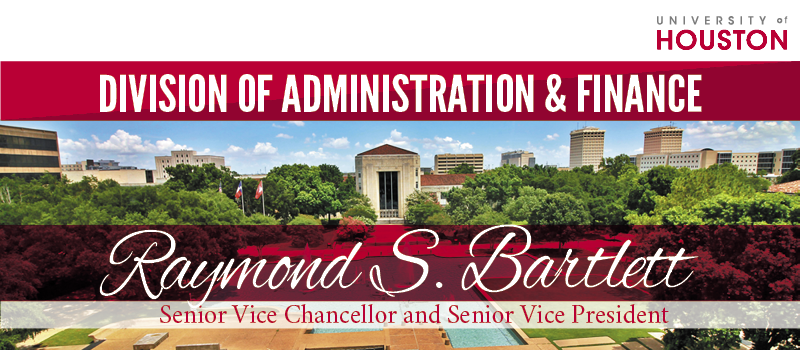 Comprised of Division features, accolades and achievements, as well as valuable "In Case You Missed It (ICYMI)" news you can use, each edition of the newsletter highlights key information and resources across the Division's departmental, operational and service unit areas. Subscribe to the A&F listserv.

Dear Colleagues,
In this Thanksgiving month, I would like to convey my gratitude for divisional employees and all that you do to support our UH community. Our planning team has developed an amazing holiday luncheon, scheduled for December 8, in the Student Center Houston Room and Ballroom. I encourage divisional employees to mark your calendars and let us know if you plan to attend. This luncheon will be a traditional holiday feast with all the trimmings, including special prizes, as we celebrate our incredible employees during this festive season.
In addition to divisional updates and deadlines, I would like to share the following updates and accomplishments for November:
The opening of the state-of-the-art innovative Bikeep bicycle parking stations at Butler Plaza and University Lofts. This project resulted from collaborative efforts by the University of Houston Police Department, Facilities/Construction Management, University Information Technology, Parking and Transportation Services, and University Marketing and Communication.
The Office of Emergency Management and Fire Life & Safety teams wrapped up the fall CERT training with an exercise that challenged participants to implement lessons they learned in the previous seven weeks.
Parking and Transportation helped transport the UH marching band downtown to participate in the Houston Astros Championship Parade.
UHPD supported its annual Walk in the Dark with students, faculty, and staff to locate areas that may benefit from increased lighting or other safety improvements.
Esmeralda Valdez, Executive Director of University Services, was named National Association of College Auxiliary Services Volunteer of the Year and appointed to the NACAS South and National Board of Directors. Dr. Emily Messa, Senior Associate Vice President for Administration was appointed Vice President for the NACAS Foundation Board.
These are just a few highlighted items in this month's newsletter. Please take the opportunity to read and explore all the divisional updates and accolades.
I am grateful for each divisional employee and the tremendous hard work and support you give daily to support our community and maintain our student success goal.
I wish all of you and your families a wonderful Thanksgiving.
Highlights & Features
Bikeep Pilot Program Launches on Campus

The University of Houston is now home to two Bikeep smart bike parking stations. The state-of-the-art innovative bicycle rack enables secure parking and deters bicycle thefts. The stations at Butler Plaza and the University Lofts are free for the campus community. The only requirement is that the user's bicycle must be registered with Parking and Transportation. Read more about the Bikeep pilot program and how it landed on campus.

CERT Training Educates Faculty and Staff in Disaster Preparedness

Each Friday for seven weeks during the fall semester, faculty and staff members took a three-hour CERT disaster preparedness course. In the eighth week, the CERT participants tested their newfound knowledge in a mock emergency exercise. Learn more about this semester's CERT training class and how you can take the next disaster preparedness course.

Administration and Finance Ugly Sweater Get Together

The holiday season is upon us, and the Division is celebrating in style with the Administration and Finance Ugly Sweater Get Together on Thursday, Dec. 8th, in the Student Center South Houston Room and Ballroom. This joyful event will bring colleagues together to enjoy each other's company and a delicious meal before the winter break. Reserve your place by filling out the RSVP form by December 1st at 5 p.m. Remember to bring your physical Cougar Card to gain entrance.

UHPD's Walk in the Dark Helps Make the Campus Safer

The University of Houston Police Department welcomed members of the campus community, including faculty, staff, and students, to walk the campus at nighttime to locate areas that may benefit from increased lighting or other safety improvements. Some members of the university's Student Government Association were also on hand and gave instrumental feedback to help UHPD make the campus safer. Read more about UHPD's Walk in the Dark.

HR Impacts Student Success via Internship Bootcamp

Human Resources partnered with the University of Houston's College of Natural Sciences & Mathematics to impact student success via an Internship Bootcamp. Dr. Nikki Duncan, EdD, Director of Talent Acquisition & Development, spoke to a group of Natural Sciences and Mathematics students at the Bootcamp about building an effective resume.

Duncan also moderated a panel discussion with industry leaders as they gave information to the students about what makes a successful intern. HR looks forward to its continued partnerships with the community to impact student success.

Auxiliary Services Town Hall

On Thursday, October 27th, Auxiliary Services hosted their Fall 2022 Town Hall. Representatives from Auxiliary Services, Dining Services, and the Campus Store provided updates on all the great fall programs and services in UH retail, food service/dining, and vending as well as a preview of up-coming events and activities. Learn more about Auxiliary Services' Town Hall by watching the replay.

Houston Public Media Presents: Party Politics

Overwhelmed by the political news? Check out the post-election Analysis — keeping the fun but losing all the drama of politics! The Party Politics podcast is hosted by Brandon Rottinghaus and Jeronimo Cortina, two intelligent and sassy University of Houston political science professors who deliver a friendly, funny, and casually informative recap of the week's biggest political news stories.

Join the conversation on Twitter @HPMPolitics; use #PartyPoliticsPod to ask Brandon & Jeronimo questions, or email them at partypoliticspod@houstonpublicmedia.org.

I SEE U with Eddie Robinson

Actress Karyn Parsons is best known for her role as the spoiled 'Hilary Banks,' Will Smith's cousin in the hit '90s sitcom, The Fresh Prince of Bel-Air – which aired for six seasons on NBC. Parsons is now an acclaimed writer and has already produced a series of award-winning animated children's films about unsung Black historical figures. Listen in as I SEE U Host Eddie Robinson chats candidly with author Karyn Parsons Rockwell about whether or not these renewed conversations are starting to cause a bit of fatigue and exhaustion in today's society.
Video - UH Dining Diwali Celebration Recap

Staff Spotlight
Cougar Cudos

Cougar Cudos goes to Assistant Vice President of Facility Services Mike Oestereicher, for assisting an elderly donor after the President's Address. Mike gave the elderly donor a golf cart ride to her car.

Parking Transportation Assists with Astros Championship Parade

The University of Houston's marching band featured prominently during the Houston Astros World Series Championship Parade, and UH's Parking and Transportation were instrumental in getting them there.

The department utilized 12 UH shuttles and one freight truck, on loan from Copy, Print, and Delivery Services, to transport the UH band and float riders, 475 passengers total, to and from the parade. The department met Sunday with the Governmental Relations Office, the President's Office, the UH Marching Band, and Groome Transportation to piece it together.

Esmeralda Valdez named NACAS Volunteer of the Year, joins Board of Directors

Esmeralda Valdez, Executive Director of University Services, was named National Association of College Auxiliary Services Volunteer of the Year. Valdez received the award at the NACAS C3X 2022 Annual Conference & Expo, held in Las Vegas. The Volunteer of the Year award recognizes a member who has demonstrated exceptional volunteer work at the regional and/or national level. Additionally, Valdez was appointed to the NACAS South and National Board of Directors.

Dr. Emily Messa appointed to NACAS Foundation Board

Dr. Emily Messa, Senior Associate Vice President for Administration, was appointed Vice President for the NACAS Foundation Board. The Foundation's Board of Directors work hand in hand with the NACAS Board of Directors to establish the foundation's goals and objectives.

Facilities Services Ride-Out Team 2022

Each year, Facilities Services organizes a Ride-Out Team. These dedicated individuals are responsible for staying on campus when there is an emergency weather situation. After completing the FEMA NIMS certification, we entrust them as stewards of the campus to keep an eye on the buildings and report any damage following an emergency weather situation.

The team is comprised of representatives from different areas of the department in an attempt to help have different types of expertise available during emergencies and make repairs if possible. Learn more about the 2022 Facilities Service Ride-Out Team.
ICYMI: News You Can Use
UH Health Launches the UH Family Care Center

UH Health has launched the UH Family Care Center, providing comprehensive, affordable healthcare to the local community, including faculty, staff, and students. The center accepts most major insurance plans, including BCBS Health Select of Texas (UH Benefits Plan) & Medicare. The center is conveniently located on campus at Health 2, Suite 1001E, and is open Monday-Friday from 8 a.m. - 5 p.m. with same-day appointments available. Call 832-UHCARES to book an appointment.

Bolster Email Security with ZixMail

Did you know? The University of Houston allows employees to send and receive secure emails via ZixMail. The platform makes it easy to securely send and receive confidential information to anyone and provides end-to-end encryption to protect emails and attachments with a single click. ZixMail is available to all faculty, staff, and students across the UH System. Learn more about ZixMail and how you can take advantage of it.

Holiday Stress? Don't Forget About Your EAP

Human Resources POWER UP Employee Wellness is committed to the health and well-being of university employees and their families and encourages you to take advantage of your Employee Assistance Program (EAP). Call or log in 24/7 for confidential support/counseling with any number of issues, as well as for a variety of tools and referrals.

For EAP information or services, please call toll-free: 1-888-993-7650, email eap@deeroaks.com or log into www.deeroakseap.com (login & password: UHMC).

Human Resources POWER UP Employee Wellness

Early fall has been a busy time for HR Power Up, with employees participating in Mobile Mammograms, the Corp 5K, Retirement Seminars, the annual Faculty/Staff Tailgate, and more. Many employees have taken advantage of HR's Fitness Release Time & Wellness Leave program, and so can you. Learn more about Fitness Release Time and Wellness Leave and how you can apply for this annual benefit.

Public Art UHS Unveils New Mural by Houston Artist DUAL

On November 19th, Public Art UHS hosted its first annual Family & Community Day and publicly unveiled a new large-scale mural by Houston artist and UH alum DUAL. Commissioned by Public Art UHS in conjunction with Up Art Studio's city-wide Big Walls, Big Dreams festival, the mural titled "Ave's Sonar, 2022" is the third project for Public Art's temporary Billboard series and is now on view outside of the UH College of Technology.

True UH Collection at UH Campus Store, Friends and Family Discount Available

Just in time for the holidays, the University of Houston's campus store has rolled out a new True UH vintage collection. Available both in-store and online, they have shirts, hats, water bottles, and much more to let you showcase the historical look of UH. Head to the UH Campus Store to grab your items before they sell out. Additionally, if you shop online, use the code FRIENDSFAMILY to receive 20% off one item, 25% off two items, or 30% off three items storewide with free shipping from Nov. 23-28.
Events & Reminders
November is Diabetes Awareness Month

Did you know that Blue Cross Blue Shield Texas HealthSelect provides Educational and Interactive Self-management Programs to help individuals live healthier lifestyles? Included in these programs is the Preventing Diabetes course developed for those at risk for diabetes or who have already been diagnosed with the condition.

The Living with Diabetes course addresses lifestyle factors related to diet, physical activity, sleep, and regular medical care. Visit Blue Cross Blue Shield Texas Health Select online to learn more about these and other self-management programs.

Finals Mania Returns at the UH Library, December 5th

Finals Mania is back again! To help students during their final exams, Finals Mania, sponsored by UH Auxiliary Services, Libraries, and the Dean of Students Office, provides evening breakfast from 5-8 p.m. in the M.D. Anderson Library. Students can enjoy breakfast goodies, including pancakes, turkey sausage, snacks, beverages, and more!

Faculty and staff are encouraged to volunteer for this event! Please complete the form if you would like to volunteer as an individual. Additionally, University divisions, offices, and departments can sponsor a pancake station to serve students. For information on serving station sponsorships, please contact Matt Oltremari at maoltrem@central.uh.edu.

Coca-Cola Holiday Caravan 

In partnership with Coca-Cola, Auxiliary Services is again bringing the Holiday Caravan to the University of Houston! Save the date for Thursday, December 1st, from 12 – 3:00 p.m. The holiday-themed Coca-Cola 18-wheeler will bring Santa to parking lot 21C (in front of the UH Gateway Garage) for pictures and product sampling. Learn more about the various Coca-Cola sampling events on campus.

Public Art's Folly Receives Over 2,200 Visits

Since opening on October 19th, Public Art UHS's latest temporary public art installation Folly, by Cuban American artist Jorge Pardo, has received over 2,200 visits. Now open daily from 9 am-7 pm, Folly is free and available for the public to visit and enjoy.

UH Dining Events and Promotion

November is Native American Heritage Month, and UH Dining is celebrating by hosting a Native American theme lunch at Moody Dining Commons on November 29th. Bocadillo de Albóndigas from Mondo Subs, carrot cake, and chicken salad sandwich from McAlister's Deli are some of the limited-time offers this month from UH Dining. Additionally, Cougar Woods will serve a Thankful Meal with all the Thanksgiving fixings to commemorate the holiday. Look at the rest of this month's offering.
Submit a story to the A&F S.P.I.R.I.T. Newsletter by filling out the form.
A&F Resources