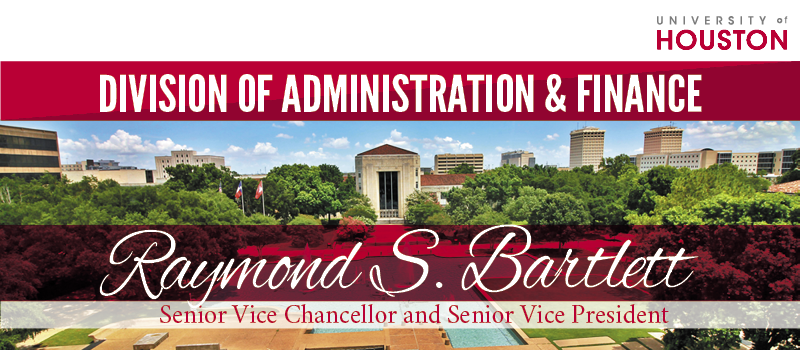 Comprised of Division features, accolades and achievements, as well as valuable "In Case You Missed It (ICYMI)" news you can use, each edition of the newsletter highlights key information and resources across the Division's departmental, operational and service unit areas. Subscribe to the A&F listserv.

Dear Colleagues,
The month of August is a month of new beginnings with the start of a new academic year. As we help the university launch the fall 2023 semester, I am delighted to share that we are also introducing our new divisional strategic plan, VISION 2027.
This new strategic vision represents and showcases the path of the units within the Division as it collectively focuses, along with university leadership, to achieve the University of Houston's stated goal to become a top 50 public university. Together, A&F is committed to being Visionary, Impactful, Strategic, Innovative, Outcome-focused, and North Star Focused as we guide and focus our activities towards becoming a top 50 public university.
I encourage each of you to become familiar with the strategic goals in our divisional plan and to look forward to updates on our progress in this newsletter and our Division Annual Highlights publication.
Along with the launch of our new goals, we also joined colleagues from across the university this month in welcoming students to campus for the start of fall semester classes. A&F staff members greeted students during Cougar First Impressions and assisted parents and students during Cougar Move-In. I encourage all A&F employees to attend our division's contribution to the Weeks of Welcome activities with Behind the Badge on August 30th from 2-5 p.m. at the M.D. Anderson Library in the Elizabeth D. Rockwell Pavilion.
Other highlights in this month's issue include:
A recap from Facilities/Construction Management 2023 Forum.
An update on the many ways UH Dining Services has enhanced campus dining locations for fall.
UIT's new staff intranet.
Updates on important year-end dates and deadlines.
Near campus road construction and traffic impacts.
Fall semester safety reminderd from UHPD.
I am so grateful to all our division employees and all you do to support and serve our UH community. I am delighted to embark with each of you on the strategic journey in Vision 2027 and look forward to showcasing the division-wide accomplishments in this publication and many other forums as we help move the university forward to the top 50 public university designation.
Highlights & Features
VISION 2027 Strategic Publication

The Division of Administration and Finance has released its new divisional strategic plan, VISION 2027. The new strategic plan highlights and outlines how the units within A&F will collectively forge a path toward becoming a top 50 public university. Learn more about A&F's VISION 2027 and how each department will contribute.

UH Dining Services Unveils Changes for the Fall Semester

The University of Houston Dining Services upgraded several campus locations over the summer in preparation for the fall semester. Among the most significant upgrades UH Dining Services worked on was a facelift to Moody Towers Dining Commons. The facelift, which UH Dining Services is calling Moody 2.0, will lighten and brighten up the dining commons and involved re-training associates. Learn more about how UH Dining Services updated Moody Dining Commons and Asado.

UHPD's Four Campus Safety Tips for Fall Semester

With the fall semester underway, the University of Houston Police Department has provided four campus safety tips for the community. The four safety tips are reporting suspicious activity, locking up your vehicle, the importance of bike locks, and reporting a lost or stolen Cougar Card. Read more about these safety tips from UHPD and how they can keep you safe.

A&F Departments Participate in Revenue Vision Training

Auxiliary Services, Parking & Transportation, Business Services, and Copy Print & Delivery Services, along with departments from the University of Houston-Downtown, University of Houston-Clear Lake, and University of Houston-Victoria, took part in a training on Revenue Vision, a centralized system to track, manage and optimize the revenue and expenditure tracking for the UH Office of Administration and component partners.

The two-day training provided the 29 participants with in-depth system training, including dashboard customization, invoicing, tracking, and reporting tools. Training these departments in Revenue Vision aligns with A&F's new strategic vision to implement modern and technologically innovative services and programs.

UHS Facilities Forum 2023: Breaking Barriers with Dream Teams

University of Houston System Facilities leaders and business partners gathered to collaborate, network, and gain knowledge at the 2023 UHS Facilities Forum. This year's theme was "Breaking Barriers with Dream Teams." Staff members across the University of Houston System attended the two-day event. Read more about Facilities 2023 forum.

Facilities/Construction Management Releases Strategic Plan

Facilities/Construction Management's Strategic Plan is now available. The F/CM Strategic Goals were developed by team members representing all areas of the department. These goals represent F/CM'S commitment to supporting a Tier 1 research University with aspirations of becoming a Top 50 public university. Read the full Facilities Strategic Plan to learn more about F/CM's mission and vision.

UIT Launches Intranet for Internal Staff

The University Information Technology department has over 230 employees across the University of Houston System. To better connect with them, UIT is launching an intranet for staff called, Us In Technology. The Us In Technology intranet will engage staff with articles about current projects and accomplishments. Additionally, UIT employees will be recognized for their contributions to the department and university. Learn more about UIT's intranet.

Public Art UHS Featured in 'The Engines of Our Ingenuity'

The Cullen College of Engineering's radio program and podcast, The Engines of Our Ingenuity, tells the story of human creativity as it forms our culture. Written and hosted by John Lienhard and other contributors, it airs nationally on Public Radio and is produced by Houston Public Media. Listen to the program's latest episode 'Technology Engineering & Art,' highlighting three Public Art of the University of Houston System artworks.

Campus Safety Hosts Tabletop Exercise Ahead of Football Season

In preparation for UH Football's first home game in the Big XII Conference, the Office of Emergency Management (OEM), the UH Fire Marshal's Office, and the Division of Athletics hosted a tabletop exercise to test preparedness and communication capabilities. Nine of the critical areas associated with football game day participated in the exercise, which featured an exercise featuring the 'discovery of a suspicious package.'

The exercise guided participants through the process and protocol needed to handle situations such as a 'suspicious package' and readiness before the first Big IX football game. Exercises are developed to test participants' knowledge of resources and response activities and to acknowledge and correct gaps before football season begins. This tabletop exercise allowed participants to walk through the communication methods and processes that would be taken throughout an emergency incident. Visit the OEM website for more information on OEM exercises, training, and outreach.

Campus Safety Engaged With Incoming Students at New Student Orientations

The departments comprising Campus Safety, Office of Emergency Management, Fire and Life Safety, Occupational Health Services, and Environmental Health and Safety participated in the 2023 freshman and transfer student orientations.

Incoming freshman and transfer students got to know the departments within Campus Safety and learned how to stay safe on campus. After hearing from Campus Safety, students could choose from sunglasses, playing cards, pens, magnets, drawstring bags, and more. Additionally, OEM educates students and their parents regarding UH Alert, the University's emergency notification system. Learn more about UH Alerts.

"I'm extremely proud of the team's participation and engagements with new UH students at orientation this year," said Campus Safety AVP, Kelly Boysen. "Our presence to answer the important questions from students (and their parents) and to share resources in order to proactively prepare plays a critical part in students' overall success."

OEM Visits the National Weather Service

The Office of Emergency Management (OEM) toured the local National Weather Service (NWS) office this summer in order to build a partnership between the two agencies. In addition, the visit is part of the requirement for the University of Houston's OEM to recertify its designation as a StormReady university.

OEM takes great pride in its StormReady recognition, a community preparedness program focusing on severe weather. There are 122 NWS offices in the country, and the Houston/Galveston office is how OEM receives reliable and credible information about the weather and how it may impact the University of Houston. Learn more about OEM's StormReady.

OEM and UHPD Participate in Full-scale Emergency Exercise at Baylor University

The Office of Emergency Management and the University of Houston Police Department participated in a full-scale emergency exercise at Baylor University earlier this month. Attendees included Sergeant Leonard Ganther, Sergeant Rahim Ali, Corporal Dylan Hartman of UHPD, and Evan Broadbent, Emergency Management Specialist representing OEM. Along with UH, other Big XII institutions of higher education also participated.

The exercise was based on an active violence scenario within one of the buildings on the Baylor University campus. The exercise included a multi-agency law enforcement response, medical triage, and transport of patients to local hospitals. In addition, the exercise strengthened inter-operability and mutual cooperation among Big XII conference members and their respective safety and security teams.

Sugar Land Podcast from Houston Public Media and NPR

Listen to the 'Sugar Land' podcast, a production of The Texas Newsroom, a public radio journalism collaboration that includes NPR and Houston Public Media. Learn more about the 'Sugar Land' podcast and listen to all the episodes.

Houston Public Media Presents 'Dead and Buried' Series

Death: a taboo topic or a natural part of life? 'Dead and Buried' is a series hosted by Curly Velasquez that explores our attitude towards end-of-life and breaks down taboos. Hear episodes of this thought-provoking collaborative series between Houston Public Media, Electric Pearl, and PBS Digital Studios.

UHPD and UH Care Team Visit the Houston Recovery Center

UHPD and the UH Care Team visited the Houston Recovery Center to reinforce their commitment to providing the best care for UH students and the campus community. The Houston Recovery Center serves as an immediate need for individuals under the influence. As an alternative to jail and, in the future, emergency room admissions, the sobering center is an appropriate destination to screen for and manage substance use disorders that present a public safety and health hazard.
Video of the Month
Moody Towers Dining Commons has been renovated to create a brighter and more welcoming atmoshphere for the campus community. Watch a video tour of the updated dining hall.

Staff Spotlight
Cougar Cudos

Cougar Cudos is a Staff Council program that allows staff to recognize other staff members for exceptional service to the University of Houston. To nominate a fellow staff member, fill out the Cougar Cudos Nomination Form.

Director of Emergency Management, Ginger Walker, recognized by the Division of Student Affairs

The Division of Student Affairs (DSA) recently celebrated the achievements of Ginger Walker, the director of emergency management, as she was awarded the "Friend of the Division" award. This recognition is a testament to Walker's unwavering dedication and exceptional contributions to ensuring the safety and success of students and the broader UH community. Read more about Ginger's recent award and her dedication to the University community.

UIT's Training and Development Pilot Project Expands Students Knowledge

Beginning in June 2023, UIT students were asked to complete various training courses to determine whether the online training should be part of the Help Desk and Classroom Technology Training. Pam Garcia, Project Manager, and Cameron Raschke worked on both training others and developing ideas for future training. The staff advisors were Amy Ma, Maricela Rodriguez, Matthew Harvey, and Rafael Arroyo.

After two months of training, ten students completed almost fifty total certifications. Some certification classes completed were DUO Help Desk Administrator, Basic Fiber, USB-C, Streaming Media, Amazon Web Services, VOIP PBX, and Linux Basics. UIT's Training and Development project will continue expanding student knowledge and creating SMEs (Subject Matter Experts) in other areas.
ICYMI: News You Can Use
Grubhub Now Accepts ShastaBUCKS

The University of Houston has partnered with Grubhub to allow faculty, staff, and students to place orders with off-campus restaurants using their ShastaBUCKS. Additionally, there are $0 delivery fees on orders of $18 or more from eligible off-campus restaurants. Read more about this delicious partnership.

Live Agent Now Available Through Chatbot

To better serve students, faculty, and staff at the University of Houston, Auxiliary Services, Cougar Card Services, and Cullen Performance Hall now have a 'Live Agent' feature available through the website Chatbot. Users can chat directly with customer service staff in real time by simply typing a question into the chatbot and requesting to speak to a live person.

Class Supply Vending Machine at M.D. Anderson Library

There's no shortage of vending machines at M.D. Anderson Library, but while the majority are filled with sodas and snacks to satisfy students' cravings, there's one that has neither. M.D. Anderson Library is home to a vending machine filled with supplies like pens, pencils, scantrons, and testing materials. The class materials vending machine allows students to have a place to purchase specific classroom supplies when they are on the go.

Back-to-School Fire Safety Tips for the UH Community

With the fall semester underway, Fire & Life Safety wants to ensure the campus community is informed regarding key fire safety practices. The department has provided seven fire safety tips for the University of Houston campus community. Read about the fire safety tips to stay safe this fall semester.

UH/UHS Releases Updated 2023-2024 Calendar

The University of Houston & University of Houston System has released an updated Fiscal Year 2023-2024 calendar that provides deadlines and submission instructions for administrative and financial activities for the end of fiscal year 2023 and the beginning of fiscal year 2024. See the new updated calendars and schedules.

Ongoing Construction and Road Closures

A reminder to add extra time to your commute into the university as there is construction on and around Cullen Boulevard and alternating lane closures on Spur 5 that will cause higher than usual traffic volumes. The TxDOT Spur 5 project is targeted for completion in January 2024. To stay connected with campus road construction and outages, please visit the Facilities outage website.
Events & Reminders
CERT Training Registration for Fall Semester is Open

Registration for CERT (Community Emergency Response Team) Training is open for the fall semester. The 8-week course, organized by the Office of Emergency Management and Fire & Life Safety, starts on September 15 and ends on November 3rd. Participants will learn how to prepare themselves, their family, and their neighbors, in the event of a disaster.

The training will include disaster preparedness, fire suppression, disaster medical operations, search and rescue, incident command system, terrorism awareness, and disaster drill and simulation. Learn more about CERT and get signed up today to reserve your spot.

Behind the Badge set for August 30

Mark your calendars as Behind the Badge, the community engagement event that provides a forum for the campus community the opportunity to meet and talk with local law enforcement, returns on Wednesday, August 30th, from 2–5 p.m. at the MD Anderson Library, Elizabeth D. Rockwell Pavilion. UHPD, Office of Emergency Management, EHS, and the Fire Marshall will be in attendance, while external safety partners, including the Houston Police Department and the Houston Fire Department, will also be on site.

Coca-Cola & Vitaminwater Activation Events Coming to UH Campus

Through a partnership with UH's exclusive beverage vending provider, Coca-Cola, Auxiliary Services is pleased to bring Coca-Cola and Vitaminwater activation events to campus during the first few weeks of the fall semester. On Friday, September 8th, from 9 am – 1 pm, visit Lynn Eusan Park for Vitaminwater product samples, photo opportunities, and games. The events are free and open to the entire UH campus community.
Submit a story to the A&F Newsletter by filling out the form.
A&F Resources