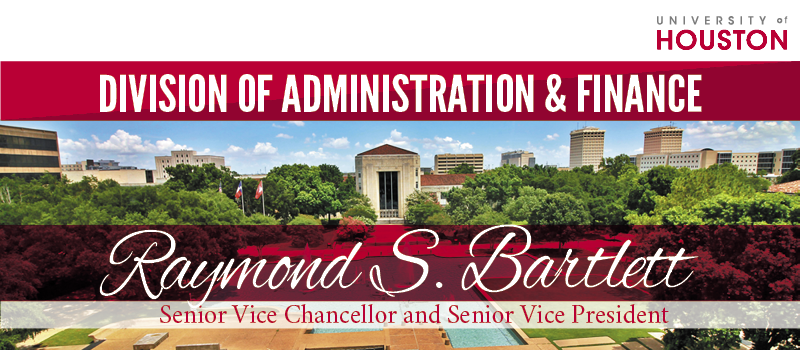 Comprised of Division features, accolades and achievements, as well as valuable "In Case You Missed It (ICYMI)" news you can use, each edition of the newsletter highlights key information and resources across the Division's departmental, operational and service unit areas. To subscribe to this listserv, click HERE.
Leadership Message from the Chief Financial Officer
Greetings Colleagues:

As we head into the final preparations for the fall semester, this month's newsletter features the latest updates and divisional news and events, including the following:

· An innovative new service partnership from Facilities/Construction Management, Frontline FIXIT @ the door in 24, the 24/7 FIXIT Customer Call Center serviced by WorkQuest;

· A heartfelt tribute in memory of Chief Sterling Baker, the University of Houston Police Department's first police chief, who recently passed away. Chief Baker was a life-long friend to the department and the University, and I know will be missed by his friends at UHPD; and

· An introduction to CougarQ, our new online virtual appointment and queuing service -- a partnership with departments in Administration, Finance, and University Information Technology -- to enhance the customer experience.

In addition to these noteworthy division-wide updates, please take a few minutes to complete the division communications survey. As always, I welcome your feedback about how our division-wide communication efforts can be enhanced and improved.

Be sure to complete the survey by the end of the month to be eligible for a random drawing for gift cards to on-campus vendors, such as the Campus Store and more, as a small token of appreciation for your perspective.

Thank you for all that you do to support our university community.

As always, stay safe and stay healthy.
Highlights & Features
Building Futures, Maintaining Excellence was the summation of F/CM's recent mission and vision initiative. Revolutionizing customer service with a new emphasis on engaging with customers is one way these four words are not just a statement on a wall but are being made real in the hall. Learn more about Frontline FIXIT @ the door in 24, the 24/7 FIXIT Customer Call Center serviced by WorkQuest, a nonprofit corporation that links Texans with disabilities to meaningful employment opportunities.

Get plugged in! As part of our continued commitment to sustainability and energy savings, the Parking and Transportation Services Department is pleased to be able to offer the use of 26 Electric Vehicle Charging Stations (52 total spaces) to UH students, faculty, staff, and visitors. Click here to read more.

Since the beginning of the pandemic, Houston's frontline healthcare workers have been working tirelessly to keep the rest of us safe and well. But what about the toll it is taking on them and the mental, emotional, and spiritual needs of these healthcare heroes?

In Episode 7 of TESTED, we see what measures Houston's hospital systems have taken to keep their staff strong in the face of an exhausting pandemic.

Learn more and watch the episode here!

DYK? Community engagement with EOS

Did you know…that the Office of Equal Opportunity Services (EOS) teams up with a number of campus partners to ensure that through collaboration, community members are provided with a safe and inclusive educational and working environment? EOS staff members meet regularly with representatives from UHPD, Student Housing and Residential Life, the Women and Gender Resource Center, UH Wellness, and more to discuss equal opportunity on campus.

Take a Look…

In addition to providing information about off-campus resources, EOS works together with our campus partners to connect community members to an array of on-campus support resources. For information related to equal opportunity issues, please contact EOS at eos@uh.edu or (713) 743-8835.

Skip the line, same time! Faculty, Staff and Students:
Join the virtual line or schedule an appointment by visiting CougarQ in AccessUH for scheduling appointment. Learn more here.

Flood safety reminders

Turn Around, Don't Drown! Flooding is one the most common types of natural disaster in the Houston area. Conditions that cause flooding can include heavy rain that saturates the ground lasting several hours or days. Flash Flood emergencies can happen with little or no notice here in Houston. Flash flooding can be sudden, roadways can be covered in swiftly moving floodwater, making them unsafe and impassable. Knowing what to do and what not to do is important for your safety. Take a minute to review the National Weather Service's Turn Around, Don't Drown Public Safety Announcement.

A heartfelt tribute in memory of Sterling Baker, the first UHPD Chief

The University of Houston extends deepest sympathies and condolences to the family of Sterling Baker, the first UHPD Chief who passed in June. Chief Baker spent twenty years in the University of Houston Traffic and Security Department, where he helped it grow into what is now UHPD.

In the late 1950s, he also created a proposal that helped in the formation of what would become the International Association of Campus Law Enforcement Administrators.

Pictured at left are current Chief Ceaser Moore and Sterling Baker at the UHPD 50th Anniversary Celebration in 2017.

Calling all foodies and more!

Mark your calendars for Thursday, July 29, at 2 pm to hear the latest information about all Auxiliary Services updates, including meal plans, service offerings, contactless pickup and more!

Come join the Parking & Transportation Services Town Hall

Save the dates!

University of Houston at Sugar Land - July 21, 11 am- 12 noon

UH at Katy - July 21 1 pm- 1:45 pm

UH "summer town hall" - August 4

Stay tuned for more details!
ICYMI: News You Can Use
Welcome aboard! New assistant directors of Campus Services

A Cougar Red welcome to the newest team members! Campus Services is considered the "first impressions" team within Facilities/Construction Management who are instrumental in leading the way when it comes to building futures and maintaining excellence for the University. Learn more here.

The Racial Equity and Social Justice Committee Progress Report highlights the diversity, equity and inclusion webpage featuring "We Marched On" social conversation with Alexis Cheatum, Olivia Lam, Dr. Emily Messa, and moderated by Dr. Donnell Young. Watch the video on youtube here.

All the way from way out west, Sandy Brown has "already hit the ground running by assisting departments, colleges and divisions with the annual continuity of operation planning review," said Ginger Walker, director, Emergency Management. "I'm motivated and excited to begin my new journey in the Office of Emergency Management and proud to be a part of the University of Houston!," said Brown. Learn more here.

Don't miss the latest Cullen Performance Hall events!

From comedy to musical performances, there's something for everyone at the UH Cullen Performance Hall. Check out what's happening at the historic CPH and book your event today!

Save the date: Campus Store refresh celebration coming soon

New look, new merchandise and an Apple kiosk in store are just some of the many enhancements to celebrate at the upcoming ribbon-cutting ceremony scheduled for Aug. 19. Check out the latest must-have essentials for success and gear up for fall!

Cougar Card Office staff volunteers needed

Here's your chance to help the Cougar Card Office distribute new cards and educate customers about the card's features during the first weeks of the fall semester. Sign up to volunteer by August 6 here.
Accolades & Achievements
| | |
| --- | --- |
| | For the third year in a row, the University of Houston's official mobile app, UH Go, has won national awards. This year UH Go tied with CSU San Bernardino in the innovation award category from Modo Labs. In addition, for the second year in a row, UH Go was named the winner of the award for app personalization. The mobile team, which consists of UH Marketing and University Information Technology, accepted the awards virtually on June 23, 2021. Click here to learn more. |
A&F Resources