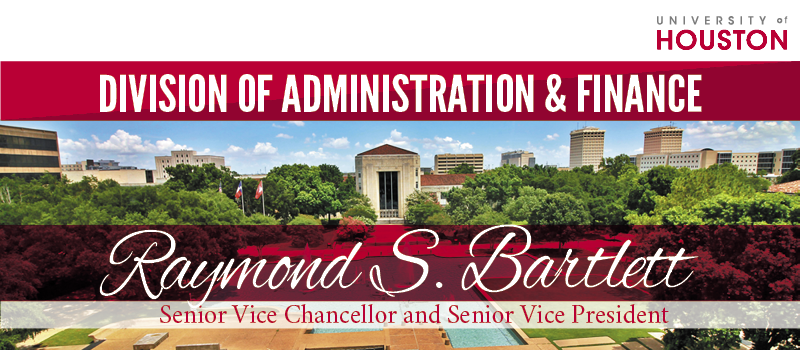 Comprised of Division features, accolades and achievements, as well as valuable "In Case You Missed It (ICYMI)" news you can use, each edition of the newsletter highlights key information and resources across the Division's departmental, operational and service unit areas. Subscribe to the A&F listserv.

Dear Colleagues,
For state of Texas employees, the month of July brings the state's summer benefits open enrollment period and UH's annual Wellness and Benefits Fair, held on July 13 at the Campus Recreation and Wellness Center. We are grateful to Human Resources for hosting this important event, where just over a thousand employees attended to learn more about the full range of benefits available to UH employees. I hope you enjoy reading more in the event photo gallery.
This month, I would also like to highlight the results from the spring semester 2023 student satisfaction survey, which showed an overall improvement across all categories for Administration and Finance areas. The improved student satisfaction survey results reflect the Division's priority around continuous improvement efforts across all service areas, and you can read more about these efforts in this month's newsletter.
In this month's issue, we also highlight the division's student employees, who are employed with us over the summer and how they are using these experiences to advance and prepare for their future careers after graduation.
Other highlights in this month's issue include:
An update from Finance and University Information Technology on the new Business Process Optimization Group.
An introduction to the new Digital Accessibility Specialist role at EOS.
Human Resources' new Virtual Library and how it will help employees.
A story on how the university's Central Plant works to keep the campus operational during the hot summer months.
The July newsletter also includes additional divisional updates and highlights from around the division. I urge you to read and explore the newsletter and learn about what the many departments are up to this summer.
I am so grateful to all our division employees and all you do to support and serve our UH community.
Highlights & Features
2023 Spring Student Satisfaction Survey Highlights Stellar Improvement Across All A&F Departments

The University of Houston's annual spring satisfaction survey yielded positive improvement marks for the Division of Administration and Finance.

This survey was distributed to all enrolled students at the University of Houston, University of Houston at Sugar Land, and University of Houston at Katy, with 6,458 students responding for a 14.7 percent response rate, the highest ever for the annual satisfaction survey. Read more about the results of the survey.

Office of Finance Leadership & UIT Launch New Group

As part of its strategic goals, the Office of Finance Leadership recently launched the Business Process Optimization Group, in partnership with University Information Technology. This group consists of Finance and UIT leadership, and a new group of employees, hired for this specific team, working to achieve incremental and iterative improvements in enhancing the functionality of enterprise systems used by many UH employees in their daily work. The goals of this team, over time, are to:

Link centralized enterprise systems for reporting, such as the Oracle Finance System and the Oracle HR System
Eliminate cumbersome manual processes
Create opportunities for automation
Enhance centralized training resources on enterprise systems

In terms of areas of focus, Finance and UIT leadership prioritize areas of opportunity for enhancement and provide support and resources for the team. We look forward to updates and enhancements from this collaborative A&F team!

Meet A&F's Summer Student Employees

Summertime for some University of Houston college students means relaxing, refreshing, and recovering from the spring semester. For others, the summertime offers an opportunity to participate in internships or work summer jobs, including on campus.

There's no shortage of summer employees helping in the division of Administration and Finance. The students gain valuable experience and are exposed to a real-life work environment. Meet some of A&F's summer student employees and learn about their roles and responsibilities.

EOS Announces New Digital Accessibility Specialist Role

Equal Opportunity Services (EOS) recently announced the creation of a new position within its department - Digital Accessibility Specialist.

The role of Digital Accessibility Specialist Alexis Hines will be to address university digital accessibility standards regarding documents, course content, websites, apps, and products. Read more about the Digital Accessibility Specialist and the plans of the group.

UH Employees Discover Their Benefits at Wellness Fair

Human Resources held its annual Wellness & Benefits Fair in July, with just over a thousand University of Houston employees attending.

Sandra Armstrong, Executive Director of Human Resources, called this year's benefits fair a success, adding that it is the perfect opportunity for employees to speak to vendors and discover all the benefits afforded to UH employees. Read more about this year's Wellness Fair.

HR's New Virtual Library Aims to Help UH Employees

Human Resources has unveiled a new virtual library for benefits-eligible employees designed to offer mini-courses on various topics that interest staff.

The Staff Virtual Library has nine tiles, Recruitment, Employee Relations, Benefits & Wellness, Virtual Lunch & Learn, Policy Overview, HR Service Center, Auxiliary Training, Leadership, and Executive Leadership, with each tile containing instructional videos behind them. Read more about the Staff Virtual Library.

UH Campus Store Hosts DesignYOU! Code Camp Attendees

The UH Campus Store recently hosted campers from the DesignYOU! Code Camp at the store as part of a camp field trip.

The Campus Store staff prepared various activities for the students, helping them learn the meaning of SKU numbers through a store scavenger hunt, how the checkout process works, how the staff uses software to manage inventory and ordering, and the importance of visual merchandising. Read more about the campers' experience at the campus store.

EHS Participates in Take Your Child to Work Day

The Office of Environmental Health and Safety partnered with Staff Council for the first time in June's annual Take Your Child to Work Day. The event took place in a mock laboratory space on campus.

The EHS team was excited to showcase the Office's unique ways in which it serves the research community while having the opportunity to inspire young minds. Read more about the Office's involvement in Take Your Child to Work Day.

Cougar Card Services Featured in NACAS Positive Identity Blog

Cougar Card Services' success with its online photo submission option was featured recently on the NACAS Positive Identity Blog. Cougar Card Services Director Rosie Ashley authored the blog post, 'Preparing for Fall Rush: Tips to Increase Online Photo Submissions.' Ashley's post guides readers into how Cougar Card built the photo submission option into a success and offers tips for replicating it.

"Our office continues to operate this way as of June 2023 because of the efficiency the online photo upload option provides to our staff and campus community," said Ashley.

Read the blog post to learn more about Cougar Card's successful photo submission option.
Video of the Month - Cougar Card Connect
Cougar Card Services has released a series of videos to help the campus community navigate its new Cougar Card Connect system. Click the video below to learn how replace a lost Cougar Card, add funds, and more.

Staff Spotlight
Cougar Cudos

Cougar Cudos is a Staff Council program that allows staff to recognize other staff members for exceptional service to the University of Houston. To nominate a fellow staff member, fill out the Cougar Cudos Nomination Form.

Keeping the University of Houston Operational

The University of Houston Central Plant generates significant quantities of chilled water, electricity, and steam to power and keep the campus operational. And the infrastructure and utilities to operate the Central Plant run through the three-mile tunnel network underneath the university.

Assistant Director of Plants, Mechanics and Operation Chris Dominick is among the hard-working Facilities/Construction Management employees who keep the plant running. Recently, Dominick spoke to UH Today and divulged how the Central Plant operates, the purpose of the water wall, and how he landed at UH. Learn more about UH's Central Plant and Dominick.

UH Campus Store Employee Receives Follett Award

Former University of Houston Campus Store manager, Samantha Eades, was recently awarded a Follett Higher Education CEO Excellence Award.

Eades was honored due to her commitment to UH and determination to provide students with affordable course materials. Eades and many UH staff members worked tirelessly to grow the Cougar Textbook Access Program (CTAP) to provide students with affordable products to ensure their classroom and academic success.

Now serving as Follett's Course Materials Market Manager, Eades was also honored due to the campus relationships and partnerships established over the years that encouraged and facilitated success for UH's students and faculty and Follett Higher Education.

National Postal Worker's Day

July 1st was National Postal Worker's Day, a day to celebrate and recognize postal workers. In UH, Delivery Services has six postal workers on staff, and Printing Operations Manager Karen Flores says each is crucial to the department's success.

"I trust my team full-heartedly. And that's important because it's a big campus," said Flores. "We have a very good vibe. Everyone works well with one another, and it limits the miscommunication in our area. It's a very good working environment, and they enjoy it."

Nominate a Colleague for a President's Excellence Award

The 2023 President's Excellence Awards nomination period is now officially open! Bestowed upon exemplary staff annually, the President's Excellence Awards is your opportunity to help recognize one or more of your colleagues for their valuable service to the University by placing their names into nomination.

Acceptance of nominations for this year's President's Excellence Awards began July 21th and will conclude Wednesday, August 2nd, at 5 PM. To learn more about the award categories and to submit your nominations, please visit the Human Resources Employee Recognition Program webpage or Email: hrben@central.uh.edu, Subject Line: President's Excellence Awards.

UHPD Participates in TAPS Academy Summer Youth Leadership Institute at UH

The Teen and Police Service (TAPS) Academy hosted its annual free Summer Youth Leadership Insitute at the University of Houston, with UHPD among the law enforcement agencies participating. The Institute is an intensive 3-week TEA-accredited educational program that allows high school and middle school students from all over Houston to earn one high school credit upon successful completion. See more of UHPD's involvement in TAPS Academy Summer Youth Leadership Institute.
ICYMI: News You Can Use
New Faculty/Staff Meal Plan Options Available August 1

Beginning August 1, faculty and staff can enroll in a brand-new Faculty/Staff Meal Plan program created by UH Dining Services. The program will allow employees to select from three block meal plans for dining at the two campus dining commons. Those enrolled in the Faculty/Staff Meal Plans can enjoy 5, 10, or 15 meals monthly with cost savings over the current door rates. Visit the Faculty/Staff Meal Plans web page for more information.

Boost Mobile and Starship Delivery Apps to Separate Effective July 17

A recent pilot program to integrate the Boost Mobile and Starship Robot Delivery apps into a singular, holistic food order experience for UH users exposed several technical concerns. As a result of that pilot program, UH Dining will be switching back to using both apps individually effective July 17. Boost Mobile will be used for pre-ordering meals to be picked up at campus food locations. Starship will be used for robot delivery.

Heat Safety Tips from Office of Emergency Management

The 2023 summer season has seen higher temperatures than in years past, with days reaching 100 degrees or more. The Office of Emergency Management has compiled a fact sheet of heat safety tips and information. Among the recommendations are the difference between a heat watch and a heat warning, and how heat exhaustion compares to a heat stroke. Learn more about heat safety tips.

OEM Offers Hurricane Season Training

The ongoing Atlantic Hurricane Season will be active until November 30th. Facilities/Construction Management requested additional training for their supervisors to better prepare for the season.

Ginger Walker, Director of Emergency Management, presented hurricane information, ways to stay informed by receiving UH Alerts and city/county emergency notifications, maintaining a "Go-Kit," and the value of having an evacuation plan. F/CM is now even more equipped to tackle the 2023 Hurricane Season.

To request a training for your department, contact Maia Solomon with the Office of Emergency Management at misolomon@uh.edu.
Events & Reminders
Cougar Card Office Call for Volunteers

Sign up to help the Cougar Card Office distribute Cougar Cards and educate customers on the Photo Upload and the Appointment/Virtual Line processes for Residential Move-in. The Cougar Card Office needs volunteers for the following dates: August 17th, 18th, 22nd, and 23rd.

To register, sign the Cougar Volunteer Interest Form and if you have any questions, please contact Daisy Del Fierro at 713-743-6027 or via email at dkdelfierro@uh.edu.

CERT Training Registration for Fall Semester is Open

Registration for CERT (Community Emergency Response Team) Training is open for the fall semester. The 8-week course, organized by the Office of Emergency Management and Fire & Life Safety, starts on September 15th and ends on November 3rd. Participants will learn how to prepare themselves, their families, and neighbors in the event of a disaster.

The training will include disaster preparedness, fire suppression, disaster medical operations, search and rescue, incident command system, terrorism awareness, and disaster drill and simulation. Learn more about CERT and get signed up today to reserve your spot.

Behind the Badge set for August 30

Mark your calendars as Behind the Badge, the community engagement event that allows the campus community the opportunity to meet and talk with local law enforcement, returns on Wednesday, August 30th, from 2-5 p.m. at the MD Anderson Library, Elizabeth D. Rockwell Pavilion. UHPD, Office of Emergency Management, EHS, and the Fire Marshall will be in attendance, while external safety partners, including the Houston Police Department and the Houston Fire Department, will also be on site.
Submit a story to the A&F S.P.I.R.I.T. Newsletter by filling out the form.
A&F Resources