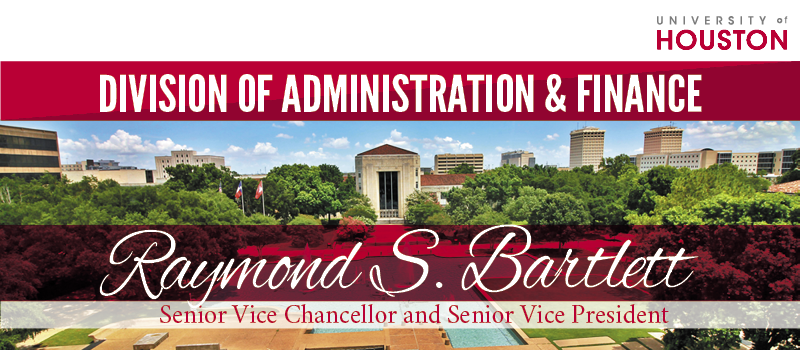 Comprised of Division features, accolades and achievements, as well as valuable "In Case You Missed It (ICYMI)" news you can use, each edition of the newsletter highlights key information and resources across the Division's departmental, operational and service unit areas. Subscribe to the A&F listserv.

Dear Colleagues,
May marks the conclusion of another rewarding and successful academic year with the hosting of our annual commencement ceremonies. I am so proud of the many Administration and Finance departments that worked to ensure this year's 17 ceremonies went smoothly.
I am so proud and appreciative of the sacrifice and commitment to making this a special and memorable moment for graduates and their families. I have received much positive feedback from university leadership on our role in the festivities. A heartfelt thanks to everyone involved in the commencement season.
Additionally, this month's newsletter highlights recent staff and student employee graduates from the division and the many ways that the A&F division supported the institution during commencement festivities.
Also, a reminder that the university hosts a multitude of orientations and camps during summer, which means a high volume of visitors to our campus buildings and dining locations. Please plan accordingly when moving around campus.
This month, the division leaders participated in the May UH System Board of Regents meeting. Items approved at the meeting included the annual update to the University of Houston and the University of Houston-Victoria Master Plans, design and construction contracts for the new UH Football Operations Building, design and construction contracts for the UH-Victoria Health and Wellness Center, and contracts for goods and services and construction. For a complete list of agenda items reviewed and approved by the Board of Regents in May, please visit the Board web site.
Other notable features in this month's newsletter include:
An update on University Information Technology's multimodal classroom project.
The launch of the new Employee store, hosted by the Campus Store.
A photo gallery from this semester's Finals Mania.
An update on summer hours from Dining Services.
These are just some of the highlighted feature articles in this month's newsletter. Please read and explore all the divisional updates and accolades to learn more about updates and key dates from A&F departments and services.
I am grateful to all of you and the outstanding work and support you provide daily to support our community and strengthen student success.
Highlights & Features
A&F's Involvement in Commencement Ceremonies

The University of Houston spring commencement season is officially in the books. For spring 2023, 6,163 undergraduate, graduate, doctoral, and professional students received their degrees across 17 ceremonies.

As with every commencement season, the Division of Administration and Finance departments were instrumental in ensuring the success of each commencement ceremony. Read more about A&F's involvement in this year's commencement ceremonies.

UIT's Multimodal Classroom Project

Audio-Visual Contractor MCA Communications has worked with team members in the University Information Technology department to transform 50 University of Houston classrooms into multimodal classrooms since 2022.

These multimodal classrooms are also referred to as hyflex classrooms, are outfitted with technology like dual monitors, assisted listening devices, auto-tracking cameras, and zoned sound speakers, to name a few. Hyflex classrooms also have special labels on the outside of the classroom to indicate that they are equipped with these enhancements. Learn more about UIT's multimodal project.

Finals Mania Helps Students Through Finals

The Finals Mania tradition continued in May with 1,134 students filling M.D. Anderson Library to fuel up for finals with breakfast tacos. This year's version saw a 21 percent increase in attendance, with 59 faculty and staff members serving breakfast tacos. Coffee, orange juice, and Coca-Cola producers were also available at the event. Relive Finals Mania by visiting the photo gallery.

New UH Employee-Only Store Launches

A University of Houston online store for employee merchandise recently launched, allowing faculty and staff to purchase branded UH gear.

The branded materials include clothing items like polo shirts, hoodies, and fleeces. Stationary business items are available including pens, padfolios, and pins. Additional available items in the store are collectibles, everyday essentials, gifts, and accessories. Read more about this new employee-only store.

Facilities/Construction Management Attends TAPPA Conference

University of Houston staff members from the Facilities/Construction Management department attended the 2023 TAPPA Educational Conference and Business Partner Fair in Denton, Texas. Facility staff members attended break-out sessions and networked with peers and business partners. Networking with industry peers allows staff to see how other Facilities departments work at other Texas universities. Read more about what Facilities learned at TAPPA.

Facilities in Review Magazine Now Available to Read

Facilities/Construction Management's latest issue of the 'Facilities in Review' magazine is now available. This year's edition highlights accomplishments from the F/CM in 2022, such as hosting the TAPPA Conference and receiving a grant which the department used to purchase a more efficient and reliable recycling truck. Read the full Facilities in Review magazine to learn more about Facilities/Construction Management.

HPM Celebrates Asian American & Pacific Islander Heritage Month

The first ten days of May are chosen to coincide with two important milestones in Asian/Pacific American history: the arrival in the United States of the first Japanese immigrants on May 7, 1843, and the contributions of Chinese workers to the building of the transcontinental railroad, completed on May 10, 1869.

Houston Public Media proudly celebrates and recognizes the contributions and impact of our Asian American community year-round. To learn more via podcast and programming from Houston Public Media's TV8 and News 88.7, visit the Asian American & Pacific Islander Heritage page.

UH Dining Welcomes Renowned Houston Chef

UH Dining hosted a Celebrity Chef event on May 2nd featuring Chef Kaiser Lashkari from Himalaya Houston, a restaurant known for its Indian and Pakistani cuisine. Chef Kaiser spoke about his two signature dishes, Chicken Karahi and Paneer Karahi, posed for photos, and connected with the UH community. Watch the video below for a recap of Chef Kaiser's visit to UH.
Video of the Month - UH Dining Welcomes Chef Kaiser

Staff Spotlight
Cougar Cudos

May Cougar Cudos go to Sharon Pellas from the Office of Fire & Life Safety and Environmental Health and Safety for assisting a student who was having trouble breathing. Sharon assisted the student and helped them until the first responders arrived.

Fire & Life Safety Executive Director Chris McDonald received cudos for developing a testing strategy that allows Facility Operations to fully utilize the new medical complex building and improve support in that part of the campus.

Environmental Health & Safety team members Lisa Benford, Bin Yang, Adetejuola Gbosi, Zhen Fu, Keel Curtis, Stephanie Araiza, John McNeely, Ramon Cantu, Tekchheng Tam, Luis Vigil, Marissa Tarango, Jesse Ash, Steven Burns, and Sharon Pellas get cudos for assisting various departments to prepare for an accreditation inspection.

Celebrating A&F Graduates

Join us in congratulating the fall and spring graduates from Administration and Finance. The graduates represent interns, student employees, directors, and managers. Learn more about these graduates, their role with A&F, what institution they graduated from, and why they chose to pursue their major.

Dr. Emily Messa Receives a 2023 Library Excellence Award

University of Houston System Associate Vice Chancellor and Associate Vice President for Administration Dr. Emily Messa received the Dean's Advocate Award at the 2023 Library Excellence Awards. The award recognizes a UH employee who has collaborated with UH libraries during the past year.

Messa received the award for being an advocate and partner in finding opportunities for improving the student experience, plus building a relationship with Dean Jackson in support of UH libraries. Read more about the 23rd Library Excellence Awards.

TAPPA Conference Recognizes James Norcom, III

Facilities Principal Project Manager James Norcom, III was awarded the Facilities Management Distinguished Service Award for promoting education and professional activities while serving as a role model and mentor.

"I was surprised and honored to be recognized by my own university and by colleagues across the state," remarked Norcom. Read more from Norcom's win at TAPPA.

HR Welcomes New Senior Recruiter

Welcome the newest member of the Talent Acquisition team! Nicole Babineaux is our new Senior Recruiter covering the division of Academic Affairs. She has her degree in Interdisciplinary Studies and a Graduate Certificate in Human Resources Management & Project Management from the University of Houston Downtown. She has over five years of working in recruitment within public education and has experience working in the financial industries. Join us in welcoming Nicole Babineaux to the HR Recruitment Team.

Houston Public Media Wins Two Edward R. Murrow Awards

Since 1971, the Radio Television Digital News Association (RTDNA) has been honoring outstanding broadcast and digital journalism achievements with the Edward R. Murrow Awards. Among the most prestigious in news, the Murrow Awards recognize local and national news stories that demonstrate technical expertise and exemplify the importance and impact of journalism as a service to the community.

This year, Houston Public Media is honored to win two Regional Murrow Awards for the compelling work on Below the Waterlines, Houston after Hurricane Harvey, and the Latino Voter Engagement Project. Listen to the award-winning podcasts.
ICYMI: News You Can Use
UH Dining Services Summer Hours

Before you head out to your favorite food service spot on campus, check the summer hours of operation.

As a reminder, summer also means new student orientation sessions and camps will be happening on campus. Faculty, staff, and camp and conference coordinators are encouraged to schedule any camps and conferences ahead of time with UH Dining Services to avoid conflicts with increased dining commons demand on orientation dates.

UH Foodie Text Communication Service Coming This Summer

Beginning this Summer, UH Dining Services will be rolling out a new UH Foodie text messaging service to provide an additional communication channel for students, staff, and faculty. By opting into the service, individuals can receive real-time operational updates regarding UH Dining Services locations. More information on how to opt-in will be coming soon.

On-Campus Robot Delivery is now on Boost

Starship Robot Delivery service is now a part of the Boost App. To schedule food deliveries via a Starship Robot, open the Boost app and select "Drop-off" using the button on the top right of the screen. At checkout, select your delivery time and drop-off location nearest you. After placing the order, follow your order via the "track my robot" button to receive push notifications for delivery updates. Once the Starship Robot is at your destination, select "I found my robot – Unlock" to retrieve your order. Learn more about the Starship Robot Delivery service and see the drop-off locations.
Events & Reminders
May is Mental Health Awareness Month

A reminder from UH Occupational Health Services: May is Mental Health Awareness Month. Mental Health includes our emotional, psychological, and social well-being. It affects how we think, feel, and act. It also helps determine how we handle stress, relate to others, and make healthy choices.

If you or someone you know is in emotional distress or suicidal crisis, you should immediately call the National Suicide Prevention Lifeline at 988, or for emergencies, call 911. To learn more about mental health conditions, symptoms, and treatment options, please visit the National Alliance on Mental Illness (NAMI). Additionally, learn more about the mental health resources available at the University of Houston.

Parking & Transportation Reminders for Permit Renewal

Parking & Transportation reminds all faculty and staff that parking permits are set to be renewed for the upcoming 2023-23 fiscal year. No action is needed if faculty and staff wish to keep their current parking permits for next year.

If you would like to obtain a different permit for the fall semester, you can log in to your myParking Account and check if the permit you want is available for the current 2022-2023 year. If it is available, you can select that permit and email us to cancel your current one. You will then be able to immediately start using the new permit, which will automatically be renewed for 2023-2024. If you have a question, email Parking & Transportation at parking@uh.edu or call 832-842-1097.

HR Power Up Reminder on Summer Skin-Care

Ready or not, summer in Texas is almost here, and HR POWER UP Employee Wellness encourages you to take essential precautions. This summer, be sure to apply a healthy sunscreen application (and reapplication) daily.

According to the American Academy of Dermatology (AAD), skin cancer is the most common cancer in the U.S. (and one of the most preventable), and estimates indicate that one in five Americans will develop some form of skin cancer in their lifetime. Visit AAD online to learn more.
Submit a story to the A&F S.P.I.R.I.T. Newsletter by filling out the form.
A&F Resources