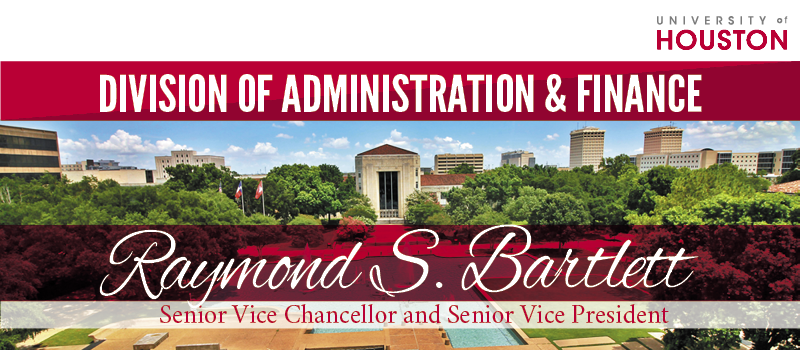 Comprised of Division features, accolades and achievements, as well as valuable "In Case You Missed It (ICYMI)" news you can use, each edition of the newsletter highlights key information and resources across the Division's departmental, operational and service unit areas. Subscribe to the A&F listserv.

Dear Colleagues,
In this spring newsletter, I would like to share my sincere appreciation for the important role many of you performed in stepping up in support of our campus community following two tragic suicides. I am grateful to all of you for providing important resources and care to UH students, faculty, and staff during this time.
I would also like to share UH's mental health resources web page – a holistic site with mental health information and trainings, compiled to support the emotional well-being of our students, faculty, and staff. I hope these resources are helpful to you. The university administration welcomes additional suggestions about how we can continue to build a community of care at the following email: CoogsCare@uh.edu.
Additionally, I'd like to highlight the live webinar series facilitated this month by Human Resources' Power Up Employee Wellness program to help employees with managing stress and anxiety during National Stress Awareness Month. These trainings focus on topics such as maintaining a positive mindset, managing stress during change, and leading through crisis. Please visit the Human Resources website to learn more and register for courses in this webinar series.
This month, across the division, we highlight our A&F student employees and their contributions to divisional activities as part of National Student Employment Week, celebrated each year during the second week in April. I hope you enjoy reading our student employee profiles, and please take a moment this month to thank the student employees who work in your departments for their important contributions to our programs and services.
We also highlight the important recognition for the Department of Occupational Health Services for being a recipient of the 2023 AAOHN Business Recognition Award from the American Association of Occupational Health Nurses. This award recognizes a business that supports the health and safety of their workers through a strong Occupational Health and Safety Program.
Additionally, please join me in congratulating UH Dining Services and our UH System Executive Chef Chad McDonald on bringing home a gold medal this March from the regional National Association of College Food Service conference. To learn more about our award-winning dining program, please visit the UH Dining Services website.
There are a number of other important articles featured in the spring newsletter, such as Cougar Cudos recognition for A&F employees and highlights from the division's role in the spring Frontier Fiesta event, and opportunities for engagement at the up-coming FinalsMania event to serve UH students food and snacks in the M.D. Anderson Library as they study for final exams.
As we head toward preparations for May commencement festivities and celebrations for UH graduates and their accomplishments, please know that the work that you do is important and valued by our community.
I am so very grateful to all of you and your commitment in support of the university's priority of student success.
Highlights & Features
Administration and Finance Assists with Frontier Fiesta

Since 1939, Frontier Fiesta has been a mainstay at the University of Houston in spring. The three-day event is filled with cook-off competitions, musical performances, carnival booths, and more recently, numerous fun events like paint by number and laser tag.

Frontier Fiesta is one of many UH traditions on campus and this specific tradition, much like commencement, gets assistance from multiple Division of Administration and Finance departments. Learn more about how A&F assists with Frontier Fiesta.

A&F Student Employees Gain Real-Life Work Experience

National Student Employment Week is recognized annually in the second full week in April and there's no shortage of student employees within Administration and Finance. The division currently employs 112 students across 20 departments.

Please take time to thank our student employees in the division and across the university for all they do to contribute to divisional initiatives. Plus, meet some of A&F's student employees by reading our highlighted student employee profiles.

UH Earth Week 2023 Recap

The University of Houston celebrated Earth Month with UH Earth Week from April 17-21, with the Office of Sustainability leading the charge.

The Office of Sustainability, a unit within Facilities/Construction Management, and partners in UH Dining Services, Student Centers, Cougar Cupboard, Coastal Center, Metropolitan Volunteer Program, Cougar Closet, and Environmental Cougar Organization, held sustainability events throughout the week. Learn more about UH Earth Week by reading the recap.

Houston Public Media Celebrates Women's History Month

Every March since 1987, Congress and U.S. Presidents have designated the month as Women's History Month. Houston Public Media is proud to celebrate the accomplishments and vital contributions of women in history with documentaries and stories that center women's experiences in history — and the present day. Learn more about the special programs airing this month.

Flat-Fee CTAP Program Being Implemented for Fall 2023

Effective Fall 2023, the University of Houston Cougar Textbook Access Program (CTAP) will provide undergraduate students, regardless of major or number of hours taken, access to required course materials before the first day of class for one low flat fee. Visit the website to learn more about how CTAP will make course materials more affordable for students.

Meet the Cougar Access Control Services team

A new team, the Cougar Access Control Services, was formed at the beginning of 2023 to create a one-stop shop for anything and everything related to access where keys or cards are required.

The Cougar Access Control Services team comprises three teams, Key Access Services, Lock Shop, and the Electronic Access Control team. Previously, each department operated independently from one other, sometimes creating a backlog in completing jobs. Learn more about this new team.

I SEE U with Eddie Robinson

This month on I SEE U, host Eddie Robinson had a candid chat with multiple Grammy-nominated Texas gospel, blues, and soul artist Ruthie Foster. Foster, a central Texas native, grew up surrounded by farming and in a family full of gospel and blues artists. As a teenager, Foster traveled to churches around the region singing gospel music. Hear this, and many other women celebrated during Women's History Month at Houston Public Media.

Parking and Transportation Town Hall Recap

Parking and Transportation held their Spring 2023 Town Hall in March to address frequently asked questions and provide updates on upcoming university projects that could affect the campus community. Topics included an update on virtual permits, how UH joining the Big 12 will impact parking, and more. Read more about these changes and watch the full town hall video below.
Video - Parking and Transportation 2023 Spring Town Hall

Staff Spotlight
Cougar Cudos

March Cougar Cudos goes to Evan Broadbent from the Office of Emergency Management, Consuelo Gonzales and Martha Saldana from Local Custodial Services, Donna Halton from the Office of Contracts Administration, and to Ric Rodriguez with UIT Security.

April Cougar Cudos goes to, DaNesha Allen, Russell Allen, Jacqueline Chee, David Frankfort, Ron Gonyea, Amy Ma, Allyson McDonald, Sharon Pellas, Jennifer Rea, and Courtney Washington for their donation to Staff Council during UH's Giving Day.

Additionaly April Cougar Cudos goes to Rafael Arroyo, Ivey Davis, Rene Gonzales, Matthew Harvey, Amy Ma, Mark Norgan, and Kevin Vu of the Help Desk team for their outstanding team spirit and exemplary work performance as a group.

To nominate a fellow staff member, fill out the Cougar Cudos Nomination Form.

UH Wins National Business Award for Occupational Health Initiatives

The University of Houston made history in April as it became the first higher education institution to be named a recipient of the American Association of Occupational Health Nurses (AAOHN) Business Recognition Award from the American Association of Occupational Health Nurses. The 2023 AAOHN Business Recognition Award recognizes a business that supports the health and safety of their workers through a strong Occupational Health and Safety Program. Learn more about why UH was selected for this special honor.

UH Dining Chef Chad McDonald Wins Regional Cooking Competition

Congrats to UH Food Services Senior Executive Chef Chad McDonald for winning the gold at the NACUFS Culinary Competition. Chef McDonald wowed the judges with a Char Siu Wonton Noodle Soup. Judges were impressed with Chef McDonald's cooking skills, culinary technique and taste. Chef McDonald now moves on to the national level competition at the NACUFS National Conference in Baltimore, Maryland. Read more about Chef McDonald's victory.

Cougar Woods Dining Commons Earns 4-Star GRA Certification

UH's Cougar Woods Dining Commons earned a 4-star GRA (Green Restaurant Association) Certification, making them the only dining establishment in Texas with that designation. Cougar Woods Dining Commons is also the only Texas university with this rating.

The Green Restaurant Association awarded Cougar Woods Dining Commons the certification due to its green points in categories like water efficiency, waste reduction, sustainable food, and chemical and pollution reduction. Read more about how Cougar Woods Dining Commons earned the certification.

HR Welcomes New Member to its Talent Acquisition Team

Welcome the newest member of the Talent Acquisition team! Frank (Franklin) Martinez is Human Resources new Srenior Recruiter that will cover the division of Administration & Finance. He is a Marine Corps Veteran, having served over 11 years. While in the Marine Corps, he obtained his bachelor's degree in psychology from Saint Leo University.

Martinez has started his MBA program with a concentration in Human Resource Management and Project Management at the University of Houston-Downtown. He has over 11 years of experience working as a recruiter and an HR generalist in the Marine Corps and in private industry. Join us in welcoming Frank Martinez to the HR Recruitment team.

UHPD Officer Gives ALERRT Training at San Jacinto College

University of Houston Police Corporal Saul Llamas spent time with the San Jacinto College Police Department, teaching them the ALERRT Training he recently developed. After the training, the department sent a glowing email praising Corporal Llamas' professionalism and integrity. San Jacinto College PD was appreciative of Llamas for exposing them to innovated techniques and new skills.

Cougar Card Employees Recognized at NACCU Conference

Cougar Card Services Director Rosie Ashley, and Cougar Card Coordinator Daisy Del Fierro were recognized in April during their attendance at the National Association of Campus Card Users in Austin. Ashley and Del Fierro received certificate of completion for completing NACCU's Industry Essentials Institute. Ashley also received a certificate of completion for finishing the NACCU LEAP (Leadership and Effectiveness in Association Practices) Program which prepares individuals interested in serving on board of directors.
ICYMI: News You Can Use
What's New in UH Dining

UH Dining has new and exciting food offerings available on campus, including new food trucks (Fry Guys and Manna From Heaven Gourmet Food), Farmer's Fridge machines (serving salads, grain bowls, breakfast items, and more) at Student Center South, and UH at Sugar Land, and a Chick-fil-A pop up available at UH Technology Bridge.

Nam Nguyen has transitioned to Interim Senior Director of Catering for Fresh Fork Catering and will lead catering offerings for the UH community. To stay connected with the latest activities and promotions, hours of operation, and daily dining commons menus, visit dineoncampus.com/uh.

Public Art UHS Debuts "Frank Stella Fridays"

Public Art UHS is thrilled to announce "Frank Stella Fridays" as a new experiential offering! The artist's monumental "Euphonia" (1997), at the UH Moores Opera Center, will now be publicly accessible on Fridays between 12 pm - 3. These informal docent-led viewing hours are free and open to everyone. Registration is not required. For more information about visitor parking and holiday closures, please visit Public Art's website at publicartuhs.org

UHPD to Host Bicycle Registration Drive Events

The University of Houston Police Department will host several bicycle registration events to encourage the campus community to register their bicycles. Registering the bicycle is free and allows the rider the ability to lock up their bicycles on the university's two bikeep stations located at Butler Plaza and the University Lofts. Learn more about this endeavor and the dates for the registration events.

Cougar Card Upgrades System to Help Campus Community

The new Cougar Card system consolidates multiple icons into one in AccessUH. Previously, the campus community had to visit three icons, Meal Plans, Cougar Card Online, and Cougar Card Upload. But with the new system, all three functions are housed under one icon, Cougar Connect.

Additional features of the new system include setting up automatic deposits and low fund alerts for ShastaBucks or Cougar Cash and the ability to request money from family and friends through the system. Learn more about this upgrade.

OEM Transitions to New COOP Program

This month, the Office of Emergency Management began transitioning from the original paper-based Continuity of Operations Planning (COOP) Program to Veoci, an Incident Management Program. Veoci, which is managed and used daily by the Office of Emergency Management, will easily allow departments, divisions, and colleges to develop and maintain their COOP all year round. Learn more about this new program.

New Discount Program Available for Faculty and Staff

This year, HR POWER UP Employee Wellness is excited to introduce a new faculty and staff discounts and deals provider, PerkSpot. Through PerkSpot, a variety of local and national discounts are available on products and services including theme parks, event tickets, travel, name brand items and more! Offered through a personalized online portal, discounts are available to employees based on their identified interests and can be easily accessed from home or on-the-go. Start saving right away. Visit PerkSpot online and "Create Your Account" today!

Automated External Defibrillator Program Transition to Fire & Life Safety

Since its inception, the UH Police Department has maintained the Automated External Defibrillator (AED) program. On April 4, 2023, the AED program transitioned from the UH Police Department to the Fire and Life Safety (Fire Marshal's) Office.

All current AEDs will continue to be inspected and maintained as before. The Fire and Life Safety Office is developing an AED website with location maps, FAQs, and training links. Please direct all inquiries regarding AEDs to Fire and Life Safety Technician Sara Walker, snwalke4@central.uh.edu , or 713-743-0834. Read more about this transition.
Events & Reminders
EOS Reminder on Sexual Assault Awareness Month

April is Sexual Assault Awareness Month, and Equal Opportunity Services wants to remind the campus community that EOS has resources and information to help any student, faculty, staff, and campus community member whose been a victim of sexual assault. To make a report, or request training, visit our website (www.uh.eos), give us a call at 713-743-8835 or send an email to eos@uh.edu. For more information about Sexual Violence Prevention Education, call 713.743.5430 or visit the Sexual Violence Prevention website.

Finals Mania Set for May 1

Finals Mania is just around the corner. To help students during their final exams, Finals Mania, sponsored by Office of Administration, Dean of Students, and University Libraries, will provide evening breakfast from 5-8 p.m. in the M.D. Anderson Library. Students can expect breakfast tacos, snacks, coffee, juice, and other beverages. Faculty and staff are encouraged to volunteer for this event! Please complete the form if you would like to volunteer as an individual.

Beverage and Snack Donations Available to UH Student Organizations

In an effort to promote and support UH student organization events and programs throughout the academic year, UH Auxiliary Services offers a beverage and snack donation program. Requests are considered on a first come, first served basis. Visit the Vending Services website for more information and request forms or contact vending@uh.edu.

Coca-Cola Activations Bring Samples and Fun to UH Campuses

In partnership with UH's exclusive beverage vending provider, Coca-Cola, UH Auxiliary Services helps bring Coca-Cola activations to campus with fun and product sampling as the main goals.

On Monday, April 3rd, an NCAA March Madness activation was held at the Student Center Plaza that included sampling of Coke Zero Sugar and Cherry Coke Zero Sugar, minute-to-win-it style games, and giveaways. Then, on Tuesday, April 4th, UH at Sugar Land hosted a Coke Move Rosalia activation with sampling of a limited-time Coca-Cola Creations flavor. Be on the lookout for more activations coming to campus soon!

April is Oral Cancer Awareness Month

A reminder from UH Occupational Health Services: April is Oral Cancer Awareness Month. Oral cancer affects any tissue in your mouth, including your gums, tongue, or lips. It accounts for roughly three percent of all cancers diagnosed annually in the United States, or about 53,000 new cases each year.  

Oral cancer most often occurs in males over the age of 40. However, several other factors can contribute to the risk of developing oral cancer, including tobacco use, excessive alcohol consumption, human papillomavirus (HPV) infection, and exposure to ultraviolet (UV) light. To learn more about the risk factors, symptoms, diagnosis, and treatment of oral cancer please visit the National Institute of Health.

HUB Virtual Spot Bid Fair

The Historically Underutilized Business is hosting a virtual bid fair hosted by Senator Royce West on May 23-24. Each college and division is being asked to provide 5 HUB eligible opportunities. Read more about the HUB Virtual Spot Bid Fair and how you can submit your items.
Submit a story to the A&F S.P.I.R.I.T. Newsletter by filling out the form.
A&F Resources