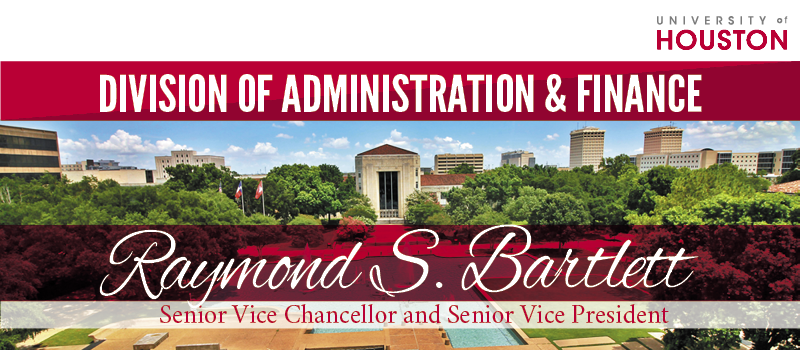 Comprised of Division features, accolades and achievements, as well as valuable "In Case You Missed It (ICYMI)" news you can use, each edition of the newsletter highlights key information and resources across the Division's departmental, operational and service unit areas. To subscribe to this listserv, click HERE.
Leadership Message from the Chief Financial Officer
This month brings with it a heightened focus on operational readiness as June 1 marked the beginning of an above-normal Atlantic hurricane season, according to predictions from the National Oceanic and Atmospheric Administration.

Collectively, this is also a valuable time to revisit your department's continuity of operations plan in case of an emergency. Our partners at Houston Public Media recently featured the "Storm Ready" special, which provides vital life-saving information in the event of any weather-related emergency. When you have a moment, I encourage you to check out this valuable programming.

As we continue into the summer, we are also beginning to expand UH event-hosting guidelines for on-campus events as featured in the highlights below, and we look forward to the opportunity to see our UH faculty, staff and students at on-campus events.

Until then, I hope each of you can find some time to spend with family and recharge your batteries for what is shaping up to be an exciting fall semester.

Thank you again for your enduring commitment and support.

As always, stay safe and stay healthy.
Highlights & Features
Houston Public Media and The Harris County Office of Homeland Security and Emergency Management collaborated on a special digital project that launched on the first day of Hurricane Season, June 1, 2021.

Guests on the program included Lina Hidalgo, Harris County judge; Mark Sloan, Harris County Emergency Management coordinator; Francisco Sanchez, Harris County Deputy Emergency Management coordinator; Jeff Lindner, Harris County meteorologist; and Jeff Evans, National Weather Service meteorologist.

Former Houston Public Media Reporter, Marissa Cummings, of KIII-TV in Corpus Christi, was the program host. Viewers can access the program through houstonpublicmedia.org, readyharris.org and both organization's social media channels.

Do You Know Your Departmental Hurricane Checklist? UH Facilities Preps for Hurricane Season

With any approaching storm, UH Facilities/Construction Management is "at the ready" with a checklist that outlines the extensive activities and preparations needed as early as the 72-hour mark. The current plan for the upcoming hurricane season is included in the overall UH Emergency Management Plan with oversight by the UH Office of Emergency Management. Learn more about hurricane preparedness processes here.

With hurricane season now upon us, University Information Technology maintains a state of constant readiness to prevent any disruption to information technology services.

Learn more about the UH Computing Center's full back-up power generation readiness, among other preparations, as well as the timely reminder for each college and division to review IT Service Continuity in their respective Information Resources Management Plans and make any necessary adjustments.

Hosting a UH Event? New Expanded Guidelines Released June 1

While the University of Houston operates under applicable guidance related to the COVID-19 pandemic, the following guidelines will apply to the scheduling and hosting of events on campus.

We're Heading Back to Campus -- Now Let's Talk about "EIR Accessibility"!

As we're all "getting ready" to return to campus, the Office of Equal Opportunity Services (EOS) encourages employees to actively engage in our community's electronic and information resources (EIR) accessibility efforts when updating websites and other electronic materials for fall.

The UH System is committed to ensuring that all community members have equal access to EIR in order to fully participate in campus and educational activities. If you are new to EIR accessibility, or simply need to brush up on a few concepts, click here for self-guided learning opportunities related to common accessibility terms and concepts, Blackboard Ally and more. For assistance related to EIR accessibility, please contact EOS at accessibility@uh.edu or (713) 743-8835.

New from HR: Welcome Back to Campus Website

Human Resources recently launched the Welcome Back to Campus website to help prepare Coogs for a successful return to campus with resources for all employees, leaders and more. In addition, the HR Talent Development team has created two new training courses: Take Control of Your Productivity and Leading Up. These courses feature valuable tips and tools for a successful transition back to campus. To enroll, visit the CATALYST Enrollment App.

Hosted by Houston Public Media's Eddie Robinson, I SEE U is a unique new show that highlights the notion of inclusion and cultural identity, giving voice to those who have often been unheard. The program features candid interviews with newsmakers, filmmakers, musicians and community leaders to help us understand the cultural shifts rocking our world today. Tune in Saturdays at 1 pm on News 88.7 or stream online. #ISEEUshow

Watch the trailer, subscribe to the podcast, and follow us on Facebook and Twitter www.iseeushow.org

Know the Keys to a Successful Key Audit

To ensure every department is accountable for each key that is issued, the annual Key Audit supports campus safety and confirms data with actual reporting. The Key Audit also accounts for missing keys, which allows us to identify security concerns. Learn about the keys to a successful key audit here.
ICYMI: News You Can Use
Mark your calendar for the "Out of this World" Virtual Wellness & Benefits Fair from June 28 to July 10, 2021.

Look for more information about the benefits fair to come and visit the UH Human Resources website for updates.

'Policing, Performance and the Question of Reform'

Hosted by the Cynthia Woods Mitchell Center for the Arts, "Policing, Performance and the Question of Reform," featured a discussion between artist Shaun Leonardo and UHPD Chief of Police Ceaser Moore, with Janice Bond, deputy director of the Contemporary Art Museum Houston, as moderator. Watch the replay on YouTube here.

UH Responds -- COVID-19 Updates

From the latest updates and announcements to on-campus testing and operational plans, visit the UH Responds to COVID-19 website for more information about the University's response to COVID-19.
Accolades & Achievements
Viewed by videostreams in more than 77 countries, the UIT Streaming Team helped support the historic May Commencement ceremonies, working long hours to deliver high quality streams so that parents and famlies worldwide could watch their Coog graduates walk across the stage and celebrate receiving their degrees from a top tier university. Click here to learn more about the stellar virtual efforts of team led by Matthew Castillo, Matthew Castillo, manager, Web Technology Streaming.

Congrats to the A&F Student Ambassador Grads!

Hats off to our A&F graduating seniors Zachary Fulce, Cally Nash and Rahul Chauhan, and thank you for your service to the A&F Division! Check out the celebratory grad photos and learn more about the A&F Student Ambassador program.
A&F Resources