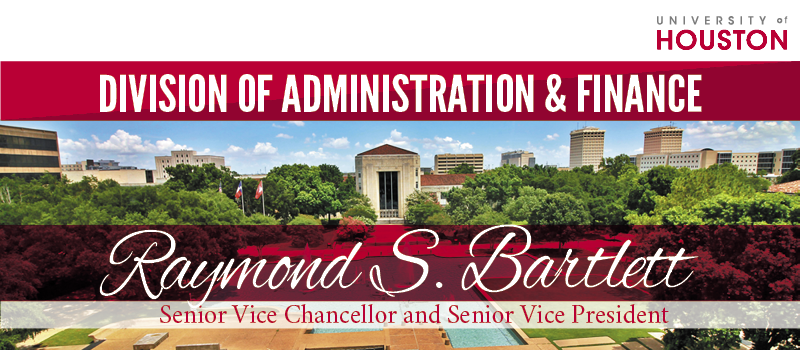 Comprised of Division features, accolades and achievements, as well as valuable "In Case You Missed It (ICYMI)" news you can use, each edition of the newsletter highlights key information and resources across the Division's departmental, operational and service unit areas. Subscribe to the A&F listserv.

Dear Colleagues,
In February, several departments within the Division of Administration and Finance hosted festivities and events to commemorate Black History Month.
Some of the celebrations are featured in this month's newsletter, including the UH Dining Services Black History Month celebration as part of its cultural series, Houston Public Media's month-long Black History Month programming, and Public Art UHS highlighting recent acquisitions by renowned Houston Black artists.
February also marked the university's quarterly UH System Board of Regents meeting. Key items presented by Administration and Finance leaders included a UH System capital project update and approval of the UH System FY2024 holiday schedule.
Additionally, the Board of Regents also approved a recommendation from Administration and Finance and Academic Affairs for a new textbook access fee, which will provide all undergraduate students their course materials for a flat fee of $299 per fall/spring semester and $180 per summer. This is projected to save students as much as $6 million per semester off the cost of new course materials.
Several Administration and Finance Division teams and programs were recognized with notable awards and achievements in February, including:
UH Dining Services earned a NASPA Excellence Silver Award for its cultural series.
Moody Dining Commons achieved recognition as a 3-Star Certified Green Restaurant, while Cougar Dining Commons was elevated to a 4-Star Certified Green Restaurant.
Facilities/Construction Management held a pizza party for one of its High PAW teams.
Please read and explore all the divisional updates, accolades, and upcoming training opportunities and deadlines in this month's newsletter.
I am grateful for each divisional employee and the outstanding work and support you give daily to support our community and strengthen student success.
Highlights & Features
IPMA In-Plant Awareness Month

February is IPMA In-Plant Awareness Month. A month dedicated to showcasing and recognizing the contributions of in-house design, printing, mailing, and distribution professionals. The annual celebration was created by the In-Plant Printing and Mailing Association (IPMA). For 74 years, the University of Houston's In-Plant, more commonly known as Copy, Print, and Delivery Services, has provided a multitude of stationery and delivery services. Learn more about UH's In-Plant and the work they do.

Celebrating Black History Month

Administration and Division departments celebrated Black History Month in many ways in 2023 with programming, events, and activities. From UH Dining featuring black-owned restaurants in their cultural event series, to Houston Public Media programming showcasing black stories. Read more about how Administration and Finance celebrated Black History Month.

UH Dining Services Celebrates Black History Month in Style

The music and energy echoed from within Moody Towers Dining Commons as UH Dining Services hosted a Black History Month celebration as part of its Cultural Series. The Black History Month celebration was a partnership between UH Dining Services and four student organizations, the Black Business Student Association, UH Sigmas, Black Student Union, and Phi Epsilon Chapter of Zeta Phi Beta Sorority. Read more about UH Dining's Black History Month celebration.

#Walk30 at UH Aims to Get the Campus Community Moving

HR Power Up Employee Wellness, in conjunction with University of Houston organizations, UH Population Health, UH Campus Recreation, UH Wellness, and the Houston nonprofit Fit Houston, has launched the #Walk30@UH initiative.

The community-wide initiative encourages the campus community, from UH faculty, staff, and students, to walk 30 minutes daily. The initiative kicked off on February 8, when the five organizations convened at Lynn Eusan Park. Read more about this initiative.

UH CONCISE Program Kicks Off Partnership Engagement

Facilities/Construction Management, Parking and Transportation, the University of Houston Police Department, UH Athletics, Fire & Life Safety, and other UH departments met in February to discuss a new program aimed at helping the university facilitate better partnership collaboration from a logistics standpoint.

The UH CONCISE (Connecting Our Neighborhood Community Infrastructure with Stakeholders Engagements) Program aims to facilitate collaboration with community partners regarding significant UH events, large construction projects, or any major initiative that is significant to UH. Learn more about this new program.

Bicycle Rack Spring Cleaning

Facilities/Construction Management and the University of Houston Police Department continued to clean up the bicycle racks to maintain an adequate number of bicycle parking spaces on campus and maintain the overall aesthetics of our campus. Read more about this effort and how you can register your bicycle with UH Parking and Transportation.

UH Dining Services Featured in the Houston Chronicle

A recent story in the Houston Chronicle titled, 'Houston-area colleges are upping their campus dining game for Gen Z: 'Not your mom-and-pop' menus' featured the University of Houston's Dining program for its delicious menu options.

Charles Pereira, vice president of operations for UH System Dining, spoke on how the department aims to continue to create diverse and authentic food experiences for students. Read more about this endeavor from UH Dining at the Houston Chronicle.

Facilities/Construction Management featured in Houston Chronicle

A Houston Chronicle article titled, 'Houston colleges shift away from traditional look with more modern buildings,' featured Facilities/Construction Management and the work they've done on the new University of Houston buildings, including Tilman J. Fertitta Family College of Medicine and the John M. O'Quinn Law Building. Read the article to learn more about this initiative.

HR Talent Acquisition Promotes Hiring Initiatives to Veterans

Human Resources Talent Acquisition is on the move promoting hiring initiatives through community engagement. Nikki Duncan, Ed D, Director of Talent Acquisition & Development had the distinct honor of presenting to Women Veterans on why they should consider careers in higher education. Duncan gave them examples of the many different careers that are represented in higher education from skilled trades, engineers, academic advisors, accountants, security, and many more.

This presentation included how to apply for positions within higher education, hiring processes, and the importance of tailoring their resumes to the positions for which they are applying. This Women Warrior Wednesday LinkedIn live presentation was sponsored by the Higher Education Recruitment Consortium and the Military Women's Collective.

Auxiliary Services Town Hall Recap

On February 1st, Auxiliary Services hosted their Spring 2023 Town Hall. Representatives from Auxiliary Services, Dining Services, and the Campus Store provided updates on the spring programs and services in UH retail, food service/dining, and vending as well as a preview of upcoming events and activities. Learn more about the Town Hall by watching the replay.
Video of the Month

Staff Spotlight
Cougar Cudos

Cougar Cudos is a Staff Council program that allows staff to recognize other staff members for exceptional service to the University of Houston. To nominate a fellow staff member, fill out the Cougar Cudos Nomination Form.

UH Dining Has Its Second 3-Star, and First 4-Star Certified Green Restaurant

Moody Dining Commons has been upgraded from a 2-Star Certified Green Restaurant to a 3-Star Certified Green Restaurant. And Cougar Woods Dining has been upgraded from a 3-Star Certified Green Restaurant to a 4-Star Certified Green Restaurant. Cougar Woods Dining is the only food service establishment to achieve the 4-Star status.

The designation comes from the Green Restaurant Association, which considers a restaurant's environmental accomplishments and sustainability efforts.

UH Dining Services Wins NASPA Excellence Silver Award

The University of Houston Dining Services was honored this month by being recognized as 2022-23 Excellence Silver Award in the Contracted Services, Housing, Residence, Life, and Related category from the National Association of Student Personnel Administrators (NASPA). This recognition marks the first time UH Dining Services has won a NASPA Excellence Award. Read more about what UH Dining Services did to win the Silver Award.

Environmental Health Safety Recognizes Lab Safety Awareness Week

EHS, in collaboration with the Campus Safety, Health, and Environmental Management Association (CSHEMA), recognized Lab Safety Awareness Week (Feb. 13-17). Lab Safety Awareness Week is an event that fosters the opportunity to recognize the efforts of laboratory health and safety programs. EHS hosted meet and greets across campus to answer questions and provide pertinent safety resources to the university and research community.

Facilities/Construction Management Awards Pizza Party to PAW Team

In recognition of their willingness and ability to go the extra mile, Facilities/Construction Management held a High Performance at Work (High P.A.W.) appreciation pizza party for the Facilities Services team members who helped reduce freeze risks and aid in recovery during the 2022 December freeze.
ICYMI: News You Can Use
HR to offer CDD Training

In 2023, Human Resources will offer Coaching, Discipline & Documentation training beginning February 15, through June 21, on every 3rd Wednesday of each month. After the June training, the next and last training of 2023 will be on October 18. The training is 2 hours and is designed for those in managerial roles to effectively develop their employees through coaching, management, and, when applicable, discipline.

Public Art UHS Offers a Series of Free Painting Workshops

Paint en plein air using gouache or watercolor with artist, educator and University of Houston MFA alumna Isabelle Zimmerman. Explore how public artworks interact with the environment and create dynamic compositions inspired by different public art sites on the University of Houston campus. Drop in on one session or join us for all three, they are all free and open to the public. To view the schedule and to RSVP, visit publicartuhs.org.

HR Hosted a Conversation with TIAA President Thasunda Brown Duckett

Human Resources hosted an afternoon chat with Thasunda Brown Duckett, President and Chief Executive Officer of TIAA, one of the leading providers of secure retirements and outcome-focused investment solutions. The conversations consisited of the current trends in retirement and best investment strategy options in today's market. The conversatsion was facilitated by HR Associate VC/VP Gaston Reinoso, and Dr. Dale Rude, Bauer College of Business Associate Professor.

A&F Campus Snapshots

February saw many different A&F departments active on campus hosting events. Some highlights include, HR Power Up Employee Wellness held its first #Walk30, Facilities/Construction Management awarded a pizza party to one of its High PAW (Performance at Work) teams, UH Dining held a farmer's market, and Environmental Health and Safety held tabling events in honor of Laboratory Safety Week. See how A&F departments were active on campus by visiting A&F Campus Snapshots.

A&F In Action

Several Administration and Finance departments were active in February including hosting training and launching a new program. Human Resources held a Coaching, Documentation, and Discipline (CDD) Training Workshop for those in managerial roles, Facilities/Construction Management, conducted a bicycle rack clean-up, and spearheaded the efforts of the newly launched UH CONCISE Program. Learn about how these A&F departments were in action in February by visiting A&F in Action.
Events & Reminders
UH Dining Services Upcoming Events & Reminders

In February, UH Dining celebrated Black History Month by showcasing Black-owned businesses via their indoor Farmer's Market on February 23rd. The limited time offer in February comes from Mondo Subs as they featured their Croque Monsieur. To stay connected with the latest activities and promotions, hours of operation, and daily dining commons menus, visit dineoncampus.com/uh.

ePerformance Documents Reminder

Human Resources reminds you that the deadline to complete the 2022 ePerformance evaluation is February 28. To complete your ePerformance evaluation, log into AccessUH, head to P.A.S.S. HR, then select Performance. From the menu on the left-hand side, select Current Documents and click on the 2022 document. Next, select Review Manager Evaluation from the left hand, then View. The page will display your manager's evaluation. Once you've read through it, select Acknowledge to finish the procedure. Learn more about ePerformance.

February is American Heart Month

A reminder from UH Occupational Health Services: February is American Heart Month and a time to focus on our cardiovascular health. Hypertension, also referred to as high blood pressure, is the leading risk factor for heart attacks and stroke. Get to know your numbers and share any concerns with your physician.

Exercising healthy habits is the best way to prevent or manage cardiovascular diseases. Remember to Move More, Eat Smart, and Stress Less. Please visit the American Heart Association to learn more facts about high blood pressure and the related health threats.

Save the Date for Public Art UHS' Upcoming Friday Focus Tour

On Friday, March 4th from 12pm to 1pm, take a break and join Public Art UHS and geologist Dr. Jinny Sisson to learn about the various stone-based artworks in the Public Art UHS collection. From the Black Cambrian granite of Matt Mullican's Untitled (1991) to the fossils embedded in The Art Guys' Statue of Four Lies (2010), Dr. Sisson provides unique insights into the artistic process through the lens of a geologist. Tours are always free and open to the public! To RSVP, visit publicartuhs.org.
Submit a story to the A&F S.P.I.R.I.T. Newsletter by filling out the form.
A&F Resources