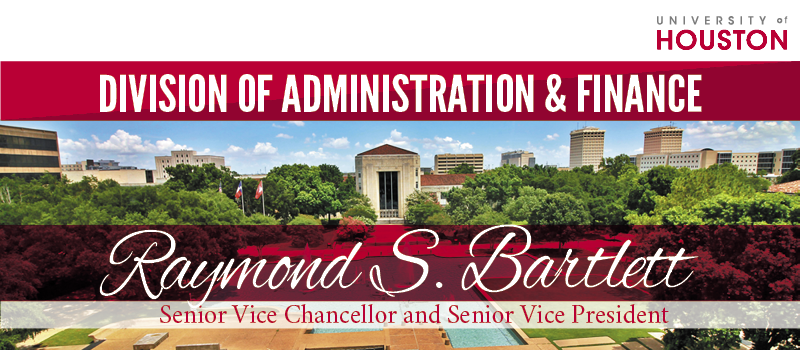 Comprised of Division features, accolades and achievements, as well as valuable "In Case You Missed It (ICYMI)" news you can use, each edition of the newsletter highlights key information and resources across the Division's departmental, operational and service unit areas. To subscribe to this listserv, click HERE.
Leadership Message from the Chief Financial Officer
Greetings everyone:

I hope everyone came through Hurricane Nicholas unscathed with little or no damage. I would like to thank all of the ride-out teams and Staff who worked so hard to ensure that the University could resume operations.

The start of a new fiscal year and the fall semester brings an opportunity for the promise of new beginnings and continued forward momentum. Your hard work throughout the summer in anticipation of a successful fall semester kickoff has paid off – the University's fall enrollment is 47,034; student on-campus housing occupancy is at 89%, and participation in meal plans and parking are near fall 2019 levels. I want to convey my heartfelt gratitude and congratulations to each of you for your individual contributions that have led to this collective achievement.

As our mission is providing service excellence, this month's issue highlights just a few of the many stellar examples, including:

There is much to celebrate on the athletics front as seen in recent announcements, and we are also planning to join in the excitement with a Staff tailgate planned for fall. Stay tuned for more details in the near future.

As a reminder, the University of Houston encourages everyone in the Cougar community to become vaccinated against COVID-19, if possible, as data suggests that vaccination remains the best intervention for reliable protection. The opt-in Cougar Vaccination Incentive Program is available through September 30 and offers participants a number of incentives. In addition, the ongoing Cougar Testing Incentive Program offers faculty and staff who complete COVID-19 testing at the on-campus Curative testing kiosk a $2 credit each time they are tested, which can be applied to Cougar Cash or ShastaBUCKS. Details on this program can be found on signage located near the Curative testing kiosk at the Student Center.

As always, stay safe and thank you for all you do in service to the UH community.
Highlights & Features
As technology plays a central role in student success, the new UIT Semester Quick-Start Guide provides tech-ready information for students. Digital access, two-factor authentication and staying safe online are just a few of the many informational resources, which is also available on UH Go.

All employees can help refer students to the valuable information as we work together to provide students with an outstanding "tech-ready" student experience. To learn more, click here.

A team from UH Facilities/Construction Management joined Director Gabe Cazares from the City of Houston Mayor's Office for People with Disabilities for a tour of The Lighthouse of Houston, arranged by WorkQuest, the nonprofit that links Texans with disabilities to meaningful employment opportunities. The Lighthouse of Houston was chosen as the organization that will support the UH FIXIT Call Center with 24/7 phone coverage. To learn more, click here.

Hear from Jared Leigh, naval architect with ConocoPhillips, about the partnership with Houston Public Media for Math in a Flash and Problem Solvers, and how getting kids excited about STEM is beneficial to all students, regardless of their career path.

A special thank you to United Way Houston and ConocoPhillips for making this series possible. Click here to view the entire series and spark your child's interest in STEM!

"Summon Safety at Your Fingertips" through the UH Go app. With this new feature you can share your location and stay safe. For more detail about the UH Emergency Call feature, visit UH GO.

Hurricane Season is Not Over Yet!

Before you get caught off guard, have that emergency kit ready for you and your entire family. An emergency kit includes the supplies you may need in the event of an emergency, such as nonperishable food, water and important documents. When preparing your office, review the Emergency Preparedness Supplies Checklist and other valuable information on the Office of Emergency Management. Preparedness is key!
Staff Spotlight
Friends of Staff Council "ReCOOGnition"

The Friends of Staff Council Award was recently presented to Raymond Bartlett, Gaston Reinoso, Dr. Emily Messa and Parking & Transportation Services in appreciation of extraordinary support of Staff Council initiatives and programs. "I am pleased to recognize these leaders, as well as the entire UH Parking & Transportation Services team, for their unparalleled support and contributions made to the University of Houston Staff Council and its programs," said UH Staff Council President DaNesha Allen.

Congrats to A&F Cougar Cudos Honorees!

Cougar Cudos goes to these A&F Coogs who were honored by Staff Council for exceptional service to the University in September: Mary Castille, Austin Hayward, Danny Jackson, Eva Lyon, Maricela Rodriguez, Nabil Sanmiguel and Tracy Vaughns.

Accolades for Division honorees recognized in August include the following: Hector Bonilla, Debbie Samuels, Amy Ma, Ivey Davis, Matthew Harvey, Rafael Arroyo, Leroy Mays, Michael Rapp, Mark Rosanes, Mark Norgan, Tiffany Taylor-Denson, Paula Lockett and Jatarra Mayhue. To nominate a fellow Staff member and learn more, click here.

Ginger Walker, director of Emergency Management, recently presented "Continuity from the Ground Up" at the State Office of Risk Management's (SORM) Continuity Council Summit. Sharing how the program can involve every level and focus of the University, the presentation spotlighted how the University of Houston started its Continuity of Operations Planning Program from the development of continuity planning for departments to the overall plan. For more details about SORM, click here.
ICYMI: News You Can Use
Calling All Mobile Foodies!

Did you know all on-campus food trucks accept Cougar Cash?
To view a list of food trucks, locations and hours of operation visit www.uh.edu/dining, then select the "Menus & Locations" tab.

COVID-19 Signage Available

Quick and easy! Order your COVID-19 signage today from Copy, Print and Delivery Services. Click here to view the order sheet. All posters are printed on tear-, water- and chemical-resistant synthetic paper. To order signage, please email cpd@uh.edu with the sign number requested, size preference and quantity required.

Environmental Health & Safety Launches New Website

The new Environmental Health and Safety (EHS) website was recently launched to enhance user experience. "After prolonged delays from the COVID-19 pandemic, we are excited to launch our new website" said Lisa Benford, director of Environmental Health and Safety. "The site enhances our vision of promoting and empowering the UH community to proactively integrate environmental, health and safety principles into teaching, research, shop, clinical and service activities." Read more about the new EHS website and contact EHS if you have any questions.

New Accounts Payable Vendor Guide & Ticket Support System

The new Accounts Payable Vendor Setup and Update Guide assists vendors with common questions about processes. In addition, PaymentWorks has created an online Help Center for Vendors as well as a Help Center for Payers that features common topics and a "Contact Support" button to generate support tickets, which replaces the support@paymentworks.com email address that can no longer be used to create support tickets after September 15, 2021.

Houston Public Media wants to keep you, your friends and family, and your community safe. While a storm's path is still highly uncertain, make sure you are STORM READY by watching this half-hour special, produced in collaboration with the Harris County Office of Homeland Security & Emergency Management.

In this hurricane preparedness special, you'll hear from local experts who give advice on precautions and steps you can take before, during and after a storm. Visit houstonpublicmedia.org/storm ready to learn more.

Procurement Update

Pursuant to Texas Government Code §2274.002, effective September 1, 2021, two new no boycott requirements are enacted into law for procurements $100,000 and greater, and that are paid in whole or in part with state funds. Click here for more information. A new Certification of No Boycott form consolidates the no boycott requirements into one form, which is available on the Purchasing Website.
Events
"Power Up Employee Wellness" Welcomes Back Coogs!

Power Up Employee Wellness supports your health and well-being by offering COVID-19, influenza and shingles vaccinations in September, as well as onsite mobile mammograms from The Rose on Oct. 4-6 and 8.  Click here to register for the vaccine appointments and visit the Power Up Employee Wellness  to learn more about the mobile mammogram program.

Join "Team UH" in the HESS Houston Corporate 5K to be held October 19-21 in Memorial Park. The first 100 employees to register will receive a 50% discount on the entry fee. Join Team UH by October 1 to receive your free shirt, bib and goodie bag. For more information regarding the additional services from HR Benefits, read the latest issue of the Power Up Newsletter.

Accounts Payable will hold online Voucher Creation Tips Training in September and October through Zoom for employees who process or approve vouchers at any of The University of Houston System sites.  The training includes tips on accurate invoice dating, numbering, reduction of duplicate payments and fraud.  For additional details and to register, visit Voucher Creation Tips Training.
A&F Resources