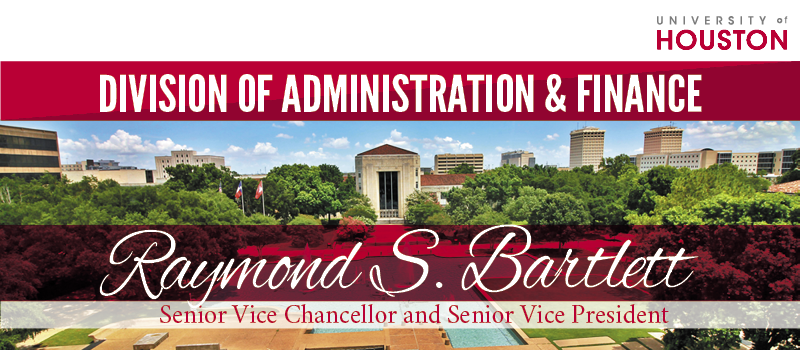 Comprised of Division features, accolades and achievements, as well as valuable "In Case You Missed It (ICYMI)" news you can use, each edition of the newsletter highlights key information and resources across the Division's departmental, operational and service unit areas. Subscribe to the A&F listserv.

Dear Colleagues,
The month of June means the start of summer classes and the Atlantic hurricane season. June also is the launch of new student orientations at UH, and the opportunity for many of our departments and programs to welcome in-coming University of Houston students and their parents to campus.
A&F departments have been active in resource fairs and first-year and transfer student orientations. I hope you enjoy reading about how our A&F staff supports student orientations and summer camps.
In this month's issue, we also highlight Facilities/Construction Management and the sustainable journey of two new campus buildings and one key campus renovation project to LEED certification.
Other highlights in the June newsletter include:
The Office of Finance year-end calendar and schedule. The calendar provides deadlines and dates for the UH community for Purchasing, Accounting, and Payroll transactions.
An article from Public Art of the University of Houston System and its educational engagement and outreach for local schools.
A reminder and key tips from Campus Safety about hurricane season preparedness.
Human Resources reminders about its on-campus preventive health check-up scheduled for June 26-27 and next month's "Wellness & Benefits Fair: Discover Your Wellness Benefits" fair set for July 13.
These are just some of the highlights in the June newsletter. Please read and explore all the divisional updates from A&F departments and services.
Finally, I hope each of you finds time to relax, recharge, and refresh during the summer. I am so grateful to all our division employees and all you do to support and serve our UH community.
Highlights & Features
A&F Departments Support UH New Student Orientations by Providing Keys to Academic Success

Several Administration and Finance departments are spending part of their summer assisting incoming University of Houston first year and transferring students via orientations and resource fairs.

Orientations provide students and their parents with the information needed to ensure incoming students' first year at UH will be successful. By the end of the summer, A&F departments will have been a part of 20 orientations, including two virtual ones. Learn more about how A&F assists with student orientations.

Public Art UHS Assists with Blaffer Art Musuem's Summer Arts Workshop

Public Art of the University of Houston System assisted with Blaffer Art Museum's Summer Arts Workshop 'In the Mixing Booth: Your Story is in a Thousand Beautiful Pieces' led by artist and art professor Debra Barrera. The workshop is intended for middle school students and will encompass two sessions: Collage + Music Making and Patches + Poetry.

"For me, that's a very important age, especially for creative thought and for budding artists. They're really starting to figure out who they are. They're not really children anymore, but they're not driving, or doing things like that," said Barrera. "It's a very good time to have them feel confident about their creativity."

UH Law Center, College of Medicine, received LEED Certification

The University of Houston's John M. O'Quinn Law Building and the College of Medicine Building received national recognition this spring by being awarded the Leadership in Energy and Environmental Design (LEED) Certification.

The certification comes via the U.S. Green Building Council. For a building to receive the certification, it earns points and adheres to prerequisites that address carbon, energy, water, waste, transportation, materials used, health, and indoor environmental quality. Read more about this achievement.

Educational Engagement and Outreach at Public Art UHS

Operating across the University of Houston Systems, Public Art UHS is Houston's front porch for visual arts outreach and education. Public Art's educational programs span four university campuses and connect visual arts education across academic disciplines.

The department works with the university student body, professors, and HISD K-12 educators across the Houston metroplex. Public Art's educational programming has connected with over 2,426 people in the 2022-23 academic year alone and is one of the most expansive, diverse, engaging, and community-driven public art organizations in the United States. Read more about Public Art UHS and its education outreach.

Houston Public Media Celebrates Pride Month

Pride Month is celebrated each year in June to honor the 1969 Stonewall Uprising in Manhattan and works to achieve equal justice and equal opportunity for LGBTQQIP2SAA Americans.

In June of 1969, patrons of the Stonewall Inn in NYC staged an uprising to resist police harassment and persecution. The uprising marked the beginning of a movement to condemn discriminatory laws and practices against LGBTQ+ Americans.

Houston Public Media proudly recognizes the contributions and impact of our LGBTQQIP2SAA community. Learn more about Houston Public Media celebrates Pride Month.

Notes from America with Kai Wright

Notes from America with Kai Wright is a show about the unfinished business of our history and its grip on our future. On Sunday, June 18th, the show broadcasted LIVE from the Houston Public Media studios to mark "Juneteenth".

Kai was joined by local leaders of the original Juneteenth movement, including Zion Escobar, who is working to preserve the site of Freedmen's Town, the first free city established by the last black Americans to claim freedom from enslavement.

This is a collaborative effort from the Houston Public Media and WNYC teams as we strive to deliver broadcast excellence to this national live call-in radio program. Listen to a replay of the broadcast to learn more.

Parking and Transportation Featured in NACAS Spring 2023 Edition

NACAS featured Parking & Transportation's virtual permit program in its Spring 2023 edition. Richard Zagrzecki, Parking and Transportation Department Outreach Manager, authored the feature story that gives readers a first-hand look at why and how Parking and Transportation implemented the new virtual parking permit. Read the story to learn more.
Video of the Month - UIT DUO Reminder

Staff Spotlight
Cougar Cudos

Cougar Cudos is a Staff Council program that allows staff to recognize other staff members for exceptional service to the University of Houston. To nominate a fellow staff member, fill out the Cougar Cudos Nomination Form.

UH System Information Security & CrowdStrike Save the Day!

IT security departments are often the unsung heroes at a university. They work behind the scenes using high-caliber software to protect university faculty, staff, and students from cyber threats.

In March, the University of Houston's IT security team stopped a cyber threat from escalating further. And they did it remotely. While attending the 2023 DIR Information Security Forum held in Austin, TX, an incident was forming in Houston. Read more about how UH's IT security team stopped an incident.

UIT Student Worker Lands Internship with Conference Technologies Inc.

University Information Technology student worker Brandon Brooks landed a paid internship with Conference Technologies Incorporated, a provider of audio-visual, video, and information technology integration. Brooks, who works in the UIT Help Desk, was instrumental in UIT's multimodal project by providing crucial feedback to improve the program and run more efficiently, said Patrick Iglehart, Manager, Academic Technology Support with UIT.

The 10-week internship will take Brooks to St. Louis for a week of boot camp before he returns to Houston to finish the internship. Iglehart hopes Brooks' internship opens the door for future paid internships with UIT students.

Facilities/Construction Management Recognizes Employee Contributions with Excellence Awards

On May 25, Facilities/Construction Management hosted its annual department lunch. During this time together, appreciation was given for the hard work accomplished throughout the fiscal year.

Facilities/Construction Management recognized team members who participated in the Leadership Education and Development Program in 2022, team members who successfully completed the CPR/First Aid course since it began in April, and the 2023 Strategic Teams were also announced. Read more about F/CM's celebration.

HR Congratulates A&F Recipients of Summer 2023 Staff Tuition Scholarship

Six A&F employees received the Summer 2023 Staff Tuition Scholarship. Congratulations to Anh Thu Nguyen (left), Nancy Nie (center), Gary Gallagher (right), Bo Bartos, Lucio Vasquez, and Hussain Alkinani. These devoted Coogs contribute to the UH community in their professional roles and go the extra mile to develop themselves academically as UH students. We thank them for their hard work and dedication.

The Staff Tuition Scholarship Program is designed to support and encourage employee development through formal education. Fall applications for the Staff Tuition Scholarship will be open on the Human Resources website from July 5th – July 19th. If you want to apply, please subscribe to the Staff Tuition Scholarship ListServ and review the guidelines and qualifications.
ICYMI: News You Can Use
UH/UHS Released Fiscal Year 2023-2024 Calendar

The University of Houston & University of Houston System has released the new Fiscal Year 2023-2024 calendar that provides deadlines and submission instructions for administrative and financial activities for the end of fiscal year 2023 and the beginning of fiscal year 2024. Other calendars released include key dates, tasks, and deadlines that impact UH administrators, a finance processing calendar for the various finance departments, and a payroll calendar and schedule. See all the new calendars and schedules.

Hurricane Season Reminder from the University of Houston

Hurricane Season began on June 1, and the University of Houston has a number of reminders to stay informed and prepared for hurricane season.

First, ensure you are signed up to receive the UH Alert Emergency Notification System message via your cellphone. Learn more about how to sign up for the notifications.
Second, familiarize yourself with UH's general procedures regarding hurricane preparedness.
Third, take steps in advance for your personal preparedness, including reviewing your family's hurricane plan.

Read more about personal hurricane preparedness. If you have questions or concerns, contact the Office of Emergency Management or visit uh.edu/oem.

UH Campus Store to Unveil Big 12 Line in July

With the University of Houston transitioning to the Big 12 Conference in July, the UH Campus Store is pleased to announce that a new merchandise line will be available soon. Be sure to stop by the UH Campus Store or visit the website at bkstr.com/houstonstore.
Events & Reminders
On-Campus No-Cost Preventive Health Check-ups

HR POWER UP Employee Wellness encourages you to "Know Your Numbers" to live well longer. Catapult Health will provide On-campus Preventive Health Check-Ups for eligible BCBSTX HealthSelect employees from 8 a.m. – 3 p.m., June 26 & 27, in the Student Center North, second-floor Synergy Room 212.

These no-cost screenings, considered preventive care, provide measurements of blood pressure, cholesterol, triglycerides, blood sugar, and more. Knowing these numbers can provide you with important information about your heart health and is critical to preventing cardiovascular and other diseases.

Learn more about these Preventive Health Check-ups, determine your eligibility, and make your appointment, as well as how participation may help qualify you for annual Wellness Leave. Don't wait, make your appointment today, as slots are limited.

Human Resources Encourages You to Know Your Benefits

A reminder from Human Resources that the ERS Summer Enrollment period will be open from July 3rd – 14th. Summer Enrollment is when you can change your existing benefits for the coming year. Visit the ERS website now to review and update your information. ERS will send important information to you soon.

Also, be sure to attend HR's "Wellness & Benefits Fair: Discover Your Wellness Benefits" on Thursday, July 13, 10 a.m. – 2 p.m., in the Campus Recreation and Wellness Center to learn more about the many benefits resources available to you.

Reminder on UH Dining Summer Options

UH Dining continues to operate with adjusted availability and hours during the summer. Chick-fil-A, Mondo Subs, and Starbucks are open in the Student Center to serve our campus community. The Market Stores in the Student Center and Cougar Village and campus vending machines are also operating and can provide snack and beverage options.

Cougar Woods Dining Commons is also open Monday-Friday with adjusted hours. As a reminder, faculty and staff are encouraged to consider dining after peak lunchtime to avoid the high-volume lines that may be present due to summer camps, orientations, and other large-group dining.
Submit a story to the A&F S.P.I.R.I.T. Newsletter by filling out the form.
A&F Resources