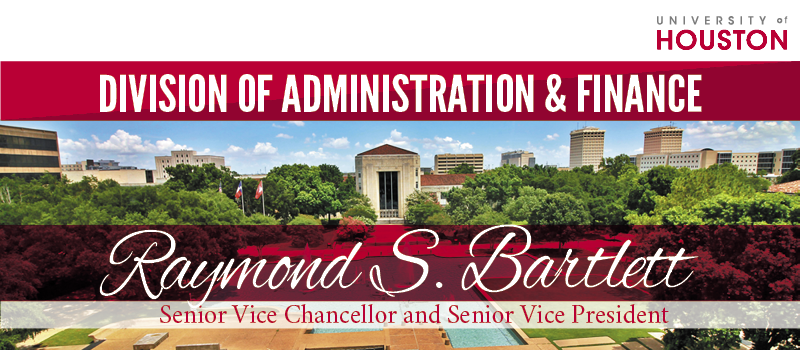 Comprised of Division features, accolades and achievements, as well as valuable "In Case You Missed It (ICYMI)" news you can use, each edition of the newsletter highlights key information and resources across the Division's departmental, operational and service unit areas. Subscribe to the A&F listserv.

Dear Colleagues,
This month, we saw the return of the divisional staff appreciation event, now known as the A&F Staff Appreciation Luncheon. We recognized divisional award recipients for demonstrating service excellence and celebrated years of service milestones for our divisional employees. It was a great afternoon of networking, connection and delicious Texas-style barbecue. I encourage all Administration and Finance employees to visit the event website.
The divisional events continue this month with the Faculty/Staff Tailgate on October 29 as the University of Houston football team takes on the University of South Florida. Join us for a day of fun, food, and Cougar football.
During October, the University of Houston Police Department held its annual National Night Out event, and by all measures, it was a resounding success. Students filled the Student Center South Circle Drive, made connections with all the attending campus safety departments, played giant Jenga, and even held a dance-off with officers.
We also highlight the following updates and accomplishments for October:
Gregory Jonason, an enterprise systems application developer with the University Information Technology department, shared his love of Lego and showcased his masterful creations in a UH web feature.
Auxiliary Services expanded its Cougar Textbook Access Program for Spring 2023. Since Spring 2022, this program has saved 26,509 students more than $1 million off the new retail course material price.
October is Cyber Security Month, and UIT has created an informative video that I encourage everyone to view and take note of all the great resources compiled to help us protect our devices and IT systems from viruses, hackers, and other security threats.
These are just a few events and activities highlighted in this month's newsletter. I encourage you to review the newsletter to stay connected with all of our divisional updates and accolades for October.
I am grateful to every divisional employee and all you do daily to support our community.
Highlights & Features
A&F Staff Appreciation Luncheon Puts Spotlight on Employees

The Administration and Finance Staff Appreciation Luncheon was a time for colleagues from across the Division to come together to enjoy a meal, re-connect, and celebrate accomplishments and employee years of service milestones. The Staff Appreciation Luncheon was held on October 4th in a packed Houston Room in the Student Center South. Read more about the Staff Appreciation Luncheon and visit the event website to see all the award recipients.

UHPD's National Night Out Connects Students with Officers

Officers from the University of Houston Police Department and the Houston Police Department converged at the Student Center South Circle Drive in early October for a good cause.

The law enforcement agencies, along with other campus safety departments united at the Student Center South Circle Drive for National Night Out, the annual community-engagement event that promotes police-community partnerships and neighborhood camaraderie. Read more about National Night Out.

Facilities/Construction Management Focuses on ADA Compliance

Facilities/Construction Management continues to create an environment of accessibility by ensuring appropriate standards for new construction with regards to the Texas Accessibility Standards (TAS).

To help address areas on campus that are not directly tied to an active construction project but might need a compliance assessment, Facilities/Construction Management manages a conservative yearly budget to help with these requests. Learn more about F/CM efforts to be ADA compliant.

Cougar Textbook Access Program Brings Savings to Students

The University of Houston Cougar Textbook Access Program (CTAP) is an exciting digital rental program that provides students access to course materials on or before the first day of class, at significant savings, over purchasing new retail course materials. First piloted in Spring 2022, almost 27,000 students saved an average of 36-54 percent off new retail pricing. Learn more about CTAP and how it's expanding on campus.

UH Dining Brings JoyFul Fall FestiFul to Campus

Fall was in the air on October 5th around Cougar Woods Dining Commons with UH Dining Services hosting the JoyFul Fall FestiFul. The JoyFul Fall Festiful was organized to celebrate and usher in the autumn season via fall-themed menu options at all UH dining halls.

The prized highlight of the festival was a Farmer's Market outside Cougar Woods Dining Commons. It featured over 25 local vendors making it the largest farmer's market to date to take place at the university. Read more about the JoyFul Fall Festiful.

Coca-Cola Dreamworld Activation Comes to Life at UH

Auxiliary Services brough a Coca-Cola Dreamworld activation to the University of Houston campus that showcased the beverage company's limited-time Dreamworld flavor through an interactive brand experience. The installation featured Dreamworld's House of Dreams, an engaging visual journey that was as otherworldly as it was delicious. The Dreamworld installation drew 1,350 visitors with 1,150 Coca-Cola samples handed out.

Houston Public Media Fall Radio Drive

Fall Radio Drive is one of our favorite times of the year and we are excited to celebrate with you. As an independent non-profit organization, Houston Public Media is powered by you and relies on your gifts to deliver the local unbiased journalism your community trusts.

You also gain exclusive streaming access to over 4,000 PBS shows and programs like MASTERPIECE, Poldark, NOVA, All Creatures Great and Small and more when you give at least $5 a month. No matter the amount, thank you for always choosing to keep Houston Public Media strong.

Houston Public Media Presents: Vote Houston

Voting is essential to our community. On November 8, use your voice at the polls. After you vote, we'll have live comprehensive election results and analysis on News 88.7 and houstonpublicmedia.org. Listen to HPM for more information. #VoteHouston #voting #myHPM
Video of the Month

Staff Spotlight
Cougar Cudos

Cougar Cudos goes to Parking and Transportation customer service representative Tracy Wiggins for providing stellar assistance over the phone.

To nominate a fellow Staff member and learn more about Cougar Cudos.

UH Today Shines Light on Gregory Jonason's Love for Legos

Gregory Jonason, an enterprise systems application developer with the University Information Technology department, has been a Lego enthusiast since the 1970s. But over the past decade, Jonason has taken his love for building Lego projects and kicked it up a notch by working on more advanced Lego projects like building Lego mosaics of famous people. His favorite is a six by four feet mosaic of David Bowie. Read more about Jonason's love for Lego in UH Today's Staff Spotlight.

Equal Opportunity Services Welcomes New Assistant VC/VP

Rebecca Lake joins Equal Opportunity Services as its new Assistant Vice Chancellor/Vice President. Lake will oversee the University's anti-discrimination initiatives, including reviewing policies and institutional strategies aimed at eliminating sexual misconduct, discrimination and harassment targeted to protected identities.

Lake, a Harvard Law School graduate, recently served as Senior Director for Equal Access at the University of Houston-Victoria (UHV). As the campus-designated Title IX and Equal Opportunity Coordinator at UHV for more than five years, she oversaw anti-discrimination efforts including campus educational efforts, training and Equal Opportunity case management.

UH Dining Scores High Remarks in Recent Survey

Congratulations to the University of Houston Dining department as it made CollegeXpress list for Best Food on Campus. The list recognized the colleges and universities whose students rated the food as excellent in a recent survey.
ICYMI: News You Can Use
Jorge Pardo's "Folly" Opens to the Public with Series of Events

Public Art UHS has unveiled its new temporary installation, Folly, by Cuban American artist Jorge Pardo. Public Art hosted an array of free public programs around the piece, including an opening reception, an artist talk with Jorge, and a curator-led tour with Maria C. Gaztambide. Learn more about Jorge Pardo's Folly installation.

Public Art Free Drawing Workshops

Free and open to the public, learn to draw or refine your observational drawing skills in Public Art's free studio art workshops! Artist, educator and master draftsperson Debra Barrera leads a series of three drawing workshops featuring artworks in the collection of Public Art UHS. Each session will focus on a different artwork and drawing technique. Drop in on one session or join us for all three, RSVP today.

Public Art UHS Announces YardWorks 2023 Artist

YardWorks, a collaboration between Public Art UHS and the UH School of Art, offered a $20,000 commission to Austin-based artist Gabrielle Constantine to create a site-specific work for the Louise J. Moran Fine Arts Courtyard at the University of Houston.

YardWorks seeks to give early career artists their first experience making work for the public realm. For her project, Constantine will transform common construction materials, such as tarpaulin, Tyvek, and red cement, into domestic forms like lace and carpet. By working with these materials, her artistic practice explores labor issues while referencing social issues like gender, culture, and generational shifts. Learn more about this endeavor from Public Art.

FIXIT Service Requests Update Simplifies the Process

In August, the FIXIT Service Request system received a major upgrade. Facilities/Construction Management changed from the software that was over a decade old to a new software. This transformative change is now more intuitive than ever before.

The requester can easily see icons to identify the category for the type of request they would like to submit. Although there is new software, there are still the traditional 4 Ways to FIXIT including phone, email, text and now the upgraded service request system. Read more about the FIXIT changes.

Mandatory Training Reminder from Human Resources

Huma Resources would like to offer a quick reminder that mandatory training is underway. All mandatory training should be completed by November 18, 2022. HR would like to thank all those that have already completed their mandatory training for FY2023. Learn more about the mandatory trainings and how to complete them.
Events & Reminders
Faculty/Staff Tailgate at UH Football Homecoming Game

The Faculty/Staff Tailgate is back for another season! Join your fellow faculty and staff companions on October 29 for the Faculty and Staff Tailgate celebration happening before the UH football's homecoming game against the South Florida Bulls. Reserve your spot by completing the RSVP form.

Plus, head to uhcougars.com/promo to obtain your free ticket using the special promo code FASTSTAFF22. The promo code grants faculty and staff one complimentary ticket and the opportunity to purchase additional tickets at a discounted rate of $10.

October is Breast Cancer Awareness Month

A reminder from UH Occupational Health Services: breast cancer is one of the most common forms of cancer in the U.S. and the second-leading cause of death in women, but men can get breast cancer too. For risk factors, self-examination, prevention and more information, visit the American Cancer Society.

EHS Observes International Biosafety & Biosecurity Month

October is International Biosafety and Biosecurity Month. This is an opportunity for biosafety professionals to consider the important roles that we serve in fostering an understanding of biosafety and biosecurity. Researchers are role models, mentors, and leaders to a new generation of scientists and scientific support personnel.

International Biosafety and Biosecurity month is an excellent time to foster an open dialogue with your colleagues, peers, and staff about biosafety and biosecurity. Learn more from Environmental Health and Safety about Biosafety and Biosecurity Month.

Human Resources to Host Annual Retirement Seminar

Whether you're nearing retirement or early on in your career, it's never too soon to start planning. Participate in a two-day HR Retirement Seminar to learn what you need to do in order to plan and be prepared for your retirement when the time comes.

Hosted by the HR Benefits department, the Annual HR Retirement Seminar will be held virtually on Wednesday, October 26 and Thursday, October 27, 2022. The virtual sessions are open to all benefits-eligible employees. Learn more about HR's Annual Retirement Seminar and what to expect.

UH Dining Events and Promotion

Joyful Festiful, Coffee Crawl, and a Diwali Celebration are just some of the exciting events UH Dining Servies planned for October. Plus, new food offerings like Pumpkin Spice Churros, and a Pecan Berry Salad. Look at this month's offering from UH Dining and plan accordingly. And to stay connected with the latest activities and promotions, visit the UH Dining Services web site.

Upcoming Coca-Cola Ambassador Sampling Events

Auxiliary Services in partnership with Coca-Cola is hosting several sampling events in the coming weeks at the Student Center South, Food Court Tables. Events include:

Halloween | Monday, October 31st | 11am – 3pm | Minute Maid Aguas Frescas | Food Court Table #2
Marvel/Black Panther | November 10th | 11 am - 3 pm | Sprite Zero Sugar | Food Court Table #1
Happy Holidays | Thursday, December 1st | 11 am - 3 pm | Peace Tea | Food Court Table #1

Visit the Coke Campus Ambassador page for more information on upcoming events.
Submit a story to the A&F S.P.I.R.I.T. Newsletter by filling out the form.
A&F Resources