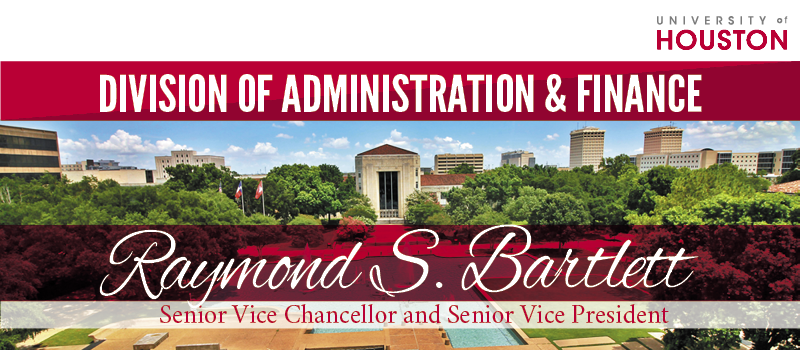 Comprised of Division features, accolades and achievements, as well as valuable "In Case You Missed It (ICYMI)" news you can use, each edition of the newsletter highlights key information and resources across the Division's departmental, operational and service unit areas. Subscribe to the A&F listserv.

Dear Colleagues:
For many of our departmental staff, the summer months are focused on preparing in-coming students and their parents for the fall semester through new student orientations. In this month's issue, I hope you enjoy our feature article on the many roles our A&F staff have in supporting student success through new student orientation programming.
In this month's issue, we also feature the return of the divisional staff appreciation event, scheduled for October 4, 2022 in the Student Center. The event has a new name, A&F Staff Appreciation and an enhanced focus on celebrating the incredible work of our divisional staff. At this year's event, divisional leaders will honor exceptional performance through our awards ceremony and highlight employees and their years of service to the university. There will also be opportunities to re-connect with A&F colleagues and friends over a delicious barbecue lunch and desserts. To help with the planning, I ask that all division employees complete the RSVP form and let us know if you plan to attend. Also, please consider nominating your colleagues for one of the seven prestigious awards using the event web site link provided in this month's feature story.
I am so proud of the great work highlighted in this month's issue of S.P.I.R.I.T. In July, the University of Houston Police Department re-launched their Coffee with a Cop program and Human Resources held their first in-person Wellness and Benefits Fair since 2019. The HUB Operations team was also honored by the Houston Business Journal by receiving the prestigious Diversity in Business Award, in the Outstanding Supplier Diversity Category. Please take a moment to read about these and other divisional achievements, notable events, and announcements in this month's newsletter.
I am grateful to all of you, and all that you do to support the division in serving our UH community of students, faculty, and staff.
Highlights & Features
A&F Engages With Future Coogs at Student Orientations

Student orientations for in-coming freshman and transfer students are underway at the University of Houston, and they encompass a variety of planned academic and social activities that will give new Coogs a preview of what being a college student is all about.

Students and their parents learn about all the services and programs that will help them succeed, and the Division of Administration and Finance is well represented during this new student programming. Read more to learn about A&F's involvement in student orientations.

2022 A&F Staff Appreciation Luncheon

The Division of Administration and Finance is thrilled to announce the date for the annual A&F Staff Appreciation Luncheon! Previously known as A&F Fall Kick-Off, the 2022 A&F Staff Appreciation Luncheon is set for October 4 at 12 pm in the Student Center. This event is an opportunity to celebrate and acknowledge the accomplishments of the A&F staff plus recognize employee service to the university.

Additionally, award nominations are in process across seven categories to provide recognition for meritorious service exhibited by Division employees. Learn more about the A&F Staff Appreciation Luncheon and how to nominate a staff member.

President's Excellence Awards Nominations

Each year the University of Houston recognizes employees for service longevity of ten years or more, in increments of five years. Additionally, a select group of employees are honored each year through the annual staff awards program, including the President's Excellence Award, Community Service Award, Innovation Award, and the C.F. McElhinney Award.

Nominations will close on July 22, 2022, at 5 p.m. If you are interested in nominating a UH staff member for consideration, please read the guidelines and FAQs to learn more about the awards and the nomination process.

Historically Underutilized Business Department wins HBJ Diversity Award

The University of Houston's Historically Underutilized Business Operations Department recently got a jolt of good news when the Houston Business Journal announced the department had won the Diversity in Business Award.

HUB is the award recipient within the Outstanding Supplier Diversity category, recognizing companies that successfully seek to do business with minority suppliers. HOD Operations Director F. Linelle Clark, Ph.D., said the recognition means a tremendous amount because it signifies that the department is on the right track. Read more about HOD's award from the Houston Business Journal.

Event Resource Center Information

The Event Resource Center provides guidance and resources for the UH campus community to ensure compliance with the university's policies and procedures. To learn more about available resources for event planning, visit the Event Resource Center.

Coffee With A Cop Returns

The University of Houston Police Department held its monthly meet-and-greet event in July at the Student Center. The event, previously called UHPD and Me, has been reintroduced with its original name, Coffee with a Cop.

This aligns this important community outreach event with the national initiative of Coffee with a Cop. The national initiative started in 2011, with UHPD holding its first Coffee with a Cop event in 2014. Eight years later, the initiative is as strong as ever. Read more about Coffee with a Cop.

UHPD Compliant with CJIS Security Police

Cheers to the University of Houston Police Department for being fully compliant with the Criminal Justice Information Service Security Police requirements. The Texas Department of Public Safety's CJIS Security Office audited UHPS on June 29.

The audit included reviewing UHPD's physical security, network diagrams, and policies and processes pertaining to CJIS access, storage, and transmission. CJIS commended UHPD for its audit results. The agency's next security audit is scheduled in three years.

University of Houston CERT Training Fall Schedule

The Office of Emergency Management has begun accepting registrations for its Community Emergency Response Team (CERT) Training. The CERT Training program prepares an individual to help themselves, their family, and their neighbors in the event of a disaster.

By getting trained in CERT, an individual will have the skills to help emergency responders save lives and protect property. Learn more about CERT Training and how to register.

100 Years of Houston 1927-2027

The History of Houston encompasses major events with people and organizations that have worked for positive change in our community and abroad. 100 Years of Houston recounts important milestones and shares the personal stories of our city's trailblazers and their local connection. These stories are framed by the themes of Inclusion & Diversity, Innovation and Health.

The first new medical school in the City of Houston in fifty years, the Tilman J. Fertitta Family College of Medicine educates future doctors "to Improve the health and health care of Houston, Texas, and beyond." It joins other institutes of medical excellence in a mission to help the underserved. Learn more by visiting houstonpublicmedia.org/100-years-of-houston.

Watch The Hub's Construction in Real-Time

The Hub, a two-story, 41,000 square-foot facility replacing The Satellite, is currently being constructed. The Hub will feature an open floor plan and give students and staff new restaurant concepts to choose from.

And while The Hub is scheduled to open in Spring 2024, you can get a glimpse of the construction progress via the live video feed, which provides two angles of the ongoing construction. The first angle is from the Science Resource 2 building, and the second is from the Graduate College of Social Work building. See the live feed below to witness The Hub's construction.
Video - The Hub Construction Live Video Feed

Staff Spotlight
Cougar Cudos

Cougar Cudos goes to Maricela Rodriguez for her work with the Technology Services and Support department.

To nominate a fellow Staff member and learn more about Cougar Cudos.

Alexcis Mendoza Wins Chartwells President's Circle Award

Congratulations to UH Dining and Chartwells District Marketing Manager Alexcis Mendoza on being awarded the Chartwells President's Circle Award for her outstanding contributions to 'Living the Brand.'

Mendoza started her career at Chartwells as a Marketing Intern in 2012 and worked her way up to District Marketing Manager through hard work and dedication. Read more about Mendoza and Chartwells President's Circle Award.

UIT To Celebrate System Administration Appreciation Day

Can you check your email? Is your website active? Is your computer working? If you answered yes to any of these questions, then you have the awesome System Administrators at UH to be thankful for keeping the university up and running. System Administrator Appreciation Day is celebrated globally on July 29th.

This is a perfect time to pay tribute to all the people who work 24/7, rain or shine, to keep university information resources running, prevent disasters and keep data secure. Remember, this is one day to recognize our UH IT Professionals for all their workplace contributions. Thank them for everything they do for you and your business needs.
Video - System Administration Appreciation Day

ICYMI: News You Can Use
Wellness and Benefits Fair 2022 Deemed a Success

The University of Houston's Human Resources department held its annual Wellness and Benefits Fair in person on July 7th for the first time in two years and the results were exceptional.

The Wellness and Benefits Fair is an annual event that provides faculty and staff the opportunity to learn and ask questions about their benefits, including health and retirement, as well as overall well-being, from vendors Read more about the return of the in-person Wellness & Benefits Fair.

Public Art UHS Launches Art Loan Program

Public Art is now offering a variety of prints, photographs, and other works on paper available for loan to University of Houston administrative units and academic departments.

The program reflects Public Art's interest in making art widely available to our diverse public and furthers our mission of engaging academic and global communities in an open forum to promote dialogue about visual arts and their relevance to contemporary life.

To learn more about the program's offerings and to borrow artwork, visit the Public Art website!

FIXIT Work Order System Upgrade

In August, FIXIT's new work order software will be implemented. The same FIXIT icon will be linked to the new software in AccessUH. Some new features include a faster and easier user interface on desktop and mobile, increased visibility of existing work orders, and a more intuitive online service request portal.

As part of preparing for this change, the Building Coordinator meeting held in July included a presentation on the new work order management system. Other topics presented were hurricane preparedness, university temperature guidelines, outage notification process, and Department Access User (DAUs) role in the Electronic Access Control (EAC) process. UH Facilities is excited to continue Building Futures, Maintaining Excellence.

Incentive Program Anniversary for Facilities/Construction Management

In June 2021, an exciting new recognition program started to celebrate the Facilities/Construction Management purpose of Building Futures, Maintaining Excellence. Custom-created UH F/CM coins started to be distributed to F/CM team members committed to the Building Futures, Maintaining Excellence mindset.

The tradition of these types of coins being incorporated into the department's culture signifies a visible and lasting memento that recognizes that team member's contribution to achieving the strategic mission of both UH and F/CM. Read more about Facilities/Construction Management incentive program.

News 88-7 Adds New Weekly Program to Lineup

Beginning in July, a new program joins the News 88-7. Created and hosted by award-winning journalist Farai Chideya, "Our Body Politic" is unapologetically centered on reporting on not just how women of color experience the major political events of today, but how they're impacting those very issues.

Weekly episodes feature in-depth conversations about the economy, health, politics, education, the environment, and the most prescient issues—because all issues are women's issues. "Our Body politic" will air Sundays at 6 pm each week. To listen and hear other episodes visit houstonpublicmedia.org/listen-live.
Events & Reminders
EOS Recognizes National Disability Independence Day

Please join the Office of Equal Opportunity Services in celebrating National Disability Independence Day, commemorating the signing of the Americans with Disabilities Act (ADA) on July 26, 1990. This important civil rights law prohibits discrimination against individuals with disabilities and provides equal opportunity for these individuals in all areas of public life.

EOS provides leadership across the University to ensure a welcoming and inclusive working and learning environment. EOS accomplishes this by administering the UHS Anti-Discrimination Policy, facilitating workplace accommodations for employees with disabilities, and collaborating with campus partners to provide accessible electronic content to those accessing University services and educational programs.

Back to School Fest Call For Volunteers To Fill Backpacks

The 12th annual Mayor's Back to School Fest is happening on August 13th at George R. Brown Convention Center, and the university is hosting a volunteer initiative to help stuff backpacks with school supplies.

Any departments interested in having their programs participate in the fest should contact Sara Donatto, Executive Director of Operations and Local Relations in the Office of Governmental Relations, at selujan@uh.edu. The backpack-stuffing initiative is on Saturday, July 22nd, from 1 – 4 p.m. at the Houston Food Bank. Interested individuals can register via the Food Bank's website.

Cougar Card Office Call for Volunteers

Sign up to help the Cougar Card Office distribute Cougar Cards and educate customers on the Photo Upload and the Appointment/Virtual Line processes for Residential Move-in. Sign the Cougar Volunteer Interest Form and if you have any questions, please contact Daisy Del Fierro at 713-743-6027 or via email at dkdelfierro@uh.edu.

UV Safety Awareness Month

A reminder from UH Occupational Health Services: July is UV Safety Awareness Month Summer is here, and the sun is shining brightly! The sun emits radiation in the form of ultraviolet (UV) rays. While most UV exposure comes from the sun, artificial sources (e.g., indoor tanning beds and sun lamps) are also a source of exposure.

This month is about identifying the risks associated with excessive sun exposure and learning ways to protect yourself. Learn how you can protect your skin from UV rays.
Submit a story to the A&F S.P.I.R.I.T. Newsletter by filling out the form.
A&F Resources