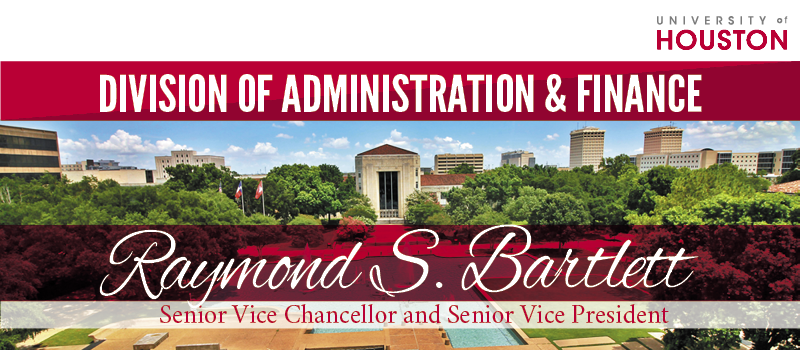 Comprised of Division features, accolades and achievements, as well as valuable "In Case You Missed It (ICYMI)" news you can use, each edition of the newsletter highlights key information and resources across the Division's departmental, operational and service unit areas. To subscribe to this listserv, click HERE.

Dear Colleagues:
The month of May marks the successful conclusion of another academic year. Each year, many employees in our division help ensure commencement event logistics are seamless as we celebrate graduation with students, parents, families, and our colleges across campus. This year, our Administration and Finance colleagues helped support 17 different ceremonies and 5,917 graduates! I am thankful for our A&F commencement heroes, who go above and beyond for our students and their families during this special time. I hope all of you enjoy reading the highlighted feature in this month's issue on the many ways Division of Administration and Finance employees contribute to support this aspect of student success.
In this month's issue, we also highlight a number of features, events, and employee recognition, including:
Global Employee Health and Fitness Month with an update on Human Resources' new Power Up Employee Wellness Platform and tips from University Information Technology on ways employees can stay fit during the workday.
Supply chain challenges and their impact on university departments, along with tips for how to navigate and plan ahead during these times.
Articles from Equal Opportunity Services and Houston Public Media in recognition of Asian American and Pacific Islander Heritage Month.
Emergency Management Director Ginger Walker for her recent presentation at the Preparedness Response Innovation Mitigation Recovery (PRIMR) Conference.
Parking and Transportation Assistant Director Allen DeForde, the 2022 Parking Employee Award of Excellence winner from the Texas Parking and Transportation Association.
Mike Wheeler, Facilities/Construction Management Projects and Technical Director, for being awarded the 2022 Facilities Management Distinguished Service Awards at the TAPPA Conference.
Finally, at the end of May, we will pause with our country to observe Memorial Day, honoring those heroes who lost their lives in service to the U.S. Armed Forces. During this month, I also encourage all of us to thank our fellow Administration and Finance colleagues who are military veterans. We are so grateful for their service and the contributions they provide every day in our services, programs, and departments.
Highlights & Features
The Unsung Heroes of Commencement

The University of Houston's Spring 2022 Commencement ceremonies saw 5,917 undergraduate, graduate, professional and doctoral students walk across the stage. For the students, it's a culmination of hard work and dedication. For family and friends, it's a sense of pride to see loved ones accomplish a goal.

A sense of pride also runs through the many UH departments that prepare the university for commencement season. And while their work may go unnoticed by students and commencement attendees, there's no denying that these unsung heroes of commencement are pivotal to graduation ceremonies. Read more about the departments that support graduation.

Coming Soon: A New Employee Wellness Platform

May is Global Employee Health and Fitness Month, and the timing couldn't be better for University of Houston staff.

The university's Human Resources department has been hard at work creating an employee wellness platform to assist staff with their health and fitness needs. The platform, Power Up Employee Wellness Platform, is currently in a soft launch with HR staff. Learn more about how the employee wellness platform could help you reach your fitness goals.

Global Employee Health and Fitness Month

The University Information Technology department wants to remind you that good habits don't have to start at the gym, they can start at the office.

Small changes can dramatically improve one's health. The real solution is to move all day. This can be done by walking the hallways, climbing stairs, squatting, and stretching our bodies at work. Learn more about what small changes you can make to improve your health.

How the University is Navigating the Supply Chain Crisis

The University of Houston is not immune to the ongoing worldwide supply chain and inflation challenges. From finding new merchants to building new relationships, customer-facing departments have had to pivot and alter how they manage their services.

Read more about what's been causing these issues for UH departments and how it's impacting them.

Asian American and Pacific Islander's Heritage Month

The University of Houston embraces diversity and recognizes our responsibility to foster an open, welcoming environment where students, faculty, and staff of all backgrounds can collaboratively learn, work, and serve. This month, Equal Opportunity Services recognizes Asian American and Pacific Islander Heritage Month, which was officially designated by Presidential Proclamation in 2009.

EOS is committed to supporting a community of care by engaging our students, staff, and faculty members in vital conversations about fostering inclusive environments and complying with UH policies. To learn more about the training EOS offers, including diversity & inclusion, visit the EOS website and request training.

Houston Public Media Celebrates #AAPIHeritageMonth

May is #AAPIHeritageMonth and Houston Public Media proudly celebrates and recognizes the contributions and impact of our Asian American community.

Houston Public Media is showcasing the AAPI community through numerous different programs on PBS all month. American Experience | Plague at the Golden Gate and Betrayed: Surviving an American Concentration Camp are only two of the many shows this month. See the rest of the programming and streaming films about the AAPI community.

UHPD Holds Moment of Silence for National Police Week

The University of Houston Police Department held a moment of silence during National Police Week to honor and pay homage to those who gave their lives in duty.

Read more about what National Police Week means to UHPD.

New A&F Submission Portal

There's a new submission portal on the Administration & Finance website that provides the ability for A&F staff to submit items for potential inclusion in the A&F S.P.I.R.I.T. monthly newsletter.

The user-friendly submission portal allows staff to submit their item, whether it's a story, a story idea, a photo, or a recap from an event, workshop, conference, or presentation. Visit the submission portal and plan accordingly. All submissions are due by the 5th of the month.

The Process for Getting a Temporary Food Dealer's Permit

Are you planning on serving food at your next event? You might need a Temporary Food Dealer's Permit?

University of Houston departments, student organizations, 3rd party vendors, and any other group wishing to serve food to the UH community or public on campus must apply for a Temporary Food Dealer's Permit through the Food Safety Office.

Read more about getting a Temporary Food Dealer's Permit and what it entails.

Facilities in Review Magazine

The latest issue of the 'Facilities in Review' magazine from the Facilities/Construction Management department is now available.

The latest edition highlights awards and recognition that Facilities/Construction Management has achieved. Some of the features in this edition include how Project Management software revolutionizes customer service and a look at the new facilities team for labs and research, to name a few. Read the 'Facilities in Review' magazine to learn more.

UH Dining Summer Hours

Summer is here and that means new operating hours for some University of Houston dining services. The summer break typically means fewer students on campus which allow UH dining establishments to shift their hours of operation due to fewer customers.

Before heading out to your favorite dining spot, check this guide to see what will be open this summer.
Video of the Month - How Copy & Print Prepared for Commencement

Staff Spotlight
Cougar Cudos

Cougar Cudos goes to Henry Pham and George Rea, who were honored by Staff Council for exceptional service to the University in May.

To nominate a fellow Staff member and learn more about Cougar Cudos.

Ginger Walker Presents at the Annual PRIMR Conference

Ginger Walker, Director, Emergency Management with the Office of Emergency Management, presented to the Preparedness Response Innovation Mitigation Recovery (PRIMR) Conference at the University of North Texas on March 7th.

Walker's presentation, Building a Continuity of Operations Planning Program from the Ground Up, allowed her to share her knowledge and experience on preparedness. Walker shared the success of the University of Houston's program and lessons learned through a vast number of natural disasters. Learn more about Ginger's presentation.

UH Hosts TAPPA Conference

University of Houston staff members from the Facilities/Construction Management department hosted the 2022 TAPPA Educational Conference and Business Partner Fair in Spring, Texas.

The university was well-represnted with over 40 staff members in attendance, five of whom gave presentations. Additionally, one university member, Mike Wheeler, was surprised with the 2022 Facilities Management Distinguished Service Award. Read more about Facilities/Construction Management time at TAPPA.

Meet Roland Shaw, Payroll's New Executive Director

Roland Shaw, the new executive director of payroll, has a wealth of experience that he brings to the role. Shaw graduated from TSU with an Economics degree and began his professional career with the Houston Independent School District.

Shaw climbed the corporate ladder to become the district's payroll director. With the implementation of PeopleSoft, he was promoted to PeopleSoft Project Manager. Read more about Shaw's work experience that led him to UH.

Allen DeForde Wins TPTA Parking Employee Award

Parking and Transportation Services Assistant Director Allen DeForde is the 2022 Parking Employee Award of Excellence winner from the Texas Parking and Transportation Association (TPTA). The announcement was made at TPTA's annual conference in April.

Allen has led the way for numerous program changes over the past year. These included transitioning to a text to pay/virtual meters visitor parking program to replacing the conventional meters employed at lots across campus. This transition took place in December and January following months of planning. Read more about the award and the work that DeForde does.

UH Police Chief visits TLIM Program in UH Sugar Land

University of Houston Police Chief Ceaser Moore and Officer Markenna Pharr visited the Technology Leadership and Innovation Management program in Sugar Land to speak about leadership in law enforcement. Chief Moore and Officer Pharr shared with students the best practices and success strategies for their careers in the public or private sector.

Moore said all the students participating in the TLIM Program in UH Sugar Land were very receptive and engage and were eager to gain knowledge and insights about leadership.
ICYMI: News You Can Use
UH Breaks Ground on The Hub

Construction will soon be underway on The Hub, a two-story, 41,000 square-foot facility that will replace The Satellite, an underground center that was a favorite of students and staff for decades. To celebrate this milestone, the University held a ceremonial groundbreaking ceremony on Friday, April 22nd.

The Satellite, which opened in the early 70s, had been hampered by constant flooding issues over the past years. Aside from flooding issues, the Satellite has significant infrastructural problems like lack of natural light and visibility. Learn more about what The Hub will bring to the university.

Finals Mania Returns to Much Fanfare in the M.D. Anderson Library

One of the highlights of wrapping up the academic year is the Finals Mania tradition, during which administrators serve students free food to help students fuel their minds for finals study sessions.

Students lined up well before the event kicked off and waited patiently to get their share of breakfast foods. The Spirit of Houston, the university's marching band, kicked off the event with their boisterous sound before the doors opened to the students. Learn more about the return of Finals Mania.

Advisory Committee Reception Recap

The Division of Administration & Finance hosted the annual A&F Advisory Committee Reception on April 21 to honor and celebrate the work of student, faculty, and staff advisory committee members for the 2021-22 academic year.

The reception was held in person for the first time since 2019. This year, 13 outstanding students, faculty, and staff advisory committee members across the University of Houston were honored for their service and commitment. Read more about the committee members that were honored.

Phishing and Email Scams at UH

University of Houston staff and students aren't immune to phishing and email scams. The latest target is UH students who recently reported receiving job scam emails. These emails use UH alias email addresses to send job scams to trick students into applying, thus providing personal and sensitive information.

On the other hand, phishing emails are messages where the sender is "fishing" for personal information. Some of these emails include the sender asking the recipient to click on a link, which then takes them to a page where they need to input personal information. Phishing emails can confuse the recipient as they tend to look like legitimate business sites. Learn more about email scams and phishing emails and how you can better protect yourself.

UH has a new employee assistance program (EAP) provider, Deer Oaks EAP Services

The service is available to all UH benefits-eligible employees and their dependents. EAP services include 3 free counseling sessions, a 30-minute consultation with an attorney, a 25 percent discount on attorney fees for hourly representation, simple online will preparation, unlimited financial consultation, a once per year emergency ride reimbursement, and many other online tools and resources.

View an online EAP Orientation Webinar and the Human Resources Benefits page to learn more. You can also access Deer Oaks EAP Services on the go via the iConnectYou app!

Andy Warhol Exhibition to Open at UHCL

Public Art's first traveling exhibition, "Instantaneous Beauty: Andy Warhol and the Photographic Process," opened on May 19th at its second venue, the University of Houston-Clear Lake Art Gallery.

The opening night program included a screening of a selection of Warhol's famed Screen Tests courtesy of the Andy Warhol Museum in Pittsburg. The exhibition will be on view through June 24th, 2022. Learn more about the Andy Warhol Exhibit at UHCL.

Public Art's Object Laboratory Now Open

Public Art's Object Lab is now officially open. Run by Public Art UHS and the UH School of Art, the facility extends object-based co-curricular learning to the university campus, utilizing our collection as a conduit for the success of students enrolled in various programs.

On April 8th, the Lab held its inaugural workshop with a cohort of UH students led by Dr. Julia Guernsey, Professor of Art History at UT Austin, and Dr. Rex Koontz, UH Professor of Art History. Visit Public Art's Object Laboratory to learn more.

Houston Public Media Adds 'Asian View' News Segment

Houston Public Media has added a new feature to our regular weekday lineup—Asian View. This new five-minute news segment is an international newscast produced by NHK WORLDJAPAN, featuring the latest news and deep analysis on business, trade, and geopolitical news from Japan and across Asia.

Asian View can be heard during our local breaks on BBC Newscast, Here & Now Monday through Thursday, and during Science Friday. This continuation of diverse news and coverage of programming from across the world to Greater Houston will play an increasingly important role in our community. Learn more about Asian View and other similar shows.
Events & Reminders
Public Art Announces $20,000 Grant Opportunity

Public Art is now accepting proposals from Texas-based artists and artist teams at the early stages of their careers for a $20,000 grant opportunity to design, fabricate, and install a temporary public artwork at the University of Houston, Louise J. Moran Fine Arts Courtyard in 2023.

Applications are due May 30th. Help spread the word. Learn more about YardWorks.

Global Accessibility Awareness Day

The third Thursday of May is Global Accessibility Awareness Day (GAAD). This year, GAAD falls on May 19 and marks the 11th year it's been acknowledged. GAAD's aim is to increase awareness of digital accessibility and access for individuals with disabilities. Please join Tammy Gardiner, Executive Director, Digital Accessibility and Equal Opportunity Services in celebrating Global Accessibility Awareness Day.

Digital accessibility means ensuring that there are no barriers that may prevent a person with disabilities from interacting or accessing websites, digital tools, and technologies. To learn more about how you can increase digital inclusion in your own department, please check out the electronic and information resources (EIR) on the EOS website.

Juneteenth Reminder

On Thursday, June 16th, the Center of Diversity and Inclusion will host a Juneteenth celebration to honor the oldest nationally celebrated commemoration of the ending of slavery in the United States. From its Galveston, Texas origin in 1865, the observance of June 19th as the African American Emancipation Day has spread across the United States and beyond.

Learn more about the Juneteenth celebration.

May is Mental Health Awareness Month

A reminder from the university's Occupational Health Services: May is Mental Health Awareness Month. Mental Health includes our emotional, psychological, and social well-being. It affects how we think, feel, and act. It also helps determine how we handle stress, relate to others, and make healthy choices.

Mental health illnesses are among the most common health conditions in the United States. One in five Americans will experience a mental illness each year. Learn more about mental health and the contributing factors.
Submit a story to the A&F S.P.I.R.I.T. Newsletter by filling out the form.
A&F Resources