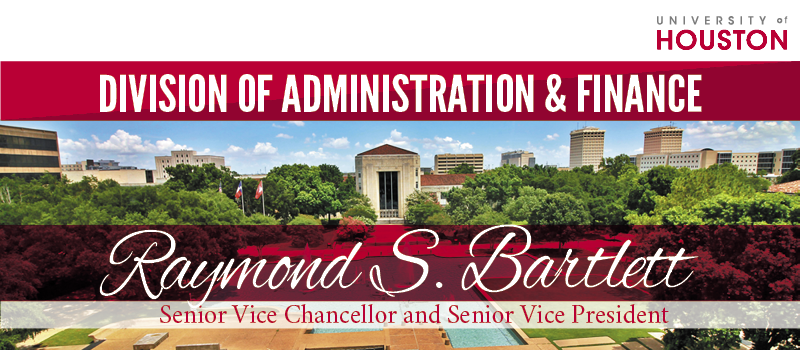 Comprised of Division features, accolades and achievements, as well as valuable "In Case You Missed It (ICYMI)" news you can use, each edition of the newsletter highlights key information and resources across the Division's departmental, operational and service unit areas. To subscribe to this listserv, click HERE.

Dear Colleagues:
The month of June brings the start of Atlantic hurricane season, and many of our departments and programs have recently updated their Continuity of Operations Plan (COOP) documents to be ready to continue operations with minimal disruption in the event of a wide range of emergencies. Thank you all for taking the time to prioritize this important annual activity. I would also like to give kudos to the Office of Emergency Management for leading this effort and compiling comprehensive resources that all of us can use to develop our personal hurricane preparedness plans. In this month's issue, our story of the month features the important work underway across our divisional departments, programs, and services to prepare UH for weather-related and other emergencies.
We also highlight the following updates and accomplishments for the month of June:
The University of Houston Police Department announces the re-launch of its popular Coffee with a Cop program. The mission of this national program is to connect police officers with the community members they serve. Students, faculty, and staff are welcome to join UHPD officers for coffee on July 12 and August 9 from 10-11 a.m. in the UH Student Center South.
Equal Opportunity Services and Houston Public Media spotlight Juneteenth, including its history and ways to observe this new federal holiday on campus and in the Houston community.
The Human Resources Department highlights the new Employee Wellness Platform, the online hub that serves as the main point of access for UH employee health and well-being efforts. On the platform, employees can track daily steps, track meal and water intake, view and share recipes or follow along with different exercise videos.
Facilities/Construction Management features their recent Employee Excellence Award event, in which they honored employees that demonstrated exemplary service during the past year.
Finance provides updates to its year-end calendar deadlines so our community is aware of key deadlines related to Purchasing, Accounting, and Payroll transactions.
Parking and Transportation Services reminds the community about its new Virtual Parking Program, which will launch at the start of the Fall 2022 Semester and encourages A&F employees to ensure their license plate information is up-to-date in their parking account.
For our division, I know that the summer season becomes busy with catch-up and make-ready projects as we prepare the campus for the next academic year. I hope each of you finds time for rest and relaxation during the summer. I am so grateful to all of our division employees and all you do to support our community.
Highlights & Features
A&F Prepares for Hurricane Season

The month of June brings the start of Atlantic hurricane season, and many of our departments and programs have recently updated their Continuity of Operations Plan (COOP) documents to be ready to continue operations with minimal disruption in the event of a wide range of emergencies.

The many departments within the Division of Administration and Finance update their COOP documents in advance of this season, and spend much of the year, preparing the campus infrastructure to continue its operations in a wide variety of potential emergency situations. Learn more about how A&F prepares for hurricane season.

Facilities/Construction Management Observes National Safety Month

June is National Safety Awareness Month. It is a month when employees and employers refocus their efforts and commitments on keeping their workspaces safe and free from accidents. The University of Houston Facilities/ Construction Management has partnered with the National Safety Council to observe this month and participate in its initiatives.

This year, the focus is on musculoskeletal disorders, workplace impairment, injury prevention, slip, trip, and falls. Learn more about how the Facilities/Construction Management department recognizes National Safety Month.

EOS Recognizes Juneteenth

Juneteenth is a holiday that commemorates the end of slavery in the United States. Celebrated on June 19th, it marks the day when enslaved people in Texas were notified of the Emancipation Proclamation, more than two years after it was issued. Emancipation Park, located in Third Ward, is the oldest park in Houston and the only public park with a UNESCO Site of Memory designation.

The park was purchased in 1872 by formerly enslaved individuals to host Juneteenth Celebrations. Over 100 years later, Juneteenth became a federal holiday on June 17, 2021.

The Office of Equal Opportunity Services (EOS) administers policies that prohibit discrimination and harassment in order to foster an environment of equitable access and inclusion for all community members. Check out EOS's Anti-Discrimination page to learn more.

UH Community Commemorates Juneteenth

Juneteenth, also known as Freedom Day or Emancipation Day, serves as a time for celebration and reflection. It's a day that symbolizes the end of slavery in our nation and the start of a new age for Black Americans.

"I think it's great that Juneteenth is now more familiar to most Americans and that it is a federal holiday," he said. "It's also important to talk about this day and to understand that while Juneteenth is symbolic of the end of slavery, there were many challenges ahead for enslaved populations."

Read more about how faculty and staff commemorate Juneteenth.

Houston Public Media Hosts Juneteenth Special

This "Juneteenth" KUHF News 88-aired a LIVE Call-In special in celebration. "The United States of Anxiety Juneteenth Special" from WNYC, produced in collaboration with Houston Public Media and KERA reviewed the unfinished business of our history and how we can break its grip on our future.

Host Kai Wright will talk with Texans about their Juneteenth celebrations. Join the conversation to see how a community of people who share your passion, anxiety and optimism for building what Martin Luther King Jr. called the "Beloved Community." Listen to HPM's Juneteenth broadcast.

June is LGBTQ + Pride Month

LGBTQ+ Pride Month commemorates the Stonewall Uprising of 1969 and celebrates love, inclusivity, unity, and the impact LGBTQ+ community members have made through their struggle throughout history. This June, LGBTQ+ communities worldwide will gather to march with Pride.

The Office of Equal Opportunity Services (EOS) administers policies to protect students, faculty, and staff from gender and sexuality-based discrimination to help all community members feel safe to embrace who they are with Pride. Learn more about this endeavor at EOS's Anti-Discrimination page.

Houston Public Media Celebrates Pride Month

Pride Month is celebrated each year in June to honor the 1969 Stonewall Uprising in Manhattan and works to achieve equal justice and equal opportunity for LGBTQQIP2SAA Americans.

In June of 1969, patrons of the Stonewall Inn in NYC staged an uprising to resist police harassment and persecution. The uprising marked the beginning of a movement to condemn discriminatory laws and practices against LGBTQ+ Americans.

Houston Public Media proudly recognizes the contributions and impact of our LGBTQQIP2SAA community. Celebrate Pride Month with us this June and every day with Houston Public Media.

Title IX Turns 50

Title IX, a federal civil rights law that prohibits sex-based discrimination in educational programs and activities was signed into law fifty years ago on June 23, 2022. The Office of Equal Opportunity Services (EOS) administers policies and conducts training to foster gender equity on campus. Check out the Title IX Resources page to learn more about Title IX at UH.

June is Men's Health Month

A reminder from UH Occupational Health Services: June is Men's Health Month. This month is all about encouraging men & young boys to take care of their bodies by eating right, exercising, and working to prevent disease.

According to the Centers for Disease Control and Prevention (CDC), men in the United States, on average, die five years earlier than women and die at higher rates. The three leading causes of death for men are heart disease, cancer, and unintentional injuries.
Video of the Month - UH Hurricane Preparedness Training

Staff Spotlight
Cougar Cudos

Cougar Cudos goes to Technology Services & Support members Rafael Arroyo, Ivey Davis, Matthew Harvey, and Kevin Vu for their tremendous work.

To nominate a fellow Staff member and learn more about Cougar Cudos.

Dr. Emily Messa Selected for Fulbright Specialist Roster

Congratulations to Dr. Emily Messa, University of Houston System Associate Vice Chancellor and Associate Vice President for Administration, on being recommended for the Fulbright Specialist Roster for a four-year term.

As a member of the Fulbright Specialist Roster, Messa is eligible to be matched with projects designed by host institutions in over 150 countries globally. Read more about Dr. Messa's selection to the Fulbright Specialist Roster.

Facilities/Construction Management Continues to Recognize Employee Contributions with Excellence Awards

With the re-emphasis on employee excellence in 2019, Facilities/Construction Management has recognized department team members who contributed to the success of the academic year. The recognitions were virtual in 2020 and 2021, but in 2022 the Excellence Awards were back in person.

On May 24, F/CM hosted its annual department lunch. During this time together, appreciation was given for the hard work accomplished through the fiscal year. The inaugural Strategic Teams were acknowledged for the projects they proposed in 2021. The 2022 Strategic Teams were also announced. Read more about the F/CM Excellence Awards luncheon.
ICYMI: News You Can Use
HR Benefits Summer Open Enrollment & Wellness and Benefits Fair

The University of Houston's Summer Benefits Enrollment Period will begin June 27 and run through July 9. This window allows benefits-eligible faculty and staff to review and make changes to their benefits for the upcoming year.

If faculty or staff fail to enroll or make changes during the summer enrollment period, they will be automatically enrolled in their 2022 plan. Visit HR online to learn more about Summer Open Enrollment and how to make any desired changes to your benefits.

Additionally, make plans to attend the Human Resources Wellness and Benefits Fair on July 7 from 10 a.m. to 2 p.m. at the UH Campus Recreation and Wellness Center. During the fair, employees can visit a variety of tables to learn more about their benefits and well-being resources. Receive a free T-shirt, popcorn, and more! Learn more about the open enrollment period and the upcoming Wellness and Benefits Fair.

Snack Vending Machine Options For The Summer

Summer at the University of Houston means fewer dining options for students and staff as university eateries either shut down or operate with limited service hours. While many may seek out vending machines to feed their snack and hunger fix, some of the university's snack vending machines operate at a limited capacity.

But not all snack vending machines operate at 50 percent capacity during the summer. Only about 60 percent of snack vending machines have low availability of snacks, and the main reason is food spoilage. Learn more about the summer snack vending machine options.

Auxiliary Services Re-Launches the Auxiliary Services Symposium

The University of Houston's Auxiliary Services revived its Professional Symposium holding this year's event on June 7th at the M.D. Anderson Library.

The Symposium started with a speech and group activity from the University of Houston-Clear Lake President Dr. Richard Walker. The group activity had attendees discuss what they learned from teaching during the pandemic that could help students have a successful college experience.

Walker's group activity was followed by guest speakers from the Division of Student Affairs and Enrollment Services. Read more about the Symposium's revival.

FIXIT Work Order System Upgrade

In August, FIXIT's new work order software will be implemented. The same FIXIT icon will be linked to the new software in AccessUH.

Some of the new features include a faster and easier user interface on desktop and mobile, increased visibility of existing work orders, and a more intuitive online service request portal.

UH Facilities is excited to continue Building Futures, Maintaining Excellence.

Power Up Employee Wellness Platform Is Now Open

A reminder to faculty and staff that HR's Power Up Employee Wellness Platform is now available. The online platform serves as employees' go-to source for health and well-being resources, including challenges, webinars, fitness videos, and more!

On the platform, you can track your physical activity, complete an online health assessment (HA), and even apply for Fitness Release Time and the annual Wellness Leave incentive.

Complete your health assessment within the month of June, and you will be entered into a prize drawing for some cool prizes! Log on via AccessUH to access and learn more about the Power Up Employee Wellness platform, and how it can help you with your fitness needs.

Coming Soon: Virtual Parking Permits

The University of Houston's parking permits are going virtual, making physical hangtags obsolete. Instead of a physical parking permit that hangs on one's rearview mirror, a car's license plate will now be the parking permit. The change to virtual permits begins in August at the start of the fall semester.

UH's Parking and Transportation Department has been working towards this goal for approximately a year but conversations on the topic have been ongoing well before then. Learn more about the virtual parking permits.

Powering UH In The Future

How will the University of Houston be powered 15, 20, or 30 years from now? That's a question the university's Strategic Planning Committee for UH's Master Energy Plan put forth and one that Mike Wheeler, Director of Projects & Technical Services, and Jai Ranganath, Director of Engineering Services, are tackling.

The duo is part of the committee and is spearheading the efforts to answer that question. Part of that question starts with what infrastructure the university needs to have in place to optimize its energy consumption as it grows and adds more buildings. Read more to learn how UH could be powered in the future.

UH Fire Marshal's Office & UHPD Collaborate On Training

The University of Houston's Fire Marshal's Office held a two-month certified fire investigator course for interested UH Police Department personnel. All the officers took a practical skills test and a course final at the end of the course.

Every UHPD officer in attendance passed and they are now eligible to sit for the Texas Commission on Fire Protection's fire investigator test. Read more about UHPD's training with UH's Fire Marshal's Office.
Events & Reminders
UH's LGBTQ Resource Center & LGBTQ Alumni Association to join Houston's Pride Parade

The University of Houston's LGBTQ Resource Center and the LGBTQ Alumni Association will represent the university in Houston's Pride Parade on June 25.

Houston's Pride Parade, now in its 44th year, is the most attended and largest gay pride event in Texas and the second-largest Houston-organized event in the city behind the annual Houston Rodeo.

The center and alumni association are looking for student representatives to be in the parade for their organization, college, and the university. Are you interested in joining? Sign up to reserve your spot. The maximum number of participants will be 100.

Pride Month Collections at UH Bookstore

Looking to stock up on LGBTQ + Pride Month swag? The University of Houston's campus store has you covered. The bookstore has colorful mugs, car decals, lanyards, shirts, and stickers galore to let you showcase your support for LGBTQ + Pride Month. Head over to UH's campus store or visit their website to nab your items before they sell out.

Revised UH/UHS FY2022-FY2023 Calendar

The University of Houston & University of Houston System key dates calendar for Fiscal Year 2022-2023 has been revised. The calendar provides deadlines and submission instructions for administrative and financial activities for the end of fiscal year 2022 and beginning of fiscal year 2023. The revised calendar can be found on the Finance Calendars & Schedules page.

Coffee With A Cop Returns

The University of Houston Police Department is rebranding one of its community engagement programs with a familiar name. Formerly known as UH Police Department and Me, the initiative will now be called 'Coffee With A Cop.' The rebranding is being made to be in line with the national program whose mission is to connect police officers with the community members they serve.

UHPD had its first event under the new name on June 14 at the Student Center. If you missed it, not to worry, UHPD's next Coffee With A Cop event is scheduled for July 12 and August 9 from 10-11 a.m. in the UH Student Center South.

For more information, visit the Stay Cougar Safe page.
Submit a story to the A&F S.P.I.R.I.T. Newsletter by filling out the form.
A&F Resources