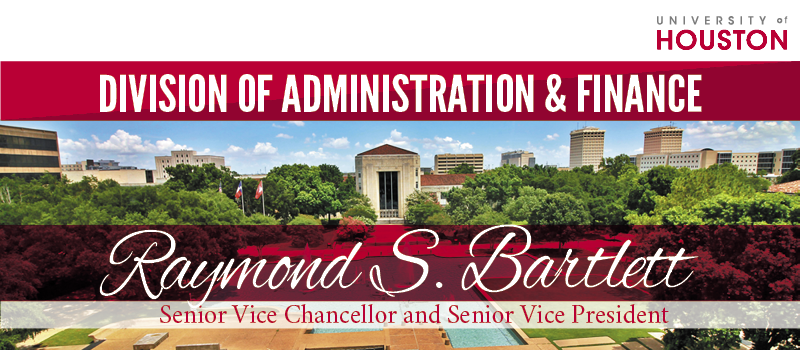 Comprised of Division features, accolades and achievements, as well as valuable "In Case You Missed It (ICYMI)" news you can use, each edition of the newsletter highlights key information and resources across the Division's departmental, operational and service unit areas. Subscribe to the A&F listserv.

Dear Colleagues,
The month of September brings the start of a new college football season and with UH officially in the Big 12 Conference, many Administration and Finance departments had a hand in preparing the university for this inaugural season.
I'm immensely proud of the outstanding effort and work provided by all of the divisional units and employees to prepare UH for this next era. I encourage you to read the feature story to learn more about the behind-the-scenes work of A&F units to prepare for a successful Big 12 Conference launch.
Additionally, I'd like to congratulate the division on another successful Behind the Badge, where more than 200 community members gathered to learn about safety resources from local law enforcement agencies and other campus safety-related departments. Thank you to everyone who helped make this Weeks of Welcome Event successful and engaging for our community.
Additional highlights in this month's newsletter include feature articles on:
The achievement of LEED Gold Certification for the Roy G. Cullen Building.
UH Dining Services' partnership with the Institute for Global Engagement with a new, branded global station at Cougar Woods Dining Commons.
Houston Public Media's Hispanic Heritage Month programming.
Auxiliary Services' Fall Town Hall.
I am thankful for all the hard work and dedication that our divisional employees put in day in and day out to support the university and our campus community. As we continue working towards the goals in our VISION 2027 divisional strategic plan, I am confident we will excel in our efforts to propel the University of Houston forward toward its achievement of recognition as a top 50 public university.
Highlights & Features
A&F Readies UH for the Big 12

The Big 12 era for the University of Houston is officially underway. To prepare UH for the expected bigger crowds, games, and spotlight of the Big 12, many Administration and Finance departments worked diligently behind the scenes to prepare the university. Learn more about how the A&F helped ready UH for the Big 12.

Behind the Badge Educates the Campus Community

Over 200 University of Houston students, faculty, and staff descended on M.D. Anderson Library, for the third iteration of Behind the Badge, the community engagement event allows the campus community to meet, converse, and learn about the local law enforcement agencies and university departments supporting safety on campus. The three-hour event allowed students to meet the officers who patrol UH and Houston. Read more about 2023's Behind the Badge and learn how the event educated the campus community.

Enhanced Global Food Station Now Serving in Cougar Woods Dining Commons

Food tells a story. In Cougar Woods Dining Commons, that statement will take on an added meaning as the University of Houston's Dining Services and the Institute for Global Engagement have partnered to enhance the dining hall's global station.

The partnership will see a branded station, hosted by IGE, which will include cultural information related to the food being served and information on IGE's primary programs, including learning abroad, the Passport for Coogs program, and the Global Citizens Credential. Read more about this new partnership.

Campus Safety Quizzes Students on Safety at Behind the Badge

Are University of Houston students smarter than a fire marshal? How much do they know about emergency management? These questions were the seed that sprouted the idea for Fire & Life Safety Technician Sara Walker and Emergency Management Specialist Maia Solomon to interview students at the Behind the Badge event in late August.

The duo quizzed students at the community-driven event to answer questions on their knowledge of fire safety, emergency management, and pop culture-related questions. Read more about Campus Safety's efforts to engage students.

Roy G. Cullen Receives LEED Gold Certification

The University of Houston's Roy G. Cullen building, one of the first-ever buildings in the university, went through an interior renovation that has now garnered national recognition by being awarded a Leadership in Energy and Environmental Design (LEED) certification at the Gold level.

The recognition comes via the U.S. Green Building Council, which recognizes buildings and communities prioritizing sustainability in their design, construction, and operation. Read more about Roy Cullen's interior renovation and its LEED certification.

Houston Public Media Celebrates Hispanic Heritage Month

Each year, Americans observe National Hispanic Heritage Month from September 15 to October 15 by celebrating the histories, cultures, and contributions of American citizens whose ancestors came from Spain, Mexico, the Caribbean, and Central and South America. Houston Public Media proudly celebrates and recognizes the contributions and impact of our country's Hispanic and Latino heritage. Learn more about HPM's Hispanic Heritage Month programming.

Hot Stops: How Houston Bus Stops Get Dangerously Hot

Episode 3: Trees and the Breeze

Tree shade was twice as effective at cooling riders as bus shelters. That's what Sara and Katie observed while spending three weeks at Houston bus stops this summer and authoring a pilot study. The two reporters now dig into the pathway -- and the obstacles it's dotted with -- to planting those trees near bus stops and what to do when that simply isn't an option. Listen to Houston Public Media's Hot Stops podcast to learn more.

Public Art of the University of Houston System Partners with the UH Law Center to Host Conference

On September 22nd, Public Art of the University of Houston System joined forces with the UH Law Center to host the Law, Community, and Social Justice Conference. The event drew a cohort of artists, government officials, and academics for discussions on art, law, community, and social justice. Following the panel presentations, tours highlighted a collection of artworks by renowned local artists located in named spaces within the Law Center's incredible state-of-the-art building.

UIT Changes Antivirus Software to a Better and More Secure Product

The University of Houston-System has used McAfee antivirus software for over twenty years to protect the university community from viruses, malware, cyberattacks and other malicious activity. Over the past months, the University Information Technology departments and UHS Information Security undertook the task of swapping McAfee to CrowdStrike. Read more about this change.
Video of the Month
The University of Houston Auxiliary Services Town Hall provided an opportunity for the UH community to hear Fall 2023 updates related to dining, the campus store, and vending. Watch the town hall below.

Staff Spotlight
Cougar Cudos

September Cougar Cudos goes to Nasir Ahmed, Carmen Bello, Robert Birkline, Charles Chambers, Meredith Coleman, Ivey Davis, John C. Gillet, Amy Ma, Cameron Raschke, Haydee Rodriguez, Paul Serna, and Kevin Vu. To nominate a fellow staff member, fill out the Cougar Cudos Nomination Form.

A&F Staff Recognized at 2023 Staff Excellence Awards

Administration and Finance staff were among the university employees who were recognized at the 2023 Staff Excellence Awards. Facilities/Construction Management members Liliana Simmonds and Nick Lara, and Finance's Nilda Vasquez received a President's Excellence Award. Congrats to the A&F recipients!

Ginger Walker receives the C. F. McElhinney Award

Ginger Walker, Director of Emergency Management, was recognized with the Charles F. McElhinney Award for Distinguished Service at the President's Staff Excellence Awards Ceremony. She was joined by her family, her OEM team, her supervisor, and Senior Vice Chancellor for A&F, Raymond Bartlett, to celebrate her recognition.

Walker has served the University for 26 years and was recognized for her dedication, leadership, lasting impact on the University, and her collaborative spirit. Read more about Ginger's recent recognition.

Human Resources Celebrates New Hire Orientation Presenters

In Fiscal Year 2023, 958 new Coogs attended New Hire Orientation. While Human Resources facilitates NHO, it would not be possible without presenters from all over campus, including University Information Technology, Payroll, HR Business Partners, Equal Opportunity Services, UH Police Department, and Benefits.

To show their appreciation, HR hosted a luncheon, and Connie Kemp, Executive Director, gave a heartfelt "thank you" to all the presenters for a wonderful partnership and their continued support to ensure new hires have the knowledge and information needed to be successful. It was a great way to cap off FY23, and we look forward to another year of welcoming our new Coogs to the University of Houston community.

UH Executive Chef Wins Chartwells Culinary Award

UH Food Services Senior Executive Chef Chad McDonald was honored by Chartwells with the Culinary Difference Maker Award. The recognition was given to Chef McDonald for his dedication to supporting the UH campus community. Chef McDonald regularly hosts Teaching Kitchens, has medaled in multiple culinary competitions, oversees UH Dining Services wellness and sustainability programming, and reviews all menus.

HR Congratulates A&F Recipients of Fall 2023 Tuition Scholarship

Human Resources congratulates the 15 A&F staff members who received the Fall 2023 Staff Tuition Scholarship. The scholarship is designed to support and encourage employee development through formal education.

Congratulations to the following A&F recipients: Alexander Moyeda, Ruth Hulett, LaTasha Stoker, Gary Gallagher, Terri Linder-Britt, Anh-Thu Nguyen, Cindy Crews; (Not Pictured) - Ghazanfar Ali, Bo Bartos, Shercan Castaneda, Gregory Hanley, Dennis Lofft, Stanley Saldana, Jesus Sanchez, Esmeralda Valdez. These devoted Coogs contribute to the UH community in their professional roles and then go the extra mile to develop themselves academically as UH students. We thank them for their hard work and dedication.

Spring 2024 applications for the Staff Tuition Scholarship will be open on the Human Resources website from November 1st – 15th. If you are interested in applying, please subscribe to the Staff Tuition Scholarship ListServ here and review the guidelines and qualifications.

Houston Public Media's I See You with Eddie Robinson Wins Award

Houston Public Media's I See You with Eddie Robinson was recognized at the 55th NETA Annual Public Media Awards ceremony with an award in the Radio-Society & Culture category for its episode featuring acclaimed actor Russell Hornsby. The Public Media Award is the first for I See You. Hear the award-winning episode.

Save the Date: Custodial Appreciation Week – October 2 – 6

Custodial Appreciation Week is the first full week in October. Facilities/Construction Management will celebrate but encourage others to also take this great opportunity to thank those who work behind the scenes to support all our students, faculty, and staff.

Facilities/Construction Management has over 125 in-house custodians and close to the same number of contract custodians. They are a team of dedicated employees that clean and maintain 160 campus buildings twenty-four hours a day through three assigned shifts. They are consistently Building Futures, Maintaining Excellence across campus.

Public Art of the University of Houston System Hosted Third Annual "Evening for Educators" Program

Held each fall at the University of Houston, Public Art of the University of Houston System's Evening for Educators program offered K-12 educators a professional development opportunity to connect with other colleagues and artists while earning Continuing Professional Education (CPE) hours.

This year's iteration, presented in collaboration with Blaffer Art Museum and the Moores School of Music, focused thematically on "creating in community" through interactive tours and live performances by student musicians showcasing how UH arts programs can serve as an accessible resource to enrich classroom learning.
ICYMI: News You Can Use
Cullen Performance Hall Debuts New Ticketing Page

Based on valuable feedback, Cullen Performance Hall has an improved ticketing page with enhanced features. Three key features the new ticketing page offers:

Seamless transition from the CPH website to the ticketing page.
Important venue information like seating maps, policies, etc.
Promo codes can now be entered directly on the events page.

Take a look at the new Cullen Performance Hall ticketing page to see the new features in action.

Public Art of the University of Houston System Debuts Collection of Texas Art at the University of Houston-Victoria

On September 26th, Public Art of the University of Houston System hosted a symposium in celebration of the Linda and William Reaves Collection of Texas Art at the University of Houston-Victoria—an homage to the vibrant heritage of 20th-century Texas art, generously dedicated in honor of the university's five-decade legacy. Attendees enjoyed a curator-led journey through the newly installed collection and engage in conversation with collection artists and luminaries in the field.

To explore the collection online, visit publicartuhs.org.
Events & Reminders
On-campus Mobile Mammograms Set for October 3rd and 4th

October is Breast Cancer Awareness and serves as an important reminder to receive an annual mammogram. The Rose will be on site October 3rd and 4th from 9 a.m. to 3:30 p.m. doing mobile mammography screenings on the main campus in Lot 19F. To take advantage of this on-campus screening, register online (Code: UHCR) by Tuesday, September 26th, as limited spots are available. The 3D mammography exam typically takes about 15 minutes and requires a doctor's order.

UH Dining Services to Celebrate Oktoberfest

The University of Houston's Dining Services is adding to its Cultural Event series this semester by celebrating Oktoberfest on October 3rd from 11 a.m. to 2 p.m. at Moody Towers Dining Commons. The celebration will feature German-inspired food, music, and activities. Save the date to take part in the celebration.

HUB Spot Bid Fair Set for October 11-12

The HUB Spot Bid Fair at the Houston Minority Supplier Development Council's EXPO 2023 will be held on October 11-12, 2023. Each college and division is asked to provide one or more HUB-eligible opportunities with a minimum value of $1,000 and a maximum of $14,999. Send all opportunities to the Purchasing Department via a requisition with a Solicitation Request Form.

For procurement questions, contact Rob Adkins, Director of Purchasing (rsadkins@central.uh.edu). For HUB-related questions contact Dr. Linelle Clark, Director of HUB Operations (flclark@central.uh.edu).

UHPD to Host National Night Out and Walk in the Dark

The University of Houston Police Department is readying for two campus community events aimed at bridging the connection between UHPD and the campus community closer.

National Night Out, the annual community-engagement event that promotes police-community partnerships and neighborhood camaraderie, is scheduled for Tuesday, October 3 from 4-6 p.m. at the Student Center South Circle Drive.

On November 15, UHPD is hosting Walk in the Dark from 6-7 p.m. The event welcomes members of the campus community to walk the campus at nighttime to locate areas around campus that may benefit from increased safety improvements. UHPD reminds the campus community to save the date for these safety related events.
Submit a story to the A&F Newsletter by filling out the form.
A&F Resources