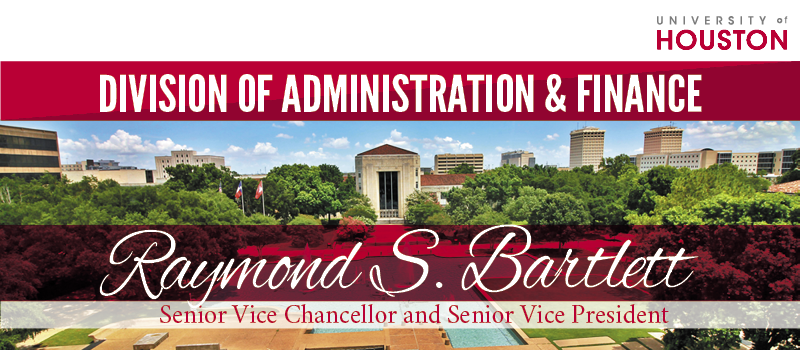 Comprised of Division features, accolades and achievements, as well as valuable "In Case You Missed It (ICYMI)" news you can use, each edition of the newsletter highlights key information and resources across the Division's departmental, operational and service unit areas. Subscribe to the A&F listserv.

Dear Colleagues,
At this special time of the year, I want to extend my deep gratitude and appreciation for all you do every day to support our university community. It was wonderful to spend time with our A&F family at the recent annual divisional holiday luncheon. The food was amazing and I heard from so many of you about the importance of connecting with one another to celebrate as a division. I also hope you enjoyed my special holiday message for you and your loved ones.
In this month's newsletter, you'll find highlights from the divisional luncheon, holiday safety tips, and campus information that may be useful as we wrap up the fall semester and prepare the campus for the winter holiday break. Additional items in this month's newsletter include:
Winter Break hours for UH Dining locations.
Cougar Cudos for many of our A&F employees.
Information about the new employee discount program from HR Power Up.
A reminder from Public Art UHS to tour their newest campus addition, "Folly," by artist Jorge Pardo.
I wish you and your families a wonderful and healthy holiday season and a prosperous New Year.
Highlights & Features
Administration and Finance Holiday Luncheon Recap

The Division of Administration and Finance kicked off the festive season with its annual holiday luncheon on December 8th at a packed Houston Room in the Student Center South.

The luncheon was a time for colleagues to gather and celebrate the season and enjoy a traditional holiday meal. The theme for 2022's A&F holiday luncheon was A&F Ugly Sweater Get Together, and attendees were more than happy to showcase their best ugly holiday sweaters. Read more about the division's holiday luncheon.

Holiday Safety Tips

The holiday season is a time to connect with family, friends, and colleagues, but it can also present some seasonal safety challenges. Administration and Finance has prepared an easy-to-read guide to prepare you for the holiday season. Read these handy tips to stay safe this holiday season.

Sustainable Tips for the Holiday Season

This December, University of Houston faculty and staff will close their office doors and head home to spend time with loved ones. However, while we are all recharging, there may be energy wasted in our campus buildings. If your office will be vacant, please help UH reduce our energy by reading these sustainability tips for the holiday season.

Holiday Health Reminders from Occupational Health Services

The University of Houston Occupational Health Services reminds you to take care of your health this holiday season. The department offers tips on how you can have a healthy holiday season for you and your family. Read the health tips to learn more.

Information Security Tips from UHS Information Security

UHS Information Security would like to remind you of some simple steps to protect your personal information and keep your devices safe and secure.

Be cautious with all emails you receive. The holiday season is prime time for scams! These emails are well-crafted, may appear to come from others at the university, and are designed to trick you into providing personal information or opening malicious attachments. Read the information security tips to learn more.
Staff Spotlight
Cougar Cudos

Cougar Cudos goes to the following colleagues:

Lisa Benford, Director of Environmental Health & Safety
Martinique Burton, Assistant to VC/VP, Legal Affairs General Counsel
Matthew Castillo, Web Tech Manager, Technology Services & Support
Adetejuola Gbosi, Safety Specialist, Environmental Health & Safety
Nalan Giannukos, Director of Printing & Postal Services, Printing Operations
Shannon Harrison, Assistant Director, Production Operation, KUHT TV
David Lee, Assistant Director, Division Business Ops, A&F Business Services
Kirven McKissic, Info Services 2 Manager, Technology Services & Support
Diane Sylvester, Assistant Business Administrator, A&F Business Services
Iggy Harrison, Senior Streaming Media Technician, Tech Services & Support
Scott Wharton, Digital Media Developer, Tech Services & Support

To nominate a fellow Coog, and to read about the A&F Cougar Cudos recipients, visit the Cougar Cudos page.
ICYMI: News You Can Use
UH Dining Winter Hours

Winter is here, and with it comes new operating hours for some University of Houston dining services. The winter break sees fewer students on campus, which allows UH dining establishments to alter their hours of operation due to fewer customers. Before heading out to your favorite dining spot, check UH Dining's website to see its winter operating hours.

New Discount Program Coming Soon to HR Power Up

Just in time for the holidays, HR POWER UP is excited to announce that faculty and staff now have access to a new discount program. PerkSpot is a one-stop online shop with exclusive discounts that can save you money on a variety of national and local products. It's free and optimized for use on any device.

Start saving by signing up at uh.perkspot.com. On the registration page, you will be asked to use access code: UHPerks which is only needed that one time during registration. Sign up and access thousands of discounts in over 25 different categories, updated daily. Visit uh.perkspot.com to learn more.
Events & Reminders
Public Art UHS Reminder for Folly Installation

The holidays are here! Make plans to bring your friends and families to see Folly, Public Art UHS's latest temporary public art installation located in Wilhelmina's Gove. Folly, a large-scale, fully immersive installation by Cuban American artist Jorge Pardo is free and open to the public daily from 9 am-7 pm, except for official University of Houston holidays (Christmas, New Year's Eve, and New Year's Day). Visit publicartuhs.org today to learn more.
Submit a story to the A&F S.P.I.R.I.T. Newsletter by filling out the form.
A&F Resources