Dear UH College of Medicine family and friends,
We have wrapped up our first academic year as a medical school and started a new one. This incredible moment in our collective journey calls for reflection, recognition and gratitude, and plans for the future.
Academic year 2020-2021 was a hard one – defined by the pandemic, social inequities, and health care challenges. Many of our students, faculty and staff lost family and friends. We grieved, we supported one another, and we continued forward. The necessity of our mission has been crystal clear throughout this time and it drives our momentum.
Here are some highlights we should all be proud of:
The College of Medicine hosted its first Undergraduate Summer Shadowing Program designed to attract diverse applicants to the medical profession. This innovative program allowed students from diverse backgrounds interested in pursuing medical education to interact with our faculty and students, attend professional workshops and shadow practicing physicians for four weeks. The 10 students chosen for the inaugural session received $2,000 stipends each and represented the University of Houston, the University of Houston-Downtown, Texas Southern University, and Prairie View A & M University.
"Through this program, I was exposed to the social determinants in a clinical setting and had a chance to witness how physicians combat these factors. My main takeaways are – how being aware of these socioeconomic factors can lead to better patient outcomes, and that primary care doctors are important to this mission," said Reagan Scott, a junior at Prairie View A&M University.
Student News
Our inaugural class successfully transitioned into its second year of medical school and we welcomed 30 new students forming the Class of 2025. Interviews were conducted over Zoom with more than 200 candidates chosen from nearly 6,000 applicants. This stellar new cohort is highly motivated and diverse in their backgrounds, experience and interests. I expect great things of them.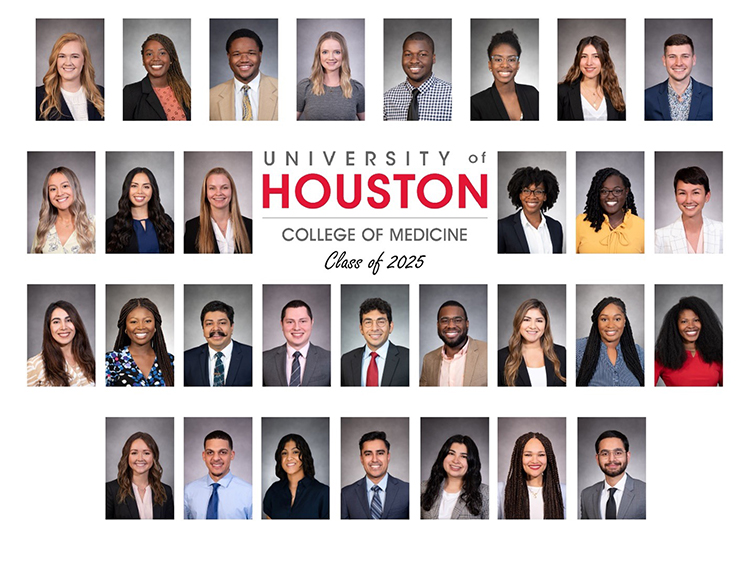 Here are some Class of 2025 fast facts:
30 students
60% underrepresented minorities in medicine (Black and Hispanic/Latino)
67% female
53% first generation in college
63% from low socioeconomic status families (as defined by Texas Medical Dental Schools Application Services).
Faculty News
Omar Matuk-Villazon, M.D., M.B.A. has been appointed Chief Medical Officer within the college. In this position, he will continue to serve as the on-site medical director for the Lone Star Circle of Care at UH Clinic. He will also provide medical direction to the new Direct Primary Care clinic we are planning to open in Southwest Houston this fall.
Also, please welcome to the faculty -
Marino Bruce, Ph.D., M.S.R.C., M.Div. He joins us as the College's new Associate Dean for Research and Clinical Professor in the Department of Behavioral and Social Sciences, with a secondary appointment in Health Systems and Population Health Sciences.
Brian Dzwonek, Ed.D. He is the new Assistant Dean for Assessment and Quality Improvement at the College.
Bich-May Nguyen, M.D., M.P.H. She joins us as Clinical Pofessor, and course director of Physicians, Patients, and Populations (PPP), Department of Health Systems and Population Health Sciences.
Community Support
So much of what we have accomplished and what we hope to accomplish for the academic year 2021-2022 and beyond is made possible thanks to the generous gifts of our champions in the community who wholeheartedly support our mission.
Recent gifts include:
A $1 million gift from The Cullen Trust for Health Care. We are using this gift to fund a direct primary care pilot clinic in Southwest Houston and focusing on improving the health of the area's uninsured residents. (Read more)
A $1 million leadership grant from Bank of America to help the College to train more primary care doctors from diverse backgrounds to practice in traditionally underserved low-income, minority and rural communities. (Read more)
A bequest from Dr. Nicky and Lisa Holdeman, which will establish
The Nicky R. and Lisa K. Holdeman Endowed Professorship/Chair will support a clinical teaching faculty member responsible for the oversight and strategic direction of the College of Medicine's clinics, as well as enhancing the student and patient experience.
The Nicky R. and Lisa K. Holdeman Endowed Scholarship will support students in the College of Medicine, which was founded in 2020 on a social mission to improve health and health care in underserved communities in Houston and across Texas.
(Read more)
A $250,000 gift from Sita Mutyala, which established the Mutyala Family Endowed College Professorship in the College of Medicine. It will support expertise and scholarship in the areas of cancer prevention and control, palliative care for underserved populations, and the role of social determinants of health on cancer outcomes and heath disparities with an emphasis on increasing access to care and equity in underserved communities of color.

While we look forward to many more milestones and achievements, the COVID-19 pandemic is ongoing and there is a rising level of concern. The College continues to actively educate the public about safety, testing, and vaccinations and encourages everyone to get vaccinated, wear masks and socially distance. We all have a part to play in keeping each other safe.

Thank you for being a part of our community and doing all that you do. Let us continue our journey forward together and build on our successes. I appreciate you all very much.

Stephen J. Spann, M.D., M.B.A.
Founding Dean, College of Medicine
UH Vice-President for Medical Affairs
Humana Endowed Dean's Chair in Medicine
Phone (713) 743-7047
medicine@uh.edu