---
Undergraduate Research and Fellowship Programs received the Regents' Academic Excellence Award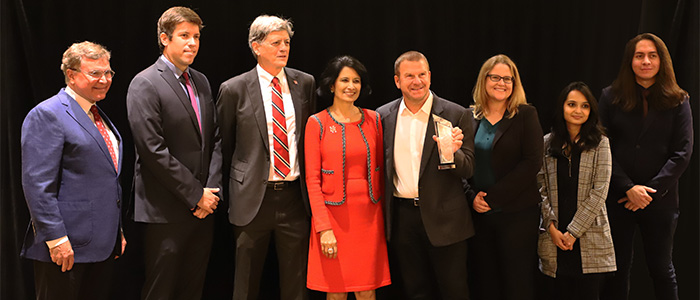 The Regents' Academic Excellence Award recognizes University of Houston System institutions' programs and initiatives that exemplify excellence in teaching, research, and/or public service. UH's Undergraduate Research and Fellowship Programs received the award at the August 26, 2021 UH System Board of Regents meeting. Undergraduate research programs provide support, resources, and opportunities for undergraduate students through faculty-mentored research experiences.

They also play an important role in developing candidates applying to competitive fellowships and major awards. These programs are administered by the Office of Undergraduate Research and Major Awards which is housed in the Honors College and serves students across the entire University community. Through funding provided by the Provost's Office, Division of Research, Honors College, and other academic colleges, undergraduate research enables students to work one-on-one in collaboration with a faculty mentor, and to contribute to original scholarship at the undergraduate level.

Programs include the Summer Undergraduate Research Fellowship, Provost's Undergraduate Research Scholarship, Senior Honors Thesis, Mellon Research Scholars Program, Houston Early Research Experience, Houston Scholars, and Action Research in Communities.
---
Gerald Horne Wins American Book Award for Exploring History of Marginalization

The Dawning of the Apocalypse by history professor Gerald Horne, won an American Book Award. The book reexamines the conventional understanding of American colonialism, painting a new picture of the marginalization Africans and indigenous peoples suffered following the arrival of Columbus. "I hope that this book will help the United States to understand itself," Horne said. According to the Before Columbus Foundation's website, the American Book Awards "were created to provide recognition for outstanding literary achievement from the entire spectrum of America's diverse literary community." The 2021 American Book Award winners will be formally recognized on September 19, 2021 from 2 p.m. to 4 p.m. in an online ceremony.
---
CLASS Professors Awarded National Endowment for the Humanities Collaborative Research Grant

CLASS History Professors Nancy Beck Young and Leandra Zarnow have been awarded a prestigious National Endowment for the Humanities Collaborative Research Grant of $249,998. This three-year grant will span from 2022 to 2024, supporting the critical expansion of a project titled, "Sharing Stories from 1977: Putting the National Women's Conference on the Map." This interdisciplinary collaboration, led by project co-directors Young and Zarnow, is the only comprehensive multi-institutional digital humanities project to analyze the 1977 National Women's Conference.

Left to right: Nancy Beck Young and Leandra Zarnow
---
UH College of Optometry Welcomes Class of 2025

The UH College of Optometry welcomed 100 new students to their O.D. Class of 2025 during the week of August 16 for their orientation events and White Coat Ceremony. This outstanding new class consists of students from 13 states and 35 undergrad institutions from across the country. Additionally, nine new M.S. and Ph.D. students from Ghana, India, Iran, Nepal, and the U.S. have joined the College's graduate programs beginning their studies in physiological optics and vision science.
---
| | | |
| --- | --- | --- |
| College of Education alumna Laura Priorello has earned the prestigious distinction of board certification from the American Board of Professional Psychology in clinical health psychology. Priorello graduated with a Ph.D. in counseling psychology in 2016 and now works as a senior associate consultant and clinical health psychologist at Mayo Clinic in Arizona. | The American Society of Engineering Education's report "Engineering and Engineering Technology By the Numbers" lists the UH College of Technology as first in multiple rankings, along with the distinction of the most number of degrees awarded to female students. The data was collected in 2019, although the report was not released until fall of 2020, and then updated in 2021. | Madeline Statkewicz interned with the National Oceanic and Atmospheric Association's Atmospheric Chemistry, Carbon Cycle and Climate program this summer. She credits her Ph.D. in atmospheric sciences for having a hand in saving her life and thanks the late Bob Talbot, former professor of atmospheric chemistry at the University of Houston, for being her adviser. |