---
2021-2022 UH Fulbright Recipients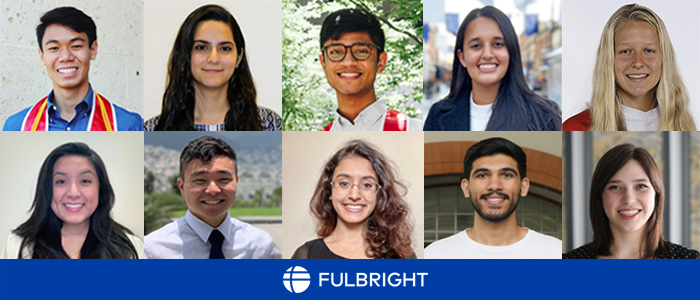 Ten recent graduates and alumni from the University of Houston received Fulbright grants for the 2021-2022 academic year. The recipients will conduct research and teach English in the Czech Republic, France, Germany, Japan, Latvia, Mexico, South Korea, Spain, and Turkey. This is the second time in three years that 10 or more UH students have earned Fulbright grants in the same application cycle. Since 2018, 36 UH students have been selected.
---
Dean Reynolds Publishes Hospitality Management Textbook

College of Hotel and Restaurant Management Dean Dennis Reynolds has co-authored and published his sixth book, the first while dean at the University of Houston. The textbook, titled Introduction to Hospitality, presents a thorough overview of historical perspectives, current trends, and real-world practices. Expected to be a market leader in introductory hospitality textbooks, it gives students a comprehensive survey of the hospitality field by covering bar and restaurant management, hotel and lodging operations, travel and tourism, and more.

Photo credit: Gautam Taneja
---
Grad Student and Associate Professor Receive 2021 Chemistry of Materials Award

Shruti Hariyani, a graduate student and research assistant in the Department of Chemistry, and Jakoah Brgoch, associate professor, have been selected as the 2021 winners of the Chemistry of Materials Lectureship and Best Paper Award. The award, given by the journal Chemistry of Materials and the American Chemical Society Division of Inorganic Chemistry, honors the authors of an article published in 2020 that has outstanding influence across the field of materials chemistry, while also recognizing that research is a team endeavor.
---
| | | |
| --- | --- | --- |
| Owing largely to 15+ years of oversight from Instructional Assistant Professor Erin Kenyan, the National Association of Catering Executives (NACE) University of Houston Student Chapter brought home top awards in 2020-2021. Five hardworking UH students earned scholarships, awards and nominations. Students nominated for National Student Member of the Year will be announced at the conference in August. | Hugh Roy and Lillie Cranz Cullen Distinguished Professor of Psychology Elena Grigorenko, has been selected for a Fulbright U.S. Scholar award to Saudi Arabia during the 2021-2022 academic year. The project, "Understanding and accommodating developmental disabilities in Saudi Arabia," seeks to understand and accommodate developmental disabilities through the use of disorders of spoken and written language. | The Elizabeth D. Rockwell Center on Ethics and Leadership at the Hobby School announced the recipients of the inaugural 2021-22 Faculty Fellows and Conference Funding Awards. The annual awards contribute to the understanding of ethics and leadership across academic fields. Fellows include: Renee Knake Jefferson and David Kwok, UH Law Center, and Curtis Wesley, C.T. Bauer College of Business. |