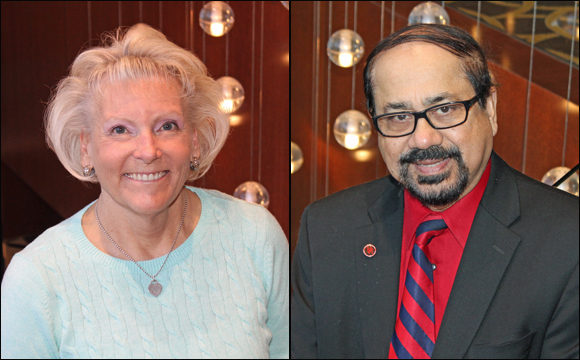 Two Longtime Staff Members Hang Up Their Hats
The College is losing two familiar faces to retirement: Thomas Chandapilla and Beverly Nicholson. Thomas, our director of business operations, joined the business office in 1995 after serving three years as the foodservice director for ARAMARK at the Hilton University of Houston. Over his 21-year tenure, his role expanded to include hotel controller and director of human resources. He's worn many hats, and his contributions have not gone unrecognized. In fact, he's the only staff member to win the Staff Excellence Award twice—once in 1998 and again in 2007. Thomas has also helped run his family's catering and banking business, which was established in 1902 in his home country of India. In retirement, Thomas and his wife plan to travel to their second home in India and spend time with their three grandchildren here in Houston. Beverly, our reconciliation accountant, has worked at the University of Houston for 44 years. She joined the University accounting department in 1971 and came to Hilton College in 1978. Since then, she's been an integral part of business operations and has helped countless students learn about accounting as a guest lecturer in lodging management. Now, Beverly and her husband will spend their time traveling and enjoying their grandson—and there's a second on the way in March! Please join us in wishing these two valuable and trusted members of our staff a happy retirement. They will be missed! (Photos: Taylor Wiley)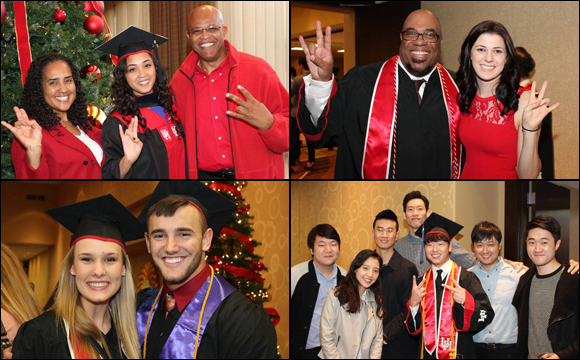 Congrats to the Fall Class of 2015!
Another amazing group of promising hospitality leaders said goodbye to the College and hello to the "real world" at graduation on December 18. Thirteen of those students received their Master of Science in Hospitality Management, and 126 earned their Bachelor of Science in Hotel and Restaurant Management. After the commencement ceremony at Hofheinz Pavilion, the newly-minted grads and their families returned to the College for a special reception in their honor. At the reception, four standout students were presented with awards. Pamela Priscilla Rosique Rodriguez and Baehoon Choi won the Alumni Award for Scholastic Excellence for graduates and undergraduates, respectively. Dean Dennis Reynolds presented the coveted Dean's Award (his first time to give out the honor), to two students who personified hospitality in all of their endeavors at the College: undergraduate Allie Megard and graduate student Indira Soltero Pineda. Congrats and well wishes to the honorees and the entire Fall Class of 2015. You all make the HC proud! (Photos: Taylor Wiley)
Hilton College Steals the Show at Grad Conference
Hilton College made a great impression at the 21st Annual Graduate Education & Graduate Student Research Conference, thanks to a talented group of student presenters, their faculty mentors, our awesome alumni and some swanky new promotional material. The conference was hosted by Temple University's School of Tourism and Hospitality Management in Philadelphia, January 7-9. Eight of our grad students gave poster and/or stand-up presentations: Amanda Hu, Xiaoxia Liu, Meng Shen, Heyao Yu, Amanda Belarmino, Yue Teng-Vaughan, Renata Fernades Gusso and Sophia Yu. Led by Dean Dennis Reynolds and Associate Dean Ki-Joon Back, the faculty delegates were there not only to support the students, but also to promote all of the exciting opportunities for graduate studies at the College, including our new Ph.D. program, MS in Global Hospitality Business and the upcoming Online Executive Master of Hospitality Management degree, which is set to launch in January 2017. The College's award-winning communications department got in on the mix, too, sending beautiful new brochures and a fantastic promotional video highlighting both the College and the City of Houston. Click here to see the brochure. Click here to view the video. Kudos to our student presenters and all involved. We can't wait to host the conference at the College in January 2017!
New Leadership in San Antonio
Big news from our Alamo City campus: Lisa Hernandez, formerly the director of development, has been named director of operations for the Conrad N. Hilton College–San Antonio! In this new role, Lisa will take on day-to-day operations management of the campus, as well as continuing her outstanding work on development efforts. A native of San Antonio, Lisa's energy, passion for education and love of hospitality make her the perfect person to move our San Antonio program forward. Special thanks to Dr. Jay Neal, who provided excellent leadership as the campus' interim director and will now transition back to his role as associate professor. He'll continue to teach courses in both Houston and San Antonio this semester. Additionally, the College is hiring a director of recruitment specifically for the San Antonio campus. That search is already under way. Exciting times ahead in SA! (Photo: Taylor Wiley)