Team Finds Silver Lining in Gourmet Night Cancellation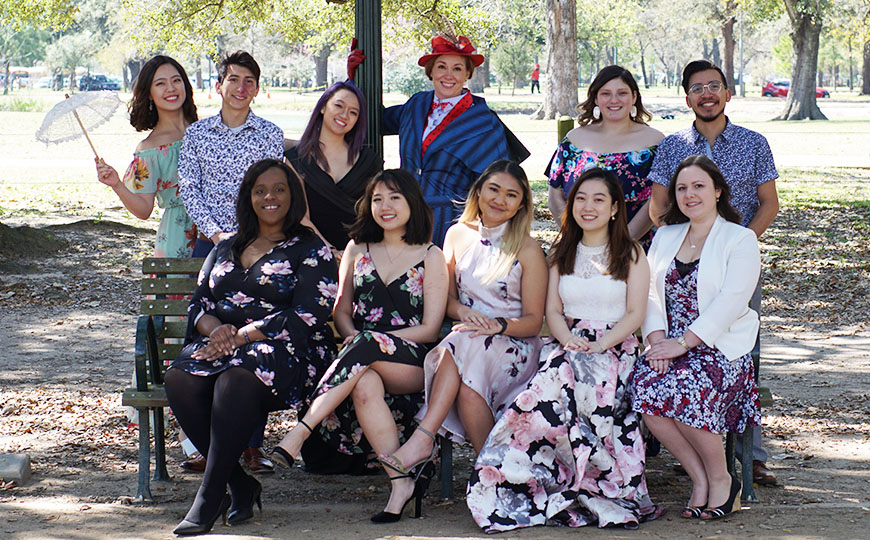 Due to the COVID-19 pandemic, the difficult decision was made to cancel the 47th Annual Gourmet Night. The student management team, who had less than four weeks to go until this Hilton College signature springtime event on April 4, dealt with the news as true professionals. 
The heartbreaking announcement came on March 9, bringing understandably, shock and disappointment to the student management team that was readying for a retreat over spring break to put the final touches on their event. For more than 10 months, the team had invested their time, talents – and hearts – into developing their Mary Poppins' themed "A Practically Perfect Gourmet Night."
After the decision was made, Reba Haskell, who serves as the event's faculty advisor and executive director, went immediately into "business and survival mode." She put aside her own feelings and focused on breaking the news to each member of her team: (pictured above) General Manager Tiffany Shin; Events Co-Managers Michelle Cao and Alexandra Galvez; Kitchen Co-Managers Samantha Bertalotto and Christian Burris; Food & Beverage Co-Managers JaiMichael Leal and Quincy Reynolds; Silent Auction Co-Managers Alice Nguyen and Jasmin Bryant; and Human Resources Manager Tiffany Cheng. Every manager handled the news with professionalism and grace.
"A tangible aspect of the Gourmet Night experience is following through to execute the event. Although the team wouldn't get a chance to showcase their efforts, I knew they were ready," Haskell said. "In more than 20 years of management, I have never seen a group work so well together to build upon each other's strengths and weaknesses – and with such positive attitudes about all their teammates. They exceeded all my expectations, especially in terms of coming together as a team during these uncertain times."
Inspired by Disney's 1964 musical fantasy film, this year's theme would have transformed the Hilton University of Houston into a storybook venue that was "practically perfect in every way!" 
"The ballrooms would have been magical," said Event Co-Manager Michelle Cao. "From first seeing blooms of pink blossoms on Cherry Tree Lane at registration, to stepping into the Silent Auction in the Waldorf-Astoria Ballroom surrounded by the midnight hues of chimneyed roof tops, each step of the evening would have taken guests into the world of Mary and Bert." 
After mingling and noshing on appetizers such as Chim Chimney Chim truffle eggs, Bert's Jolly Holiday melon salad and Poppins' Pimms' Cup – served by volunteers dressed as chimney sweeps – guests would then stroll along a park in the idyllic English countryside toward the Conrad Hilton Grand Ballroom, where dinner would be served. 

Inside, tables would be adorned with whimsical carousel horses and linens bursting with the vibrant colors of spring. Golden horses and tap-dancing penguins would also come to life on a giant screen near the main stage. Baker Goldsmith ('11), dressed as Bert, was ready to dazzle as the evening's emcee. 
Dapper student volunteers were set to serve the first course – a deconstructed fish pie with Chilean sea bass and butter-braised vegetables, followed by an Earl Grey granita with Chantilly cream as the intermezzo. For the main course, their menu – described in a program shaped like a kite – called for Wagyu Manhattan filet with a Burgundy demi-glace, accompanied by a root vegetable mash and blistered Romanesco broccoli. And "Just a spoonful of sugar," featuring an English-style shortbread with chilled strawberry and rhubarb compote, for dessert. A supercalifragilisticexpialidocious spread that would have made Mary Poppins proud, to be sure!   
Special thanks to Chef Ojan Bagher, executive chef and culinary consultant for Sysco, who worked in collaboration with our student managers to help develop this menu. He and this team, along with our hotel's Chef Tanner Lucas and lecturer and Chef Melissa Manske, were ready to take the helm behind the scenes with the kitchen managers, student volunteers and course captains, including: Ishan Basu and Labria Lanaux (passed hors d'oeuvres); Ian Flannery (first course); Jasmin Moura (intermezzo & special diets dessert); Connor Yun (main course); Katy Mastren (dessert); Oliver Stoklosa (special diets); and Sabiha Prema (key kitchen volunteer).
"While I am still bummed that we could not make this year's Gourmet Night come to life as we planned it, I know that every one of us can visualize it perfectly in our heads," said General Manager Tiffany Shin. "The initial pain has passed, and I definitely believe the decision to cancel had to be made as early as possible. Our guests' safety should be the foremost concern, which it was in this case."
As important, Shin said she learned important lessons about leadership.
"During the news of the cancellation, I had to stay calm, really hear people out and be a supportive leader for the rest of the team," she said. "As a person who tries to cut out emotions when it comes to work, I realized that sometimes you have to allow yourself to be vulnerable and emotional to have true empathy for others."
And, as she wraps up her senior year with online learning at Hilton College, Shin said she would like to encourage others to give Gourmet Night a try for next year – whether as a volunteer or by applying for a leadership position on the management team.
"Gourmet Night is not just a class. It's an experience," she said. "Being a manager allows you to gain such a broad perspective of the event industry with wonderful guidance from our faculty advisor and the executive committee members who are all dedicated to help make the event a great hands-on, real- life learning experience for the students."
And, just as in "real life," events do get cancelled for reasons much less dire than this.
A huge THANK YOU to all our donors and table sponsors – as well as other friends, partners, faculty and staff – who helped this year's team fly their kite "up to the highest heights and send it soaring!" We know it would have truly been an evening that was practically perfect! 
Please plan to join us next year for the 48th Annual Gourmet Night slated for April 10, 2021.
(Story & Photo: Pearl Cajoles)
Posted on March 26, 2020