Dean's Executive Assistant Honored with Endowed Scholarship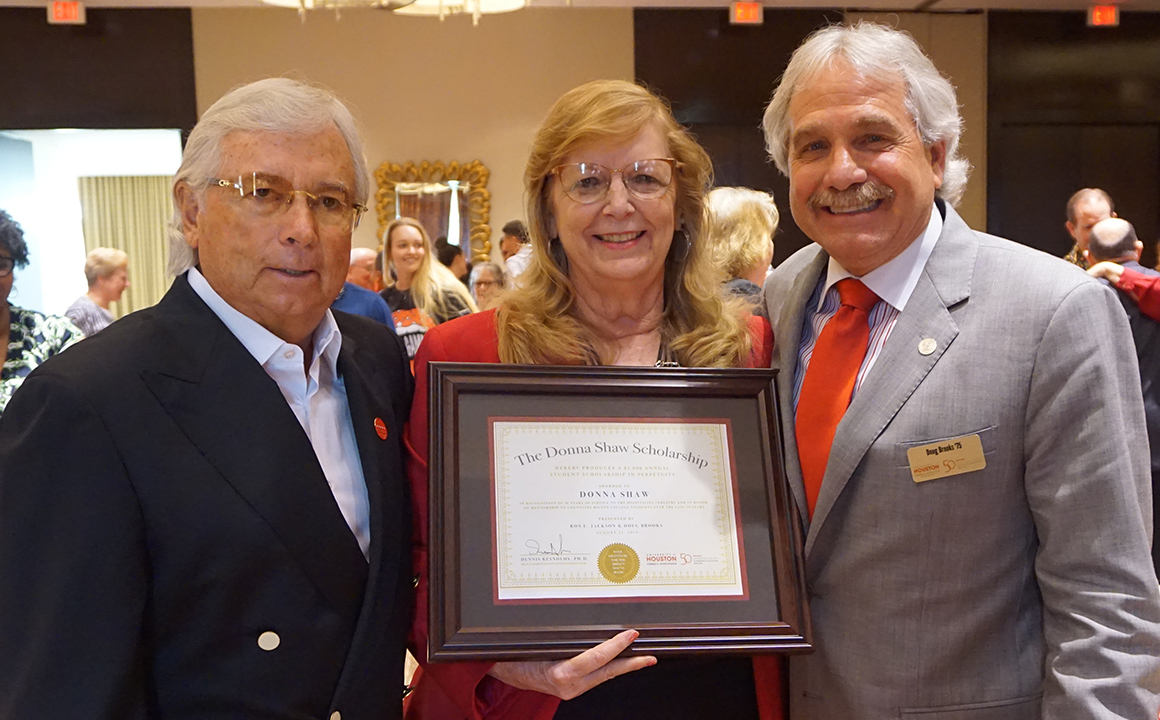 When Donna Shaw retired in August, it was the "end of an era" at Hilton College. 
There was so much love for the College's long-time dean's executive assistant, who celebrated her retirement on Aug. 21 with a reception held in her honor in the Shamrock Ballroom of the Hilton University of Houston. In front of family, friends and colleagues, Shaw was presented with an endowed scholarship in recognition of her mentorship of countless Hilton College students over the past 20 years and for her 40 years of service to the hospitality industry. She is only the second staff member to ever be honored with an endowed scholarship.
The Donna Shaw Scholarship was established with a generous $25,000 gift from Dean's Advisory Board member Ron E. Jackson (left), and UH Regent and Dean's Advisory Board Chairman Doug Brooks ('75). This endowment will preserve the Donna's legacy for years to come and will provide scholarship support to Hilton College students in perpetuity. When Shaw first started her career as an administrative assistant at Sunbelt Hotels, a hotel development company with the largest Hilton hotel portfolio in the United States before its sale in 2000, Jackson was her boss and has been a life-long mentor.
At the reception, those who have worked closest to Donna over the past four decades – Brooks, Jackson, Dean Dennis Reynolds, Dean's Advisory Board Chairman Emeritus Charles D. Dorn, CCM ('80) and Tom Harwell, general manager of The Lancaster Hotel – also took the podium to praise Shaw for her steadfast character and extraordinary work ethic. In their remarks, each commended her for being a master of organization, time management, resourcefulness and for her follow through for having managed and anticipated the needs of CEOs, three Hilton College deans, an interim dean, plus their respective advisory boards throughout her career.
All expressed their admiration for Shaw's resolute sense of urgency, high standards, countless  connections in the industry, unwavering persistence and her "never take no for an answer" mindset. Once, Jackson recounted, she even attempted to stop a FedEx plane so it could wait for important documents he needed to send to close on a $25 million loan. They also shared examples of Shaw's softer side, including how she crocheted blankets for her colleagues expecting new babies, and for always coming through as a friend when someone needed a lifeline.
"It's difficult to understand the scope of Donna's job if you hadn't sat in her chair," Brooks said. "To be Donna Shaw, you have to be incredibly resourceful. You're a psychologist, guidance counselor, repair person, delivery person, report maker and expense reporter. You're a timekeeper, productivity  increaser, miracle worker, and you handle drop-in visitors from all kinds of constituents. You also hand out lots of love, including tough love, because that's what sitting in that chair requires you to do."
Beyond her administrative tasks – including scheduling tens of thousands of meetings (more than 18,000 throughout her career), as well as making travel arrangements, planning events and handling myriad "woman-behind-the-curtain" operational duties that most never realized were even part of her purview – Shaw has left a legacy by impacting the lives of countless Hilton College students. For example, as a dedicated supporter of Gourmet Night's silent auction, she has mentored and trained student managers and volunteers in the art of procurement to secure items for the auction. During this year's "Cheers to 50 Years" event, Shaw helped students shatter all previous records – raising more than $60,000 for scholarships and student success initiatives. She's also worked with students on the Dean's Undergraduate Advisory Council, which was established in 2016.
"Donna is irreplaceable, and the difference she made at this College is truly remarkable – she always knew what was needed before we knew we needed it," said Dean Reynolds, who recalled how Shaw went out of her way to anticipate his needs months before he even began his role as the College's new leader in 2015.
After all the accolades on her behalf, it was finally Shaw's turn to speak. In a heartfelt and tearful address, she thanked those who impacted her life and career, including her high school basketball coach who taught her the value of determination when he gave no sympathy after she broke her right thumb during a game. After scoring 48 points shooting left-handed, Shaw realized this kind of tenacity could help her achieve anything. Among others, she also thanked Jackson, who as her first boss, challenged her every thought process – instilling in her the expectation that nothing is impossible, and to always go the extra mile.
"I have always believed my mission in life was to take care of people, and retiring has been one of the hardest decisions I've made in my life," Shaw said. "It's hard to leave something you love so much, and especially the people who have impacted your life for so long. I do hope I have made a difference in some small way, and have touched a life or two along the way."
Judging by the number of people who came from all over the country to help her celebrate the next chapter in her life – and from the tears that flowed from her guests when Shaw shared her thoughts – no doubt that it is mission accomplished. And with the Donna Shaw Scholarship, she leaves a legacy to be treasured.
Click here to see a video of Shaw's retirement reception, and here for photos of the event on Facebook.
(Story and Photo: Pearl Cajoles)
Posted on Sept. 26, 2019