Hospitality Pros Join Hilton University of Houston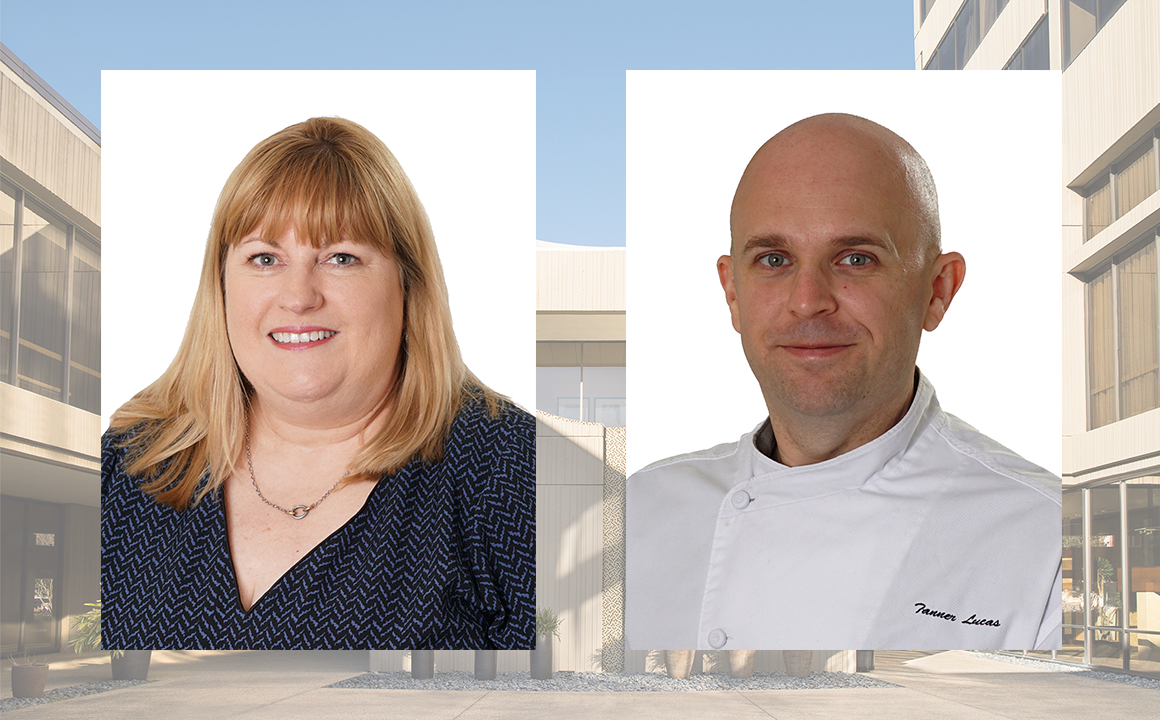 Hilton University of Houston welcomes two new members to its management team – Director of Sales Lisa Hopkins and Executive Chef Tanner Lucas. Both joined the hotel in June.
Hopkins brings with her a wealth of luxury hotel experience, having served as director of catering at The Houstonian for the past 21 years. As past president of the National Association for Catering and Events (NACE) – Houston Chapter, she is no stranger to the College. In fact, she helped establish the UH Student Chapter in 2003 and has worked with faculty advisor Erin Goodell to strengthen the chapter over the past decade. As a proponent of student support initiatives, Hopkins also served on the NACE national board.
"Because of NACE, I've been hanging around the College for a while," Hopkins said. "Being near students who will one day be the stewards of such an incredible industry has always been inspiring to me. I feel as though I've now come full circle, and can continue to be inspired by them here on campus."
As she begins her tenure, Hopkins is focused on enhancing the hotel's sales and marketing initiatives within the University.
"There is tremendous potential to serve clients right here in our own backyard," Hopkins said. "We want to be the first place all UH departments think of when there is a need to book meetings, lunches, banquets and events. We are also going to work to bring more weddings and other special occasions to the hotel." 
Like Hopkins, Chef Tanner Lucas has spent his career in hospitality, beginning with his first job at a Sonic Drive-In when he was 16 years old. In college, he worked as cook, server, barista and bartender. He also cooked for his roommates, just so he didn't have to do the dishes. When a friend complimented his skills in the kitchen and suggested he become a chef, Chef Lucas took the idea to heart.
"I couldn't get it out of my head, so I enrolled in a culinary program at the Art Institute of Dallas," he said. "After I began working at the Hilton Dallas Lincoln Center, I knew I had found my passion."
Over the years, Chef Lucas has worked at The Westin at The Woodlands, Hilton Americas-Houston, Hotel Granduca and Tiny Boxwoods Productions. He's recently back from Hong Kong where he served as lecturer and the executive chef at the School of Hotel and Tourism Management at The Hong Kong Polytechnic University.
"I have always seen myself as a trainer, and after spending the last year teaching at Hong Kong PolyU, I realized that I also have a passion for education," he said. "Being at Hilton College gives me the opportunity to share my experience with students passionate about the industry."
General Manager Steve Cunningham said Lucas and Hopkins have been excellent additions to his team, and both have already hit the ground running to achieve their goals.
"Tanner's creative updates to the Eric's Restaurant menu will launch in early August, and he has already begun the same improvement process to the hotel's catering and banquet menus," Cunningham said. "And, with our $30.4 million hotel expansion on the horizon, Lisa's proven leadership will be a foundation for success when the hotel launches its new rooms inventory." 
(Story & Photo: Pearl Cajoles)
Posted on July 18, 2019