Moments of the Heart Mark Spring Commencement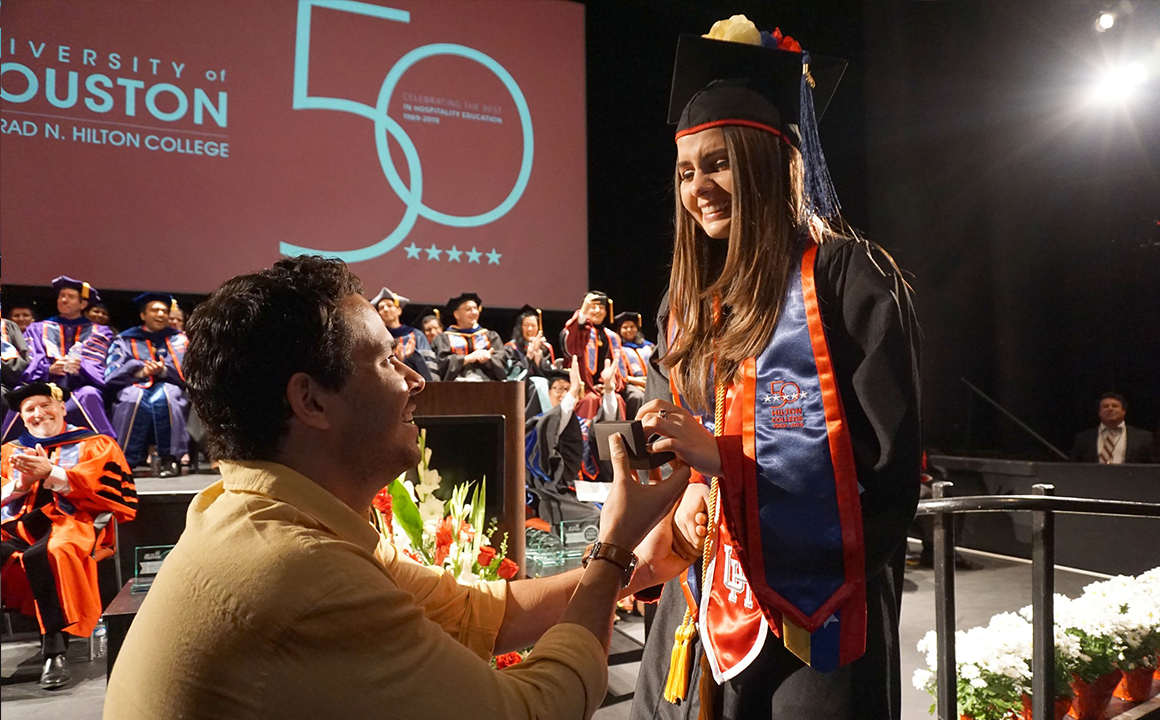 With some pretty sweet surprises along the way, some 148 of our graduates – including 17 from Hilton College-San Antonio – attended the Spring 2019 Commencement Ceremony at UH's Cullen Performance Hall on May 15. After the cancellation of the May 10 ceremony due to torrential rain and street flooding, the day had finally come to cross the stage and receive their diplomas.
Of these students, 16 graduated summa cum laude (highest honors), 25 magna cum laude (high honors) and 25 cum laude (honors). Three candidates for our Ph.D. in Hospitality Administration – Jookyung Kwon, Lindsey Lee and Xingyu "Maxime" Wang – also received doctoral hoods from their faculty advisors Drs. John Bowen, Juan Madera and Priyanko Guchait, respectively. 
In honor of the College's 50th anniversary, Provost Paula Myrick Short joined the platform party to acknowledge this milestone occasion. She praised the quality of the Hilton College program and commended our students for their seamless execution of Gourmet Night, which she attended a month earlier. Provost Short also remarked about the upcoming $30.4 million expansion of our Hilton University of Houston and wished our graduates success on their professional journeys. 
Before Provost Short took the stage, Dean Dennis Reynolds took a moment in his welcome address to thank Hilton President and CEO Chris Nassetta, who would have been the ceremony's keynote speaker had it not been for University-wide campus closure. When the College received official notice that commencement had been cancelled, Nassetta was in his hotel room practicing his speech. He was as disappointed as anyone that bad weather ruined the day. Dean Reynolds is working with Nassetta in hopes of rescheduling his speech for the December commencement.
The ceremony continued with remarks from student speaker Kevin McCaslin, who encouraged his peers to always remember the lessons learned from Hilton College when faced with adversity and as they plan for the next phase of their lives.  
"We know that we are ready to take on the world's greatest challenges and shape the world and our futures for the better," McCaslin said. "The College has provided us with a top education, numerous opportunities to grow, real-world work experience and hands-on research opportunities. And most importantly, Hilton College has provided us with a family of peers and faculty to last a lifetime."
Awards and Surprises
After degrees were conferred, Mike Pede ('89), president of the UH Alumni Association, presented the Alumni Association Award for Scholastic Excellence to undergraduates Yoijin Oh, Callan E. Stevenson and Jiwon Yoon, and graduates Yiwen Chen, Jinghan Lu, Jeanine A. Panzica, Laura Resco and Ting-Bing Wu for having the highest grade point averages. He also went off script for perhaps the biggest – and sweetest – surprise of the day.
Asking an unsuspecting Rebeca Estrada to stand, Pede then called her boyfriend, Gustavo Gomez to escort her to the stage. In front of the entire auditorium, Gomez got down on one knee, presented Estrada with a beautiful classic solitaire and asked for her hand in marriage. Her answer? "Yes!"
"I had no idea he had planned this, and I couldn't have asked for a more beautiful proposal," she said. "We had talked about marriage before, but I couldn't believe that he was going to propose to me in front of everyone. It was unique and sweet, and I really loved it."
As Estrada and her new fiancé sealed the proposal with a kiss, the entire room, including her parents and future in-laws, burst into applause. As she prepares to plan her wedding, Estrada will also be working as an accounting specialist at Hotel ZaZa in Houston's Museum District.
After this spontaneous "intermission," Dean Reynolds announced the recipients of the coveted Dean's Awards, which are given to students who embody the spirit of Hilton College through academics, involvement and volunteerism. Graduate Jeanine Panzica and undergraduate Monique McCloskey were this semester's honorees. 
Heartfelt Recognition
Celebrations continued at the Hilton University of Houston, as graduates and their guests proceeded to a reception in their honor. And, as the day ended, a post on UH President Renu Khator's personal blog caught our attention. After receiving a touching letter from a parent, President Khator felt compelled to share the story of one of our graduates, Michael Marin. 
Born more than three months early, doctors told Marin's parents that he had little to no chance of survival. How wrong they were! For the next 26 years, Marin overcame numerous medical procedures, a learning disability and myriad personal challenges. After graduating from The Briarwood School in West Houston, he completed his core courses at UH-Downtown. He then transferred to Hilton College to continue his studies in an industry that complemented his strengths – helping people and customer service.
"I can't say enough of the faculty at the Hilton College and the hotel, where he was an intern for about a year," his father, Antonio Marin wrote to President Khator. "Through his college career at UH, Michael learned the skills that will make a difference in his life.... UH believed in him like we did 26 years earlier."
And these are just two of our graduates' stories! Here's to the Spring Class of 2019, to their journeys and their dreams… and to their futures! 
Click here to see more graduation photos on Facebook. 
(Story & Photo: Pearl Cajoles) 
Posted on May 23, 2019