Wine Class Brings Industry Knowledge… and a Vintage Reunion!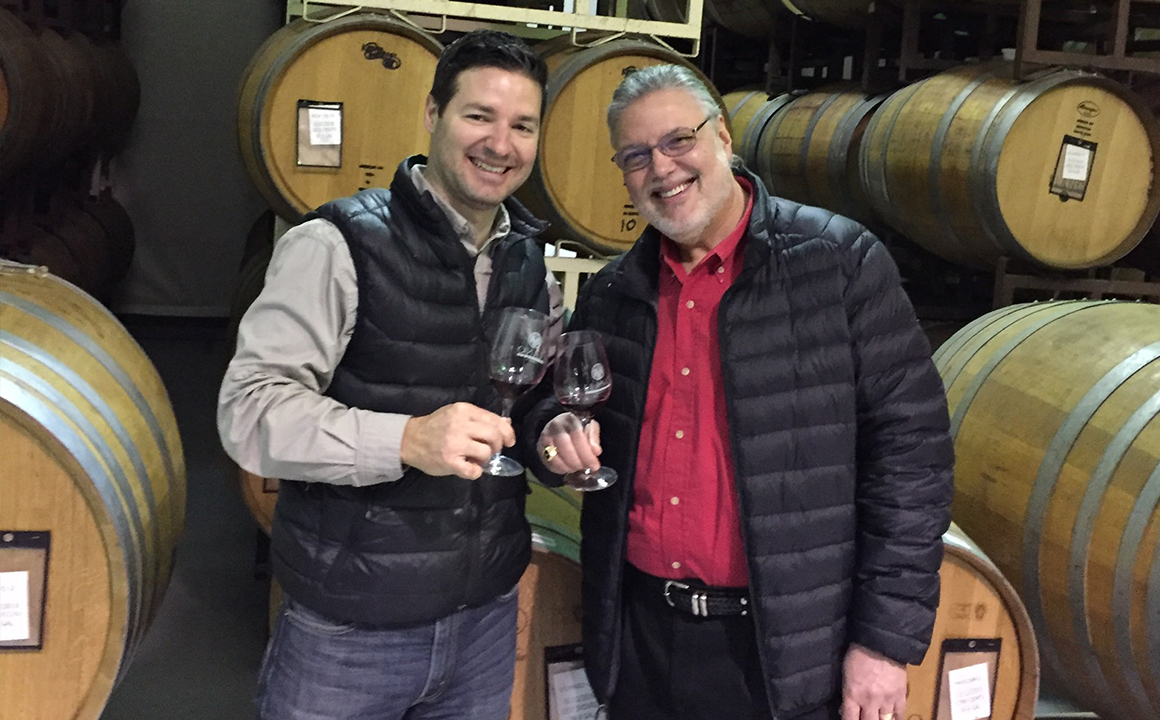 For the fourth year in a row, Dr. Chris Taylor has taught the Texas Food & Wine Experience, an experiential road trip over spring break that aims to give students a complete overview of the billion-dollar Texas wine industry. Dr. Taylor is director of the Beverage Management Program and Fred Parks Wine Cellar, and on March 9-13, he traveled with 12 students to the Texas High Plains and the Hill Country for tours of the area's top wineries, and for a deeper look at the business of winemaking – from growing to bottling to distribution.
After their first stop to visit Brennan Vineyards in Comanche, the group drove up to Lubbock for a winetasting and tour of Lllano Estacado Winery, then to McPherson Cellars and Farmhouse Vineyards.  For the final leg of their trip, the group headed south toward Fredericksburg to explore the role of winemaking in the city's tourism industry. There, they began their day at the Fredericksburg Convention and Visitors Bureau before stops at Becker Vineyards and Messina Hof Winery.
"This hands-on trip really allows students a unique experience in seeing the wine industry from the vine to glass, along with the importance of wine tourism," Dr. Taylor said.
Perhaps the most unforgettable moment of the trip occurred at Llano Estacado, where a surprise was waiting for Kevin Simon (pictured right), director of the Fred Parks Wine Outreach Programs, who also traveled with the class for the first time this year. A student whose life Simon had touched more than a decade ago was giving the tour as the winemaker at Llano Estacado Winery – but Simon didn't know it yet.
In 2005, Jason Centanni (pictured left), was a student on the pre-med track, majoring in bio chemistry, when he came upon Simon's Wine Appreciation class as an elective. So impressed was he by Simon and the industry, that by the end of the semester, Centanni had changed his mind about becoming a doctor. He would study wine instead. Today, he is head winemaker at Llano Estacado, the largest and oldest premium winery in Texas.
When Dr. Taylor learned about the connection, he knew a reunion was in order. Simon had to be the one to accompany him on this trip! As Centanni led the group on a tour of the winery, he stopped to announce that someone who taught Wine Appreciation years ago had inspired him to change the trajectory of his life. Much to Simon's surprise, he was that person! Later that day, Centanni presented Simon with a signed bottle of premium wine as a token of his appreciation.
"This spring semester, I am completing 23 years of teaching Wine Appreciation, and of the thousands of students who have taken this class, many have gotten 'juiced up' about wine and have decided to pursue a career in the wine and spirits industry," Simon said. "All I am doing is passing along one of my passions in life to a younger generation, and it is very rewarding, satisfying, and humbling to learn when this changes people's lives."
In addition to witnessing the heartwarming reunion, students returned to Houston well-versed about everything Texas wine, and with valuable insight about the many career paths one can pursue in this lucrative industry. They also learned firsthand from the best growers in the state.
Sincere appreciation goes to program underwriter International Wine & Food Society - Houston Chapter, with support from the Republic National Distribution Company. Through their generosity, our students were able to take advantage of this experiential learning opportunity without having to worry about the cost of food, transportation and lodging. To learn more about the Texas Food & Wine Experience, e-mail Dr. Taylor or call 713-743-0952.
(Story: Pearl Cajoles | Photos: Courtesy of Dr. Chris Taylor)
Published on April 25, 2019