Alumni Awards Reception Reunites Past Honorees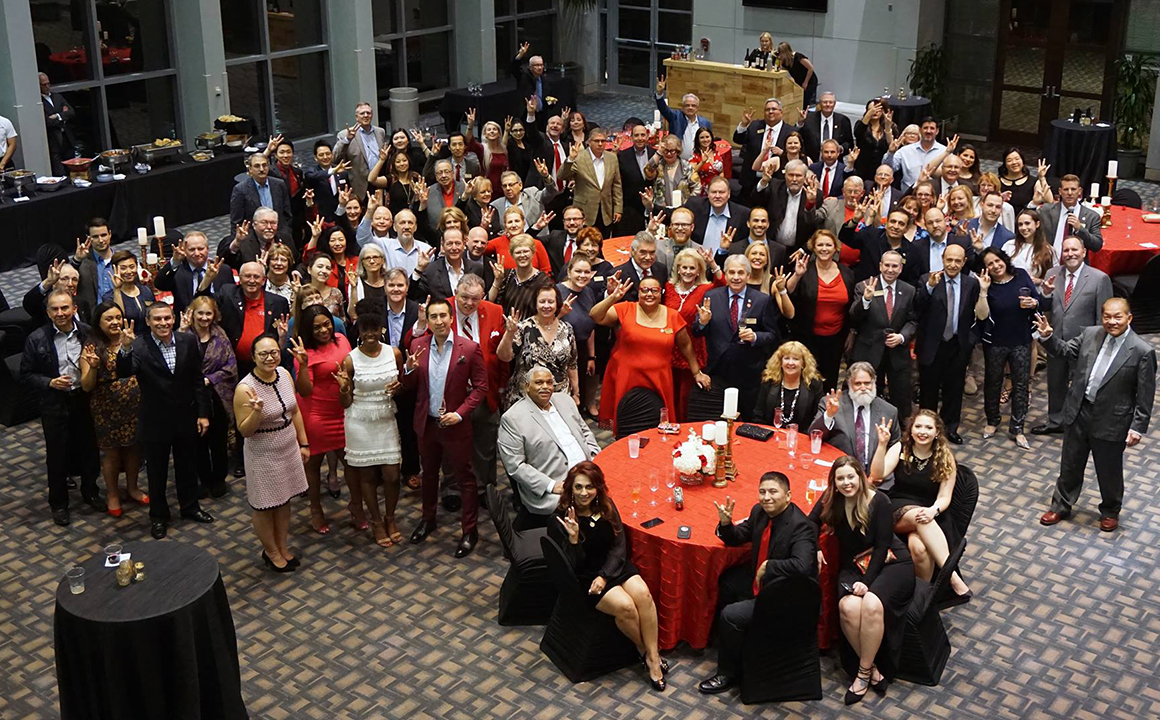 More than 100 alumni and friends paid tribute to the golden anniversary of Hilton College during this year's Alumni Awards Reception, held April 12 at the University of Houston Alumni and Athletic Center. In lieu of announcing individual honors for 2019, the Hilton College Alumni Board dedicated the evening to all past alumni award recipients.   
Since the alumni awards were established, more than 100 have been honored in the following categories: Distinguished Alumni Award, Distinguished Young Alumni Award, Distinguished Faculty/Staff Award, Honorary Alumni Award, Distinguished Service Award and the Founding Dean's Award. Some 30 past awardees were present to receive another moment in the spotlight and to catch up with old friends.
"Our school was truly a dream back then," said Bob Planck ('71), past chair of Eric's Club and part of the College's first class. "We had no facilities of our own, just a few professors and a handful of students, and we did not have a building with the Hilton name. I remember former Associate Dean Don Greenaway saying to me one afternoon that in 50 years we would more than rival the top hospitality college the country. He was a visionary."
Before heading to the Alumni Center, Planck and others from the College's first two graduating classes – Lee Ewing ('71), Gene Chin ('71), James Griffin ('72) and Bill Bennett ('72) – met for their own mini-reunion at Eric's Restaurant. About a dozen other graduates from the following years also joined in for photos.
"The night was a blast from the past! It was a great evening and wonderful to be with everyone again after too long," Planck said. "While I did not know the folks gathered from classes '72 and '73 when I was a student, almost all of them have become fast friends through the years that followed."
At the reception, Board President Kaitlyn Venable-Valdez ('12), provided opening remarks and toasted to the growth of the College and the strength of our alumni network, while Vice President Jessica Lewis ('07), served as the evening's emcee. Co-chairs of the Hilton College 50th Anniversary Committee – Dr. Nathan Jarvis ('08) and Pennie Landon (Dean's Advisory Board member) – also took the stage to invite everyone to our Golden Anniversary Gala on Oct. 15 at The Post Oak Hotel at Uptown Houston.
Kudos to the entire alumni board for organizing this milestone reunion, and to Director of Development & Alumni Engagement Miguel Cabrera, and Alumni/Development Coordinator Yasmin Ali for their support. Special thanks also go to Mike Pede ('89), associate vice president of Alumni Relations at the University of Houston Alumni Association,    Julianna Romero, manager at Pappas Catering; Jason Broughton, owner of J. Broughton Design; Melanie Parker, president of Spectrum Catering, Concessions & Events; Aaron Corsi ('09, MS '11), co-founder and brewmaster of 8th Wonder Brewery; Jennifer Royo ('06), co-founder of No Label Brewery; and Marcia Rieger, owner of Woodlands Trophies for their various contributions and in-kind donations to this event.
At the end of the evening, guests went home with champagne flutes embossed with the Alumni Association's logo – a special keepsake of this memorable evening. Visit the Hilton College Alumni Association's Facebook page to see more event photos. To reconnect with Hilton College alumni, or to learn more about becoming a sponsor for the upcoming Golden Anniversary Gala, email MiguelCabrera or call 713-743-1523. 
(Story & Photo: Pearl Cajoles)
Posted on April 25, 2019