Study Aims to Decode the Brain on Wine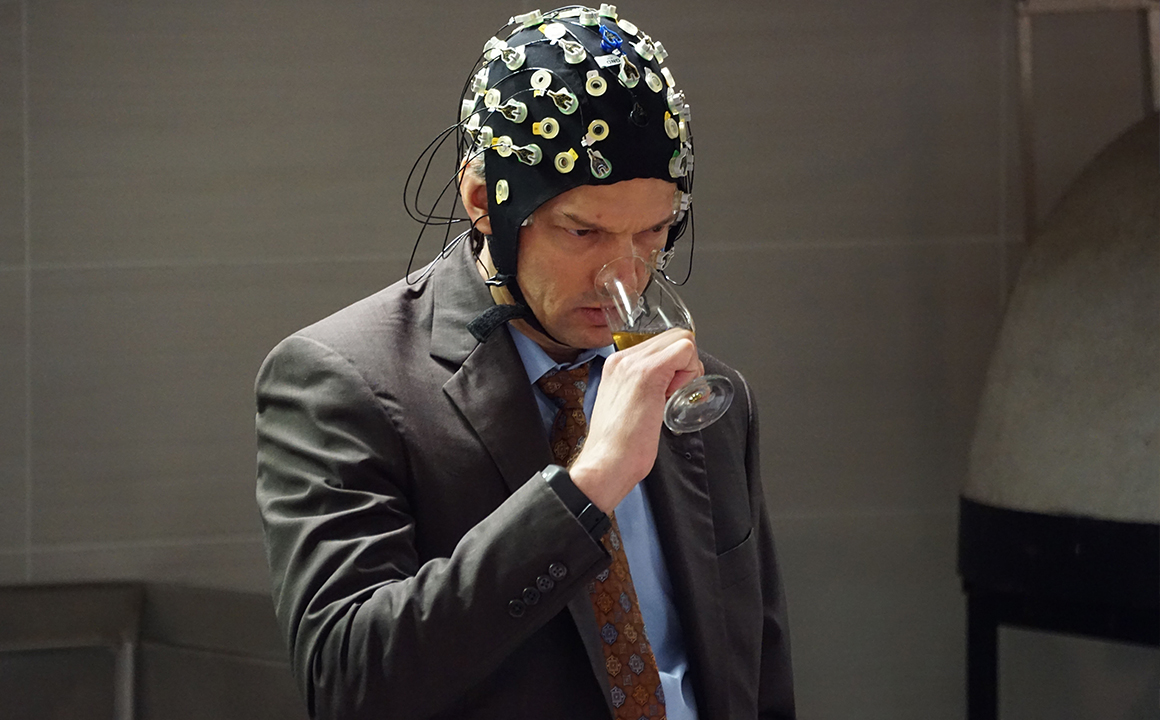 How does the brain process the sensory experience of drinking wine? Dr. Chris Taylor, director of our Beverage Management Program, and co-researchers from the UH NSF Brain Center are collaborating to see how the mind works when analyzing, tasting and describing wine.
The first set of data was collected at our Spec's Beverage & Food Appreciation Laboratory on Jan. 19, thanks to an expert panel who literally lent their brains to the study by donning skull caps wired with electrodes: Julie Dalton, advanced sommelier at Mastro's Steakhouse and winner of the 2018 Iron Somm Competition; Steven McDonald, master sommelier and wine director at Pappas Steakhouse; and graduate student Devin Tinney (pictured), certified sommelier and WSET certified wine professional.
Throughout the duration of the wine tasting, the sensory equipment recorded the brain activity of each sommelier as they analyzed the aroma, taste, color and texture of three kinds of wine. Two weeks later, the NSF Brain Center once again set up shop in our Wine Lab to repeat the test with students from Dr. Taylor's Wine Appreciation class. Over the next few months, the research team will collect its last set of data from the same students to look for any changes in their brain activity after a semester of wine education.
"Seeing their sensory responses and what parts of the brain are most stimulated will help us to better understand how wine education affects the mind," Dr. Taylor said. "Through this study, we will be able to investigate how the brain activity of experts with educated palates differs from those who are new to drinking wine."
Researchers from the UH NSF Brain Center are working under the direction of Dr. Jose Luis Contreras-Vidal, a research professor of electrical and computer engineering who has been working for several years to track neural activity to discern how the brain reacts to creative stimuli. He first began working with the College in 2017, when his team collected data from chefs tasked to create a three-course meal. Dr. Ki-Joon Back, associate dean for Research & Graduate Studies, helped facilitate this newest collaboration.  
(Photo & Story: Pearl Cajoles)
Published on Feb. 21, 2019