Fall Career Fair Hits Record Numbers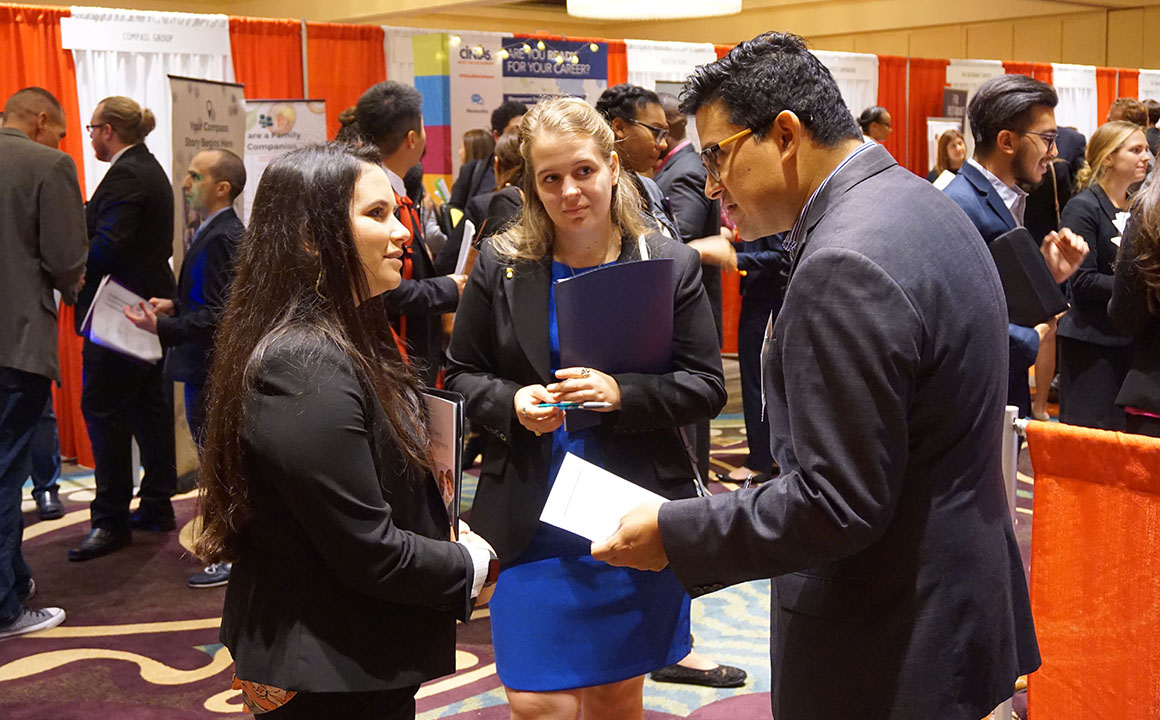 More than 420 job seekers connected with representatives from 74 hiring companies during Hilton College's annual Fall Career Fair, held Oct. 18 at the Hilton University of Houston. This record number of attendees included 29 students from Hilton College-San Antonio, who traveled to Houston with the program's Assistant Dean Ashli Johnson, Clinical Assistant Professor Nathan Jarvis and Instructional Assistant Professor Tucker Johnson. 
"This is the largest group we have welcomed from San Antonio thus far, and recruiters said they were among the best of our candidates. Because of the great impressions they made, several employers are now excited to collaborate on various opportunities with our students there," said Colleen Gleeson, director of Career Development.
The event culminated with the Career Fair Luncheon, which was also attended by students, recruiters, alumni, faculty and staff.  Students Yanjun "Maggie" Cai, Monique McCloskey, Shiv Zachariah and Jubana Mae Obsuna provided remarks, while keynote speaker Anna Schmid ('95) emphasized the importance of maintaining connections, rising above adversity and staying true to one's roots. Schmid is vice president of administration and event optimization at The Venetian and The Palazzo in Las Vegas.
Under the direction of Gleeson and Career Counselor & Scholarship Coordinator Gloria Ratliff, a team of 12 student managers from the Career Fair Management class planned all aspects of the event from start to finish. Along with McCloskey, general manager, the students are: Leivy Alvarado, Lindsay Beauregard, Yiwen Chen, Zach Harper, Cindy Mae Hoang, Caitlin Ledet, Atusa Marashi, Jason Moreno, Wendy Rodriguez, Vicky Wan and Lexi Wang. Since it was introduced last fall, the class has doubled in size.  
(Story & Photo: Pearl Cajoles)
Posted on Oct. 26, 2018