YHS Delegates Examine the Future of Hospitality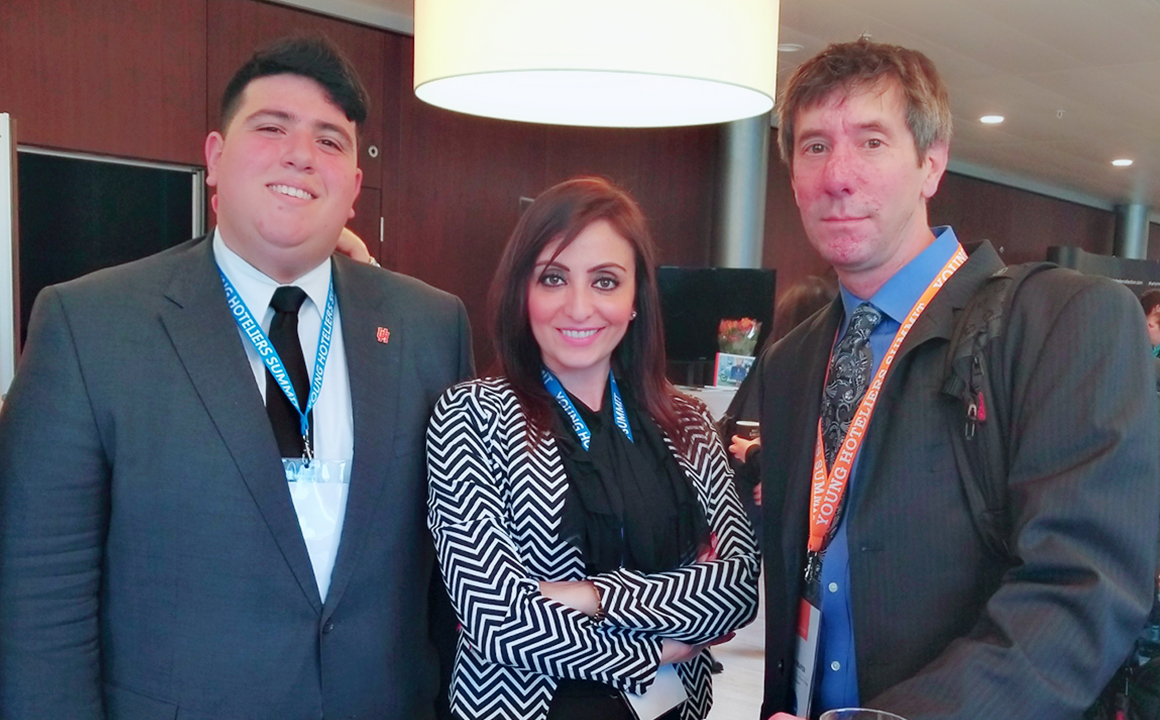 When global minds meet, there's a world of possibilities! That's what seniors Josette Akiki and James Avila learned as delegates of the 2018 Young Hoteliers Summit (YHS), held in Switzerland March 12-14 at École Hôtelière de Lausanne. Associate Professor Jason Draper also attended the event. 
This is the third consecutive year Hilton College has participated in the YHS, an event that connects students from 40 hospitality schools all over the world with the most influential companies for three days of keynote speeches, panels, workshops and networking opportunities.
This year's theme – "Eyes on the Future: Following the Momentum of Growth" –  explored topics such as redefining luxury in the age of the millennial, trends in hotel property investment, and the use of technology and analytics.
Delegates also learned about "bleisure" travel, a growing sector that caters to professionals who like to combine business and leisure into one trip. The event culminated in the YHS Challenge, where delegates are divided into groups and given less than 10 hours to create a pitch for a sponsoring company.
For this year's challenge, students had to impress executives of onefinestay, a company that offers luxury apartment and home rentals all over the word. The task? Present the best way to elevate the luxury experience for bleisure travelers who book with onefinestay.
James' team focused on customizing customer preferences with the use of technology, while Josette's team presented innovative ways to provide service. Both were chosen by their respective groups to make their pitches.
"It really made an impression on me to see the advances in data collection and how technology will soon dominate the industry," James said. "Imagine a future with a virtual concierge in all rooms and robots everywhere. Hotels will not be the same as the way we think of them now."
Josette especially enjoyed the discussions about customer service and guest loyalty. She was also impressed with the quality and professionalism of this student-run event.
"It was mind blowing," she said. "We saw no hiccups and it was incredibly well organized. I will forever treasure being part of the experience."
Dr. Draper said YHS organizers also did an outstanding job of keeping the event student focused, with relevant activities and a realistic challenge. His advice for next year's Hilton College delegates?
"Be prepared for three to four days of non-stop activity," he said. "This is a very intense experience with all-day sessions and students pulling all-nighters to work on their group challenges."
Indeed, Josette and James both said they didn't sleep during the last night, but the experience was worth all the hard work.
Thanks to funds from the Dave Smalley/Spectrum Catering Student Leadership Endowment, both students were able to participate in this once-in-a-lifetime global experience.
"I am so thankful for the relationships we made, and I now have hospitality professionals and executives from all over the world in my network," Josette said. "I am excited to see where these connections might take me."
Students who receive recommendations to attend YHS will undergo an interview and selection process this fall. We look forward to sending another delegation in 2019!
(Story: Pearl Cajoles | Photo: Courtesy of Josette Akiki)
Posted on April 25, 2018