Alumni Spotlight: And Baby Makes Three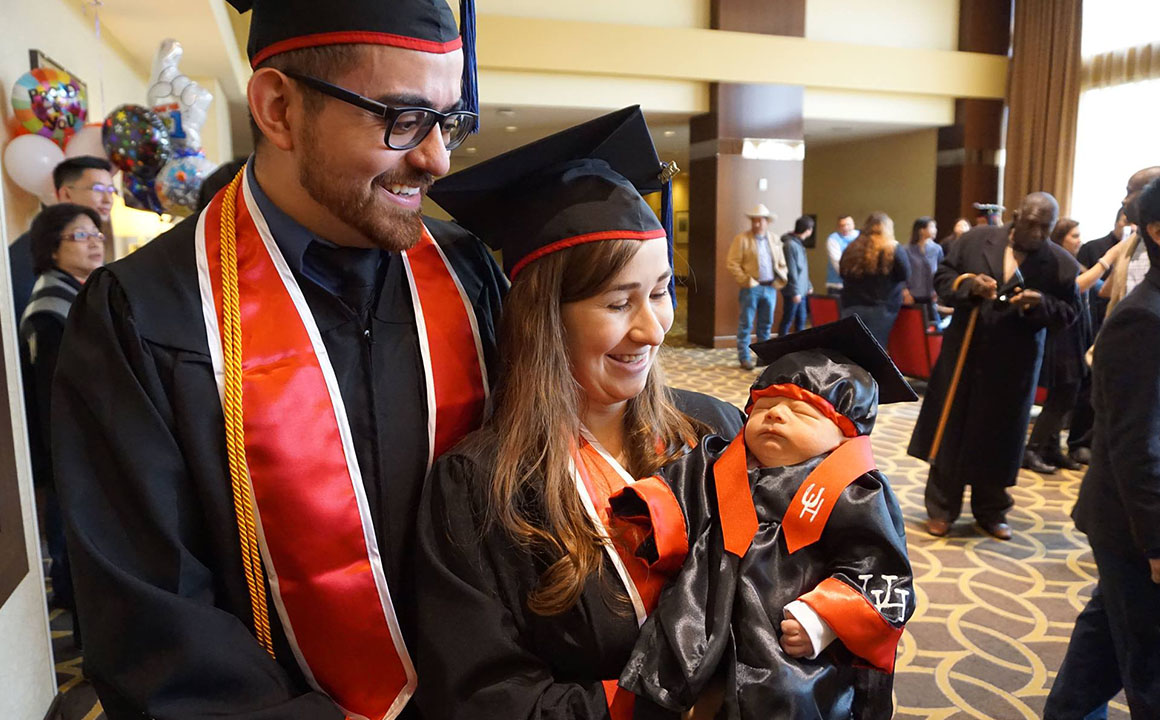 While completing their last year at Hilton College-San Antonio, Nancy ('17) and Gabriel Herrera ('17) found out they were having a baby. Nine days before graduation, little Mateo was born, and attended his parents' graduation in full regalia made by his grandmother.
Nancy said having a brand new baby didn't deter her from traveling to Houston to attend the ceremony. Lack of sleep turned into excitement as soon as they arrived.
"After all the hard work I put into the program, I felt like I needed to walk," she said. "Besides, Mateo did take classes with us, so he deserved to walk, too!"
Gabriel met Nancy in culinary school in 2010. Three months later, they started dating. They've been inseparable ever since. After receiving their associate degrees in pastry arts from Texas State Technical College in 2012, the couple embarked on the Disney College Program in Lake Buena Vista, Florida. That experience inspired them to advance their education even further, and they went back to school to receive associate degrees in hospitality management at Austin Community College in 2014.
"Participating in the program really changed our outlook on customer service," Gabriel said. "We found that we enjoyed interacting with guests so much more than working behind the scenes."
When they learned about Hilton College-San Antonio at a career fair, they knew it would be the perfect place to receive their bachelor's degrees. The campus at Sunset Station was only a 50-minute drive from their home in Kyle, and they could remain near their families.
"I was so happy," Nancy said. "We really wanted a degree in hospitality and we wanted it from Hilton College, but we just weren't in a position to move to Houston."
At Hilton College-San Antonio, Nancy and Gabriel became affectionately known by their classmates as "the married couple." They credit the faculty and staff there for helping them earn their diplomas.
"Being pregnant is hard, but being pregnant and going to school is even harder," Nancy said. "It's important for us to express thanks to our professors who were flexible and allowed us to take online classes. They were really invested in helping us graduate, and that was such a blessing."
As newly-minted Hilton College grads, Gabriel and Nancy are both working at the JW Marriott Austin. Gabriel is the lead supervisor for in-room dining, and Nancy is a front desk agent.
"A lot of people ask us why we work in the same place," Gabriel said. "It's actually really convenient because we can carpool, and we just really like being near each other. Besides, the building we work in is so big that we hardly see each other at all."
As the family settles into life as new parents and into their careers, what's next?
"The beauty of this industry is that nothing is set in stone, and we know there will be even more opportunities that will come our way. We might look into going back to Disney World to join their leadership team," Gabriel said. "No matter where we end up, we know we'll always have each other… and Mateo."
(Story & Photo: Pearl Cajoles)