Business Office Goes Beyond the Numbers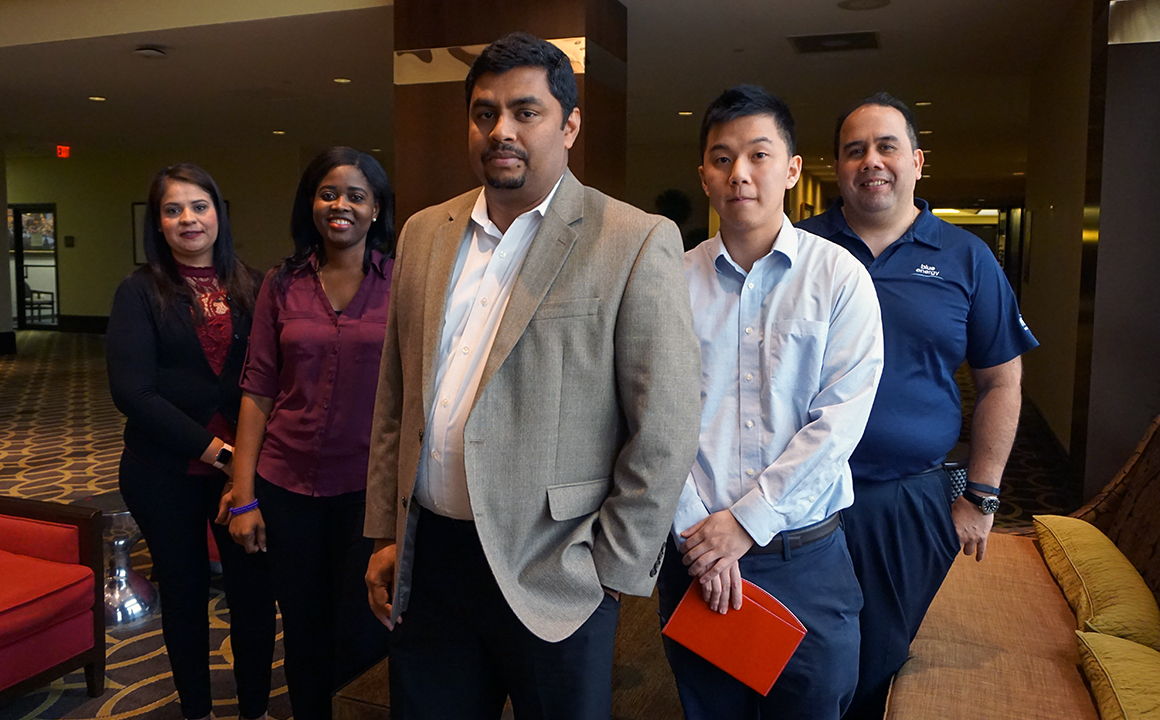 Amidst a multi-million dollar roof renovation project and plans for growth, Hilton College and Hilton University of Houston remain more profitable than ever, thanks to the leadership of Business Operations Director Deepu Kurian (center).
"Our financial position this year is something we are very proud of. We paid for the roof in cash, and we still came out with a positive balance," Deepu said. "This has all been possible because I am surrounded by a highly motivated, effective group of people. I'm not the brightest by far, but I have the brightest stars around me."
On Deepu's all-star team, are from left:  Silvia Vera, Chantal Atanley, Theo Liang, Alfredo Fernandez and Flor Montelongo (not pictured). Together, they handle daily reporting and business operations, accounts payable, accounts receivable and human resources. They also help Deepu utilize funds to the maximum by identifying ways for the hotel and College to run more efficiently.
For example, the business office worked with Manager of Information Systems Gautam Taneja to create online forms for such things as ordering paper to reduce waste. Another major priority of the business office? To make sure everyone gets paid the correct amount on time, every time.
"This is definitely on the top of our list, and we double and triple check everything to make sure nothing is amiss," said Theo, who is the department business administrator and has worked with Deepu for more than four years.
"He sets the direction, and gives us the freedom to make decisions in order to excel at what we do," Theo said. "Under his leadership, we all have enjoyed a positive working environment."
Indeed, Deepu cares deeply about how he treats his team. He's knows all about the value of teamwork, having been on the front lines of hospitality. He started his career at The International Hotel in India as a front desk assistant who operated the property's PBX phone system.
In less than five years – after trying his hand as a night auditor and as front office manager – Deepu was promoted to operations director. In 2005, Deepu moved to the United States to work as a project consultant for a hospitality investment company in Tampa. In 2011, he joined Hilton College, spent a year working at UH-Downtown and returned to lead our business office in 2016. 
Deepu is also an advocate of higher education. Even with two graduate degrees – an MBA and a master's in management – Deepu is currently pursuing his Ph.D. in Human Resource Development from Texas A&M University. And Theo, while working in our business office, also completed his MBA at Bauer College.
"I've been studying all my life, and now I'm learning more about academic organizational justice," Deepu said. "In order for your team to succeed, you need to treat people as you want to be treated. If you take a look at what everyone has to offer, you will see the best in people. You just have to allow them to grow and excel and find their potential."
At the end of the day, Deepu said it's really all about adding a personal touch to every interaction, and sincerely addressing the needs of everyone who comes through the door.
"There's a perception that those who work in the business office are the ones who say 'No' to all requests and expenses, but it's quite the opposite," he said. "Our goal is to help everybody, as long as it is in the best interest of the College."
To that end, Dean Dennis Reynolds commends Deepu and his team for playing an invaluable role in sustaining – and consistently improving upon – the College's operations.
 "Our business office is our secret weapon in terms of leveraging our financial position," he said. "Deepu and his team are simply amazing."
(Story & Photo: Pearl Cajoles)