Hall of Honor Team Weathers the Storm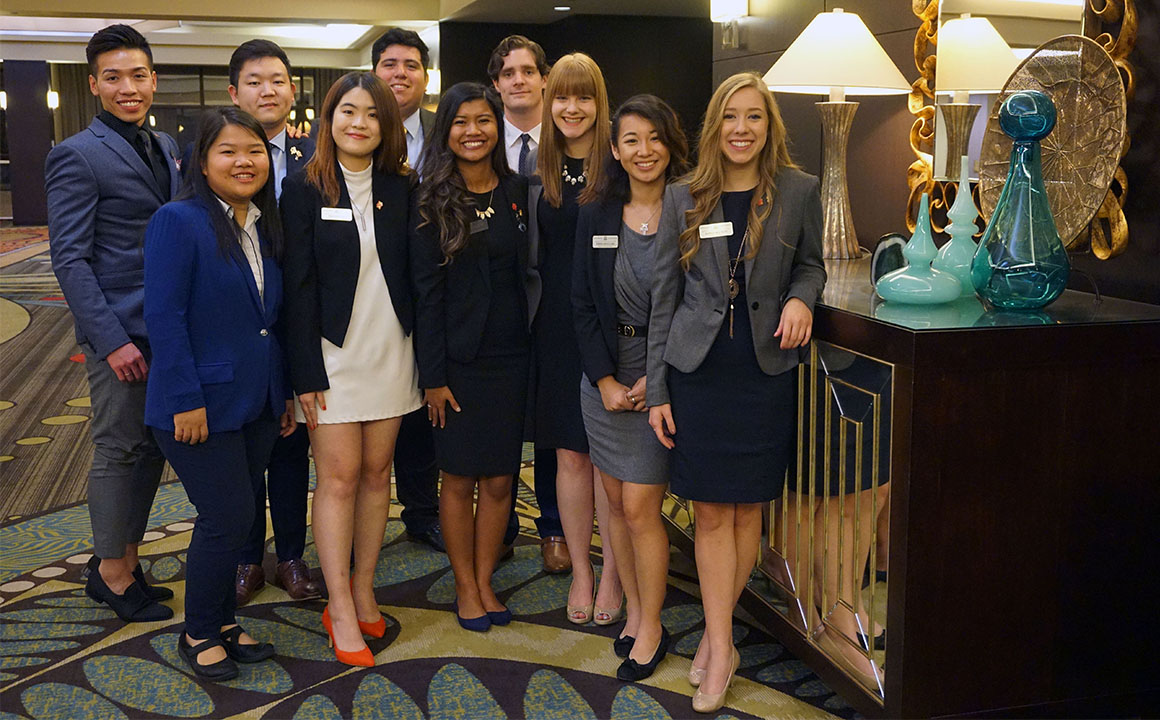 Hurricane Harvey was no match for the 22nd Annual Hospitality Industry Hall of Honor student management team. When their main event – A Taste of Hilton College – was cancelled after 10 months of planning, they rolled with the punches and came out even stronger.
"We were all disappointed for sure," said General Manager Adria Watson. "We asked a lot of questions and thought that our hard work over the past several months would be wasted."
After a frank discussion with Hall of Honor Faculty Advisor Alexis Jamieson, the student management team decided not to let Harvey dampen their spirits. Alexis helped the students realize their work would not be in vain, as next year's team would bring their ideas to life. She also explained the reasons why Hilton College leadership made the tough call to cancel the evening event.
"Several of our alumni participants who were scheduled to represent their businesses by offering tastings at the event were hit by the hurricane," Alexis said. "We also felt that those who were not affected by the storm could better allocate their generosity to those in need. After several discussions, we decided to keep only the industry Think Tanks as scheduled."
With a new conviction, the Hall of Honor student managers went straight to work in beefing up their Think Tank sessions, and making sure these would be among the best attended events in Hall of Honor history. Adria also credits Director of Operations and Service David Trang for being one of the team's most positive ambassadors.
"He never missed a beat and was encouraging the whole team," Adria said. "As soon as he heard the news, he was ready to focus all his efforts on the Think Tanks. We all fed off his energy and it helped the cancellation seem not as bad."
On Oct. 17-18, the Think Tank sessions continued as planned. Under the leadership of Adria and Think Tank Managers Anna Oakes and Emma Sinclair, more than 100 alumni and industry partners converged at Hilton College as panelists, moderators and as supportive members of the audience. Several faculty and staff also served as moderators. With the help of student volunteers, the Hall of Honor management team seamlessly executed the two-day flow of traffic between the 26 sessions. They also tackled the challenge of coaxing attendees and panelists out of the rooms to set up for the next sessions!
"I think one of the biggest things we learned from this experience is how when we collectively focus all of our efforts on one thing, we can make something amazing. We didn't realize how great Think Tanks could be. Going forward, the bar has been set pretty high," Adria said.
Alexis said feedback from students, faculty, alumni, industry partners and hospitality recruiters who attended this year's Think Tanks has been overwhelmingly positive. Sessions ranged from exploring the pop-up restaurant culture and travel blogging to strategies in revenue and asset management and hospitality trends in Asia. Many of these sessions were standing room only. Cheers all around for the student management team pictured above, from left: David Trang, Becky Phan, Brian Kim, Maggi Cai, James Avila, Janelle Sabado, Cody Boydstun, Anna Oakes, Emma Sinclair and Adria Watson.
"Each year I am more and more impressed by the maturity, g­­rit and selflessness of our students. Even though their evening event was cancelled, they rallied around the Think Tanks to make them the most well attended sessions to date," she said. "This year's team has really elevated the caliber and notoriety of the role Think Tanks play in the lives of our students and alumni."
Hall of Honor has selected next year's team of student managers, and Alexis is excited to see how they will execute what would have been this year's inaugural event – A Taste of Hilton College. So, mark your calendars for October 16-17, 2018. Next year's details are already in the works, and Hall of Honor will prevail, rain or shine!
(Story & Photo: Pearl Cajoles)