Welcome Picnic Bigger and Better than Ever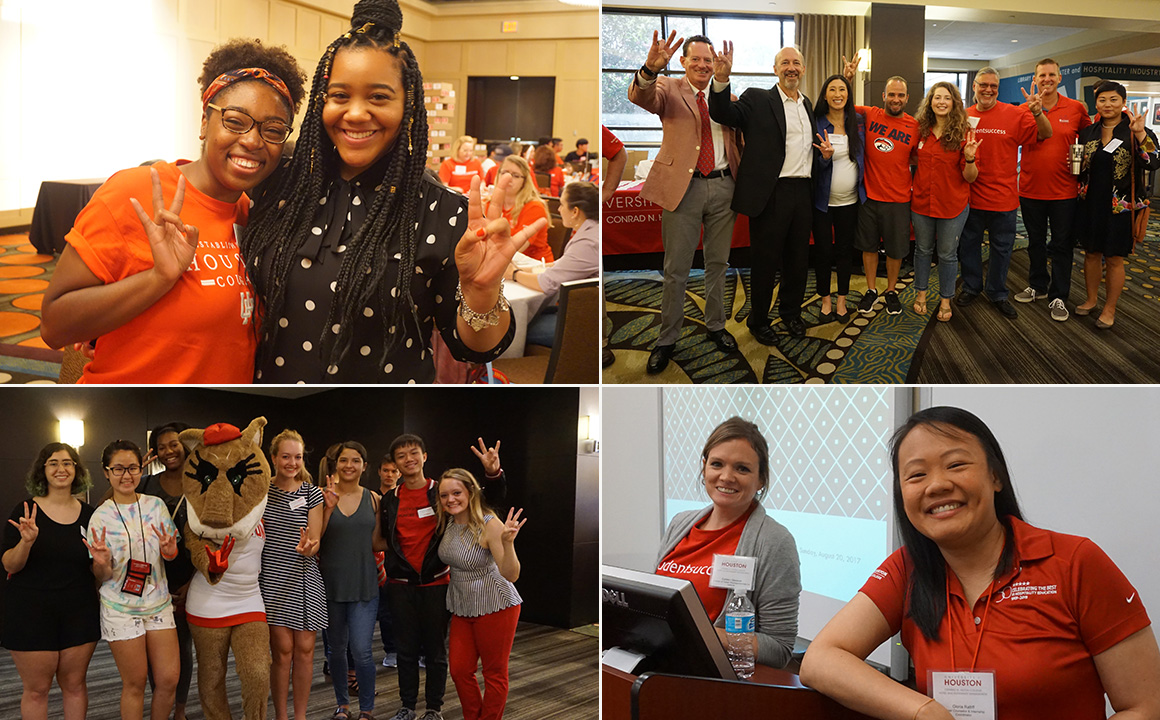 Hilton College greeted 130 new students during the Welcome Picnic on Sunday, Aug. 20, making it the best turnout since the inaugural event three years ago. Organized by Recruitment Manager Mandi Anderson, the Welcome Picnic allows incoming freshman and transfer students to become familiar with the College, and to meet their new professors and peers before the first day of classes.
After registration and photo opportunities with UH mascots Sasha and Shasta, our newest Coogs divided into smaller groups for tours of the College and hotel with the Conrad N. Hilton College Ambassadors. At the newly opened Center for Student Success, they met with student organization leaders and were introduced to the services provided by Career Development with Director Colleen Gleeson and Career Counselor & Internship Coordinator Gloria Ratliff.
The groups then proceeded to the Spec's Beverage & Food Appreciation Lab and to Alumni Hall for introductions to our faculty, who spoke about their classes and policies. They also met representatives from the Hilton College Alumni Board of Directors, including Board President Kaitlyn Venable-Valdez ('12) and UH Associate Vice President for Alumni Relations and UH Alumni Association Mike Pede ('89), to learn about the strength of our alumni network and how it can benefit them throughout their college careers and long after graduation.
The Welcome Picnic wrapped up in the Conrad Hilton Grand Ballroom with remarks from Dean Dennis Reynolds and a hearty lunch of burgers, hotdogs, cookies and ice cream provided by Gordon Food Service. Checkered red-and-white linens, courtesy of LBL Event Rentals, added to the theme.
"My favorite part of the event was watching our new students interacting with faculty, staff, alumni and student organization leaders during lunch," said Associate Dean for Academic Affairs Mary Dawson. "Everyone was so engaged in getting to know one another, and this is what the Welcome Picnic is all about!"
(Story & Photos: Pearl Cajoles)