Introducing Our Third Cohort of Ph.D. Candidates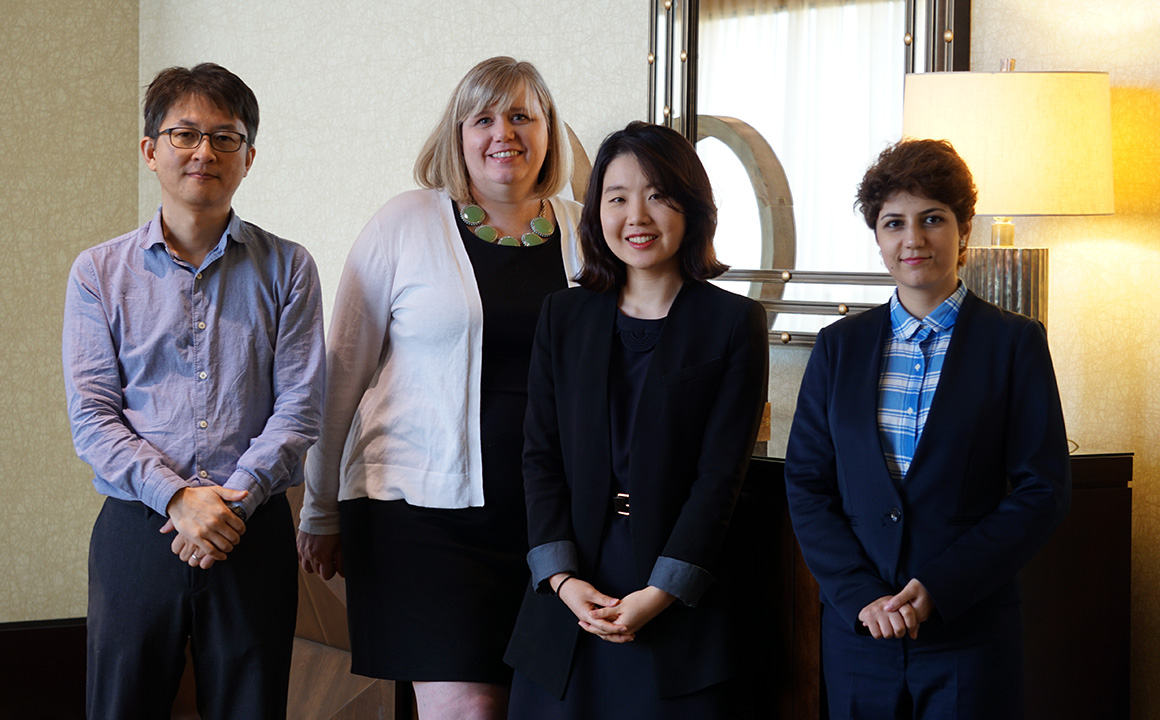 Four new students pursuing their Ph.D.'s in Hospitality Administration joined our Graduate Program earlier this semester, bringing our number of doctoral candidates to 15. Meet our third cohort of Ph.D. students from left, Wooseok Kwon, Marisa Ritter, Min Jung Shin and Maryam Charmchian-Langroudi.
Marisa Ritter … Originally from Dallas, Marisa has spent the past 20 years in key positions for hotels, catering and events. "I finally decided I wanted to get the education to back up my industry experience and, ultimately, teach and do research," said Marisa, who completed her master's degree here last May, and currently works for The Joe Barnhart Foundation. "Conveniently, Hilton College is both one of the top-ranked hospitality graduate schools and in my backyard, so the decision was easy." Under the guidance of Dr. Carl Boger, Marisa's research topic is weddings and event planning with an emphasis on consumer behavior and service expectations.
Maryam Charmchian-Langroudi … Dr. Boger is also working with Maryam, a student from Iran with a mission to promote tourism in her home country. "Iran is an immensely beautiful country, and I would love it if more people would put it on their list of places to visit," she said during graduate orientation this past August. Maryam received her MBA from the International Business School at the Universiti Teknologi Malaysia in Kuala Lumpur, and spent six years as a high school lecturer. Her research topic is value co-creation, and she also plans to go into consulting while working within the industry. So far, her experience at Hilton College has surpassed her expectations. "I think I made one of the best decisions of my life by becoming part of the Hilton College community," she said.
Wooseok Kwon … Wooseok hails from South Korea, and is working with faculty advisors Dr. Minwoo Lee and Associate Dean for Research and Graduate Studies Ki-Joon Back. He has completed coursework toward a Ph.D. in Food Service Management from Kyunghee University, and holds an MBA from the Graduate School of Business from Yonsei University. As a "numbers guy," Wooseok's research focuses on big data mining, business analytics, customer loyalty and service encounters. He is the owner of One Fine Day Coffee in Korea, and has worked to develop customer relationship management strategies for Outback Steakhouse, also in Korea. "I chose Hilton College because it is one of the best research-focused schools in hospitality management," he said. "Research in this area is indispensable, and Hilton College offers great potential because of its strong links to the industry."
Min Jung Shin … Also from South Korea, Min Jung has wanted to work in tourism since her sophomore year of high school in Seoul, and has also worked with leading hotels in Hong Kong. "As I traveled around the world, I realized that the hospitality industry is a key driver of socio-economic progress," she said. Min Jung received her MBA from Seoul National University, and has worked as a human resources analyst for Hotel Lotte Duty Free in Seoul. By researching consumer behavior and branding, she hopes to contribute to industry development. After being accepted into several Ph.D. programs in the United States, she ultimately chose Hilton College because of its emphasis in training for teaching competency and its world-renowned faculty, including her advisor, Dr. Back. 
Visit our directory for a list of all our Ph.D. students, their research topics and faculty advisors.
(Story & Photo: Pearl Cajoles)