Officers Club Becomes a Reality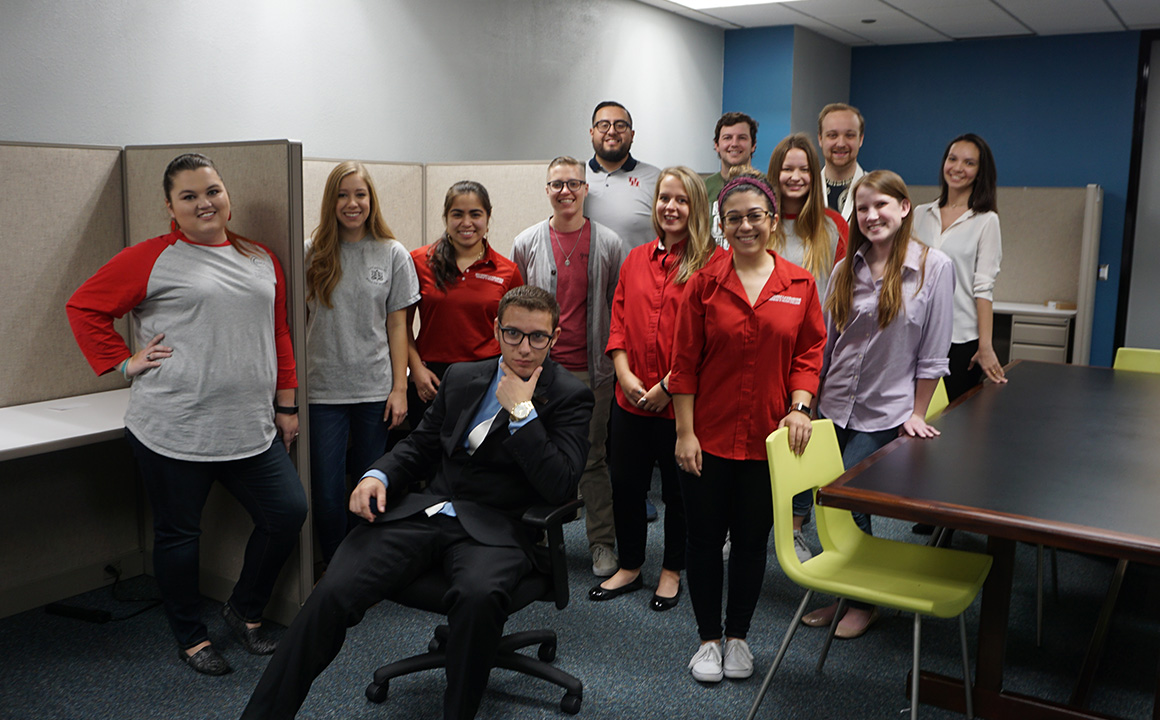 When the officers of Hilton College's 14 student organizations expressed the need for a permanent space to conduct official business, the Dean's Undergraduate Student Advisory Council proposed the idea to Dean Dennis Reynolds at the end of the spring semester. To the Council's delight, they had his full support!
"Our student leaders have needed a place to plan, collaborate and organize their activities for a long time, so this recommendation was perfect," Dean Reynolds said. "And with limited options, the area we all identified made sense for a lot of reasons. It also comes with the added responsibility of current officers maintaining this new space for the use of future officers."
With plans in the making to expand student spaces in the new Center for Student Success, the old student lounge on the first floor of the South Wing Lobby was converted to accommodate the growing needs of our student organizations. The room has been outfitted with a large conference table, 13 workstations, storage space, and plenty of room to set up for special events. Importantly, it allows all of our student organizations the opportunity to share ideas and work cohesively in a central location.  
The Council worked with Director of Facilities Michael Scott on the design, furniture and other logistics, and sought input from fellow students, faculty and staff to come up with an appropriate name for the new space. Since the room was for officers of our student clubs, calling it the "Officers Club" was the ideal fit.
"Michael and Dean Reynolds were very receptive when we showed them our concept, and they went above and beyond to help us," said Council Chair Adria Watson. "We had new paint, carpet, lighting, a new door and a new name – all before the first day of school! It all happened so quickly, and we can't thank everyone enough."
Going forward, the Council hopes the Officers Club will increase the visibility of student organizations, and inspire other students to become officers who can also use the space.
"Our main objective has always been to get as many students as possible involved with our student orgs, so that they can expose themselves to leadership opportunities," Adria said. "When we proposed the idea for our own space, we thought it was a dream. But with the Dean's support, the Officers Club is now a reality."
Door graphics and student org-related artwork for the walls is also in the works!
(Story & Photo: Pearl Cajoles)