Texas Food & Wine Experience: Part 2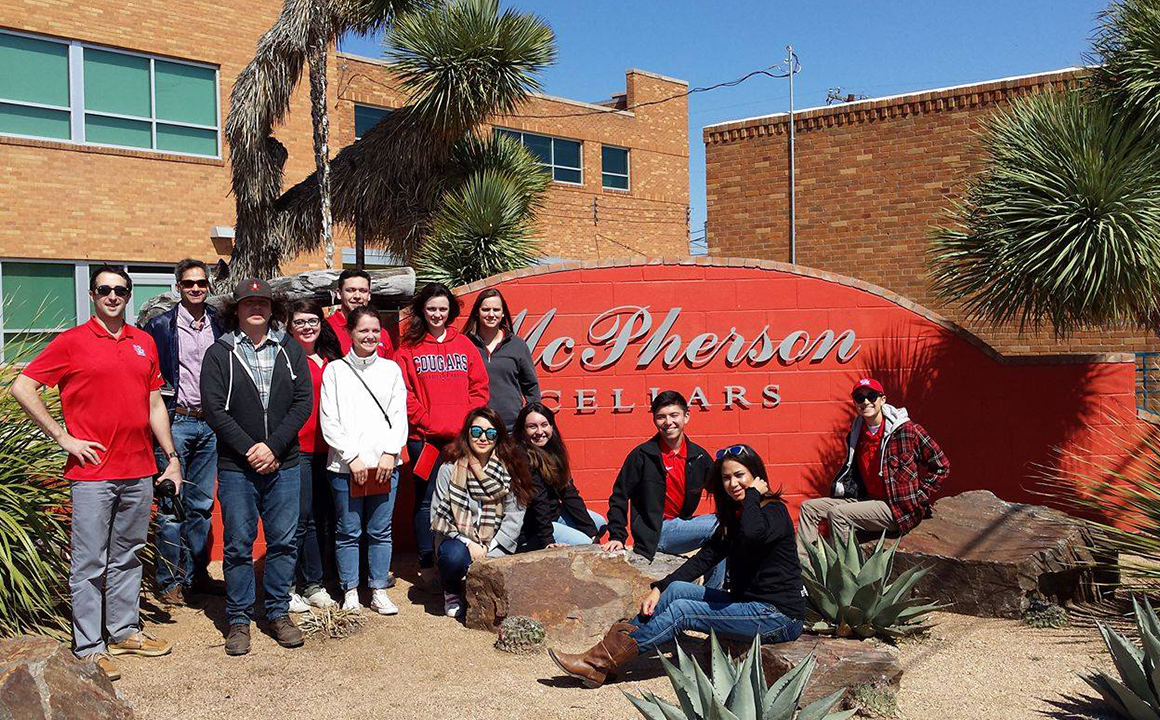 Last year, it was Texas wine and barbecue. This year, a dozen Hilton College students took a Spring Break road trip to the Texas High Plains and the Hill Country to learn about wine and steak. But they did more than just sip, taste and write a paper for class credit!
The brainchild of Assistant Professor Chris Taylor, the Texas Food & Wine Experience was created to give students a deeper understanding of the Texas wine industry. Before the trip, the students visited Pappas Steakhouse for a tour and a talk with the wine staff. Then, they visited Brennan Vineyards in Comanche; High Plains Winegrowers in Meadow; Becker Vineyards in Fredericksburg; McPherson Cellars and Lllano Estacado Winery in Lubbock; and Texas Custom Wine Works and Reddy Vineyard in Brownfield. They also went to Perini Ranch in Buffalo Gap to see firsthand what it takes to run an award-winning steakhouse.
With lessons from each stop, students learned about operating a successful winery; how wine affects the local restaurant and lodging industry; and how wine is produced and marketed – from vineyard to distributor.
"This was also an incredible opportunity for students to talk one-on-one and ask questions about the industry from the best wine growers in the state," said Dr. Taylor, who is director of the College's Beverage Management Program and Fred Parks Wine Cellar.
Thanks to this experience, Andres Carrasco said he found a new appreciation for Texas wine and that it opened his eyes to the scope of this billion-dollar industry.
"I would recommend this trip to anyone who wants to explore career opportunities in this field," he said.
Dr. Taylor plans to offer the class again next year, thanks to grants from the Fred and Mabel R. Parks Foundation and the Wine & Food Foundation of Texas, as well as support from Republic National Distributing Company. Cheers to our sponsors! (Photo: Courtesy of Dr. Chris Taylor)