Guests Break the Rules of Prohibition at the 44th Annual Gourmet Night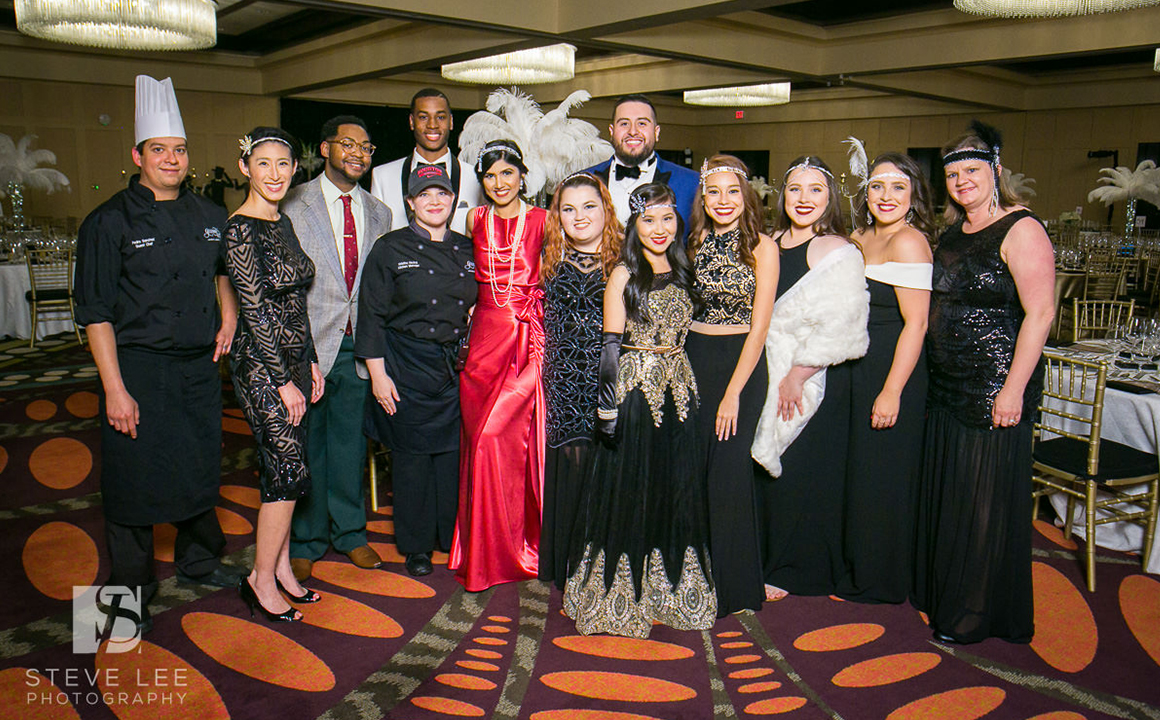 In a Jazz & Gin infused tribute to the 1920's, student managers for the 44th Annual Gourmet Night turned the Conrad Hilton Grand Ballroom into a spirited speakeasy as some 370 guests broke the rules of Prohibition and "raised their glasses to a new era." On April 1, the College's signature student-run event, which sold out in a record three days, ushered in "flappers and dandies" into the "library" that posed as a front for the festivities to come. As guests perused and bid on silent auction items that benefit scholarships, they sipped Prosecco and pineapple-infused gin, and noshed on inverted mac and cheese, "Bloody Mary" gazpacho and salmon tartare in sesame cones.
With the call to dinner, the wooden doors hiding the entrance to the Gourmet Night speakeasy opened to reveal a golden champagne diva and dancers who set the mood with their shimmies and shakes. Inside the secret speakeasy, white ostrich feathers, hydrangea bouquets, sparkling golden linens and candelabras took guests back in time, as Tianna Hall & The Houston Jazz Band provided a musical backdrop to the night's revelry. On the menu? Prohibition Parmesan Panna Cotta, Fancy Flapper Fish & Chips, Gastronomique Gin, and Bootleg Sous Vide Beef Tenderloin, followed by a decadent flourless chocolate cake with grand Marnier mousse and Morello cherry gelée. This fabulous five-course menu with equally amazing wine pairings was inspired and created by Guest Chef Pedro Sanchez of BraeBurn Country Club in collaboration with student chef and kitchen manager Kristina Heckel.
A swell shout-out to General Manager Sania Ahmed, her management team and the 300-plus student volunteers who made this year's event truly the bee's knees. And a special THANK YOU to Executive Director Erin Oeser Goodell who, after 13 years, is stepping down and turning over the mantle to Lecturer Alexis Hoey. In a special surprise following the parade of volunteers, Gourmet Night managers of years past showered Erin with hugs and congratulations for this unprecedented tenure.
"It's bittersweet to step away from this event I love so much – but it's time," said Erin, who was truly touched at the sight of her former managers entering the ballroom. "Gourmet Night is a year-long process of tears and triumphs and the managers involved have an uncommon bond that unites them for life. I'm honored to have been a part of this for so long."
Mark your calendars for next year's event on April 14, 2018. Tickets do sell out fast and will go on sale at the end of January! (Photo: Steve Lee Photography)