Eric's Club Panel Shares Inspiring Stories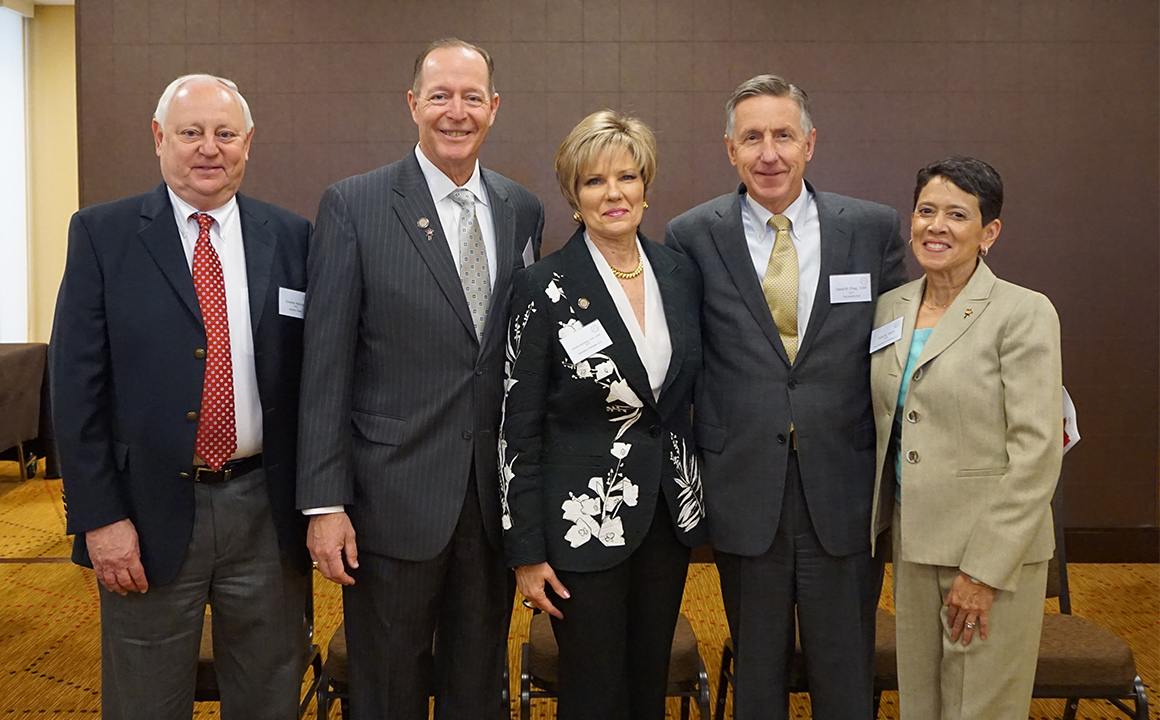 Each semester, during the Eric Hilton Distinguished Chair Alumni Series, members of Eric's Club come back to Hilton College to share with students the stories that have shaped their careers. For the 32nd lecture, held March 30 in Alumni Hall, the group broke from their tradition of featuring one lecturer and instead invited a panel of past Eric's Club speakers whose stories and successes have evolved since they last lectured.
The panel featured from left, Charles Warczak, CPA, CHA, CHTP ('75), financial consultant with NextGen Hotels; Robert D. "Bob" Cowan ('76), retired area managing director and GM of Omni Hotels & Resorts; moderator Dorothy T. Nicholson, CHA, CHSE ('77), president of Nicholson Interests, LLC; David B. Chag, CCM ('77), general manager and CEO of The Country Club in Brookline, Massachusetts; and Feliz M. Jarvis ('79), managing partner for Feliz Hospitality Consultants, LLC.
The panelists emphasized the importance of finding a mentor, making connections and maintaining relationships, finding balance between work and family, learning from successful people and following your passion. Immediately after the discussion, our panelists, along with other Eric's Club members, met with students for one-on-one Q&A sessions.
"Students who took advantage of this opportunity gained valuable insights into their future and had the chance to connect with possible mentors," Dorothy said. "We all learned from each other and enjoyed sharing our different perspectives."
Mark your calendars for the next Eric's Club lecture slated for Thursday, November 9, at 10 a.m. in Alumni Hall. The next featured speaker is Joe Bendy, CCM, CCE ('89), chief operating officer and GM of the River Oaks Country Club.
Be there to be inspired! You never know when you'll find your next mentor among this distinguished group of alumni! (Photo: Pearl Cajoles)