HLAGH-UH Chapter Meets Texas Lawmakers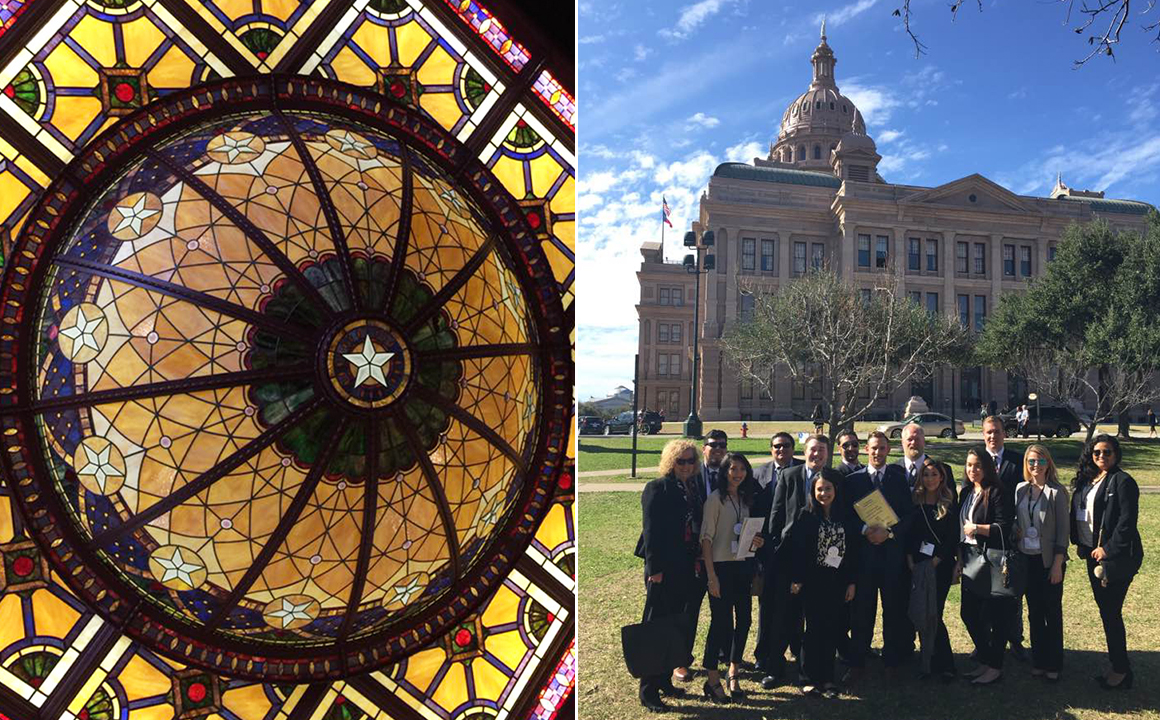 Fifteen members of the Hotel & Lodging Association of Greater Houston Cougar Chapter (HLAGH-UH) – plus three students from our San Antonio campus –  hobnobbed with state legislators during the 2017 Hotel and Tourism Industry Converge on the Capitol, held Feb. 16 in Austin. The biennial event, put on by the Texas Hotel & Lodging Association in partnership with the Texas Travel Industry Association, gives industry professionals a chance to meet their state legislators and have their voices heard regarding the issues affecting the tourism industry.
First on the agenda was a briefing about the priorities for the 2017 legislative session. Then, the students had the opportunity to meet face-to-face with the state legislators from their home districts. In those meetings they had discussions about promoting the start of the school year to the fourth Monday in August, hotel tax allocation for tourism, hotel and convention purposes, and why the state should fully fund tourism promotion and advertising. After their time at the capitol, the students also networked with hoteliers as they toured some of Austin's finest hotels: The Driskill (left), Hyatt Regency, JW Marriott and Omni Barton Creek Resort & Spa.
"The Converge on the Capitol was a great opportunity for our students to participate in the legislative process. There were more than 800 hoteliers and industry professionals in attendance, including many of our own recent Hilton College alumni," said Lecturer and HLAGH-UH Faculty Advisor Cathy Cheatham. "A poll was taken after our return, and the students unanimously voted that this was a worthwhile trip. All recommended that future members of this student chapter attend this event."
Instructional Assistant Professor Tucker Johnson, Hilton College-San Antonio faculty advisor for students involved with the San Antonio Hotel & Lodging Association, also accompanied the group. He enjoyed watching the interaction among our students from Houston and San Antonio, especially since they have so much in common.
"Students from both campuses share similar goals, attitudes and overall friendliness. It is exciting to watch them take advantage of opportunities like this," he said. (Photos: Courtesy of Cathy Cheatham)