DSA News
August 03, 2023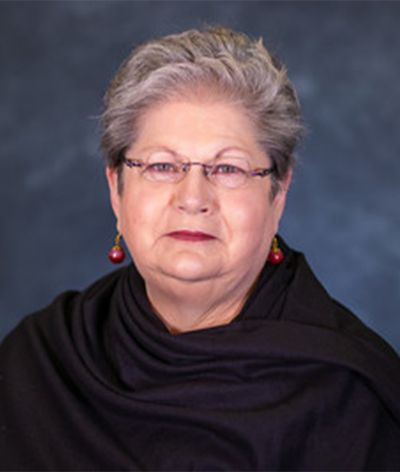 After a remarkable 29-year journey with the University of Houston (UH) and the last seven in the Division of Student Affairs, Georgeann Smith has bid farewell to her illustrious career, retiring as the executive director of business services. Throughout her tenure, Georgeann has left an indelible mark on the university, not only through her leadership and expertise but also through her profound dedication to the growth and success of her colleagues and student employees.
A Journey Begins: From Music Education to Oil & Gas
Georgeann's journey into the world of education and administration began in 1977 when she graduated from the University of Houston with a bachelor's in music teacher education. At UH, she also received an opera scholarship, which highlighted her exceptional talent as a musician and performer.
After graduation, Georgeann taught choir at South Houston High School from 1977 to 1980. While her passion for music remained unwavering, she eventually transitioned into the field of Accounting in Oil & Gas Services in 1980. Demonstrating her commitment to continuous improvement, she pursued an MBA in Information Systems, further enhancing her skill set.
An Ascending Career: From Oil & Gas to University of Houston
From 1982 to 1993, Georgeann made a significant impact in various Oil & Gas Services companies, where she served as a software implementation leader and user trainer. Her proficiency in both technology and business operations set the stage for an exceptional career ahead.
Georgeann joined the University of Houston in 1994 when she was hired as the department business administrator for KUHF. Her talent and dedication did not go unnoticed, and in 1999, she was promoted to college administrator, overseeing both KUHF and KUHT and taking responsibility for Public Broadcasting Business Operations and IT departments.
Leading the Way: From Broadcasting to Student Affairs
With each step, Georgeann's leadership capabilities grew stronger. In 2006, she was promoted to the finance & business operations director for UH Public Media, further solidifying her expertise in handling business operations and financial matters in a large organization.
In 2012, she took on a new role as the college administrator for Facilities Management and University Information Technology (UIT), expanding her knowledge into new areas while still being an invaluable asset to the university.
A Beacon of Support in Student Affairs
In 2016, Georgeann's dedication to student success led her to the Division of Student Affairs & Enrollment Services (DSAES), where she served as division administrator. Her ability to adapt to new challenges and her strong work ethic earned her yet another promotion in 2019, this time as the executive director of business operations for DSAES.
In 2021, Georgeann's exceptional leadership was recognized once more, and she was appointed to her final position as the Executive Director of Business Services for DSAES. Her accomplishments and contributions to the university continued to grow, and she transitioned Business Services to Division of Student Affairs (DSA) on September 1, 2022, after Enrollment Services was realigned under the Office of the Provost.
A Multifaceted Talent: The Performer Within
Beyond her administrative excellence, Georgeann's passion for music and performance never waned. At Houston Public Media, she was an active member of the staff performing group, gracing many donor events at prestigious venues such as the Menil, Bayou Bend, and the Rienzi. Whether performing arias, art songs, or Broadway hits, Georgeann brought joy and artistry to those around her.
A Legacy of Service: Giving Back to the Community
Georgeann's commitment to service extended beyond the university. She served on the Public Broadcasting Management Association board from 2002 to 2007, eventually chairing it in 2007-2008. Additionally, she contributed her financial expertise as the Chair of the Finance Committee for the United Nations Association International Choir in Houston from 2011 to 2013. Her dedication to music also led her to serve as the Treasurer of the Houston Boy Choir from 2011 to 2016.
A Proud Retrospect: Guiding Others to Success
As Georgeann Smith embarks on a well-deserved retirement, she reflects on her journey at the University of Houston with immense pride. Her passion for music, dedication to education, and commitment to supporting her colleagues and student workers have made her a revered figure on campus.
"I'm particularly proud of the employees and student workers that I have supported and coached through my years at the university," says Georgeann. "Watching them grow into positive, successful leaders continues to be a tremendous source of pride."
"Georgeann's unwavering commitment, exceptional leadership, and devotion to fostering growth in others have left a lasting legacy at the University of Houston. Her contributions to the Division of Student Affairs and the university will undoubtedly continue to inspire future generations of students and administrators," stated Dr. Daniel Maxwell, Interim Vice Chancellor/Vice President for Student Affairs.
Georgeann's husband and her youngest daughter are both University of Houston Alums. Georgeann has two daughters, five grandchildren, and two great-grandchildren. Congratulations to Georgeann on her retirement!