DSAES News
July 21, 2022
The Division of Student Affairs and Enrollment Services is proud to announce that Varselles L. Cummings has joined the Center for Diversity and Inclusion staff as the center's new Director. Varselles hails from Fresno, California. He earned his B.A. in Mass Media Communication from Wilberforce University. Wilberforce University is the first privately founded historically black college in the nation located in Wilberforce, Ohio. While at Wilberforce University he was involved in several co-curricular and extracurricular activities. He was involved in everything from the Student Government Association to Residence Life to Choir. His undergraduate involvement sparked his interest in the field of Student Affairs.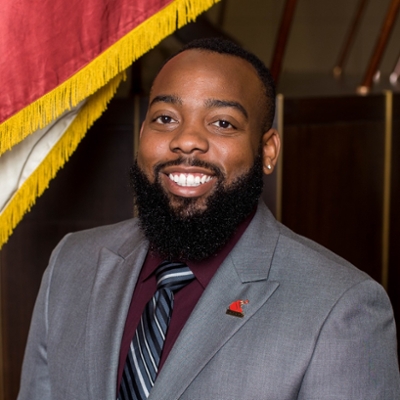 After his graduation in 2008, Varselles stayed at his alma mater and worked as an Admissions Counselor for two years. In 2012, Var received his Master's degree in Postsecondary Educational Leadership with a specialization in Student Affairs from San Diego State University (SDSU). While at SDSU, he worked in the Resident Education Office at San Diego State as an Assistant Residence Hall Coordinator. He also served as the Graduate Advisor for the Afrikan Student Union. In June 2012 Varselles relocated to Texas to work at Texas Christian University where he served as a Hall Director from 2012-2015. Most recently, Varselles served as a Program Advisor in the Department of Multicultural Services at Texas A&M University where he advised Aggie Black Male Connection (ABMC), Black Student Alliance Council (BSAC), and Southwest Black Student Leadership Conference (SBSLC).
"The great poet Tupac Shakur said, "I may not change the world, but I guarantee that I will spark the brain that will change the world." This quote has been integral to how I approach my role as an educator and Student Affairs professional. I am excited about the possibility to spark the brain of world changers at the University of Houston as the Director of the Center for Diversity and Inclusion. Serving in this capacity will allow me to continue developing students and professional staff as well as advance my career goals as a Student Affairs professional. #GOCOOGS
Var has over 11 years of experience serving in various Student Affairs roles and is very excited to be the Director of the Center for Diversity and Inclusion and part of the University of Houston DSAES Student Life Team.
"Varselles brings a great vision and a proven track record in developing programs, services and partnerships related to the areas of diversity and inclusion for students and other stakeholders in the university environment. His background and experience from several other campuses will be invaluable as he leads the UH Center for Diversity and Inclusion, while also bringing a student-centered approach to working with students and student organizations in their pursuit of student success." said Keith T. Kowalka, assistant vice president for Student Affairs, UH.
Please join the Division of Student Affairs and Enrollment Services in welcoming Varselles to the University of Houston!
More about the Center for Diversity of Inclusion: The Center for Diversity and Inclusion (CDI) engages, empowers, and educates the highly diverse student population at the University of Houston by providing workshops, programs, student leadership opportunities, and brave space environments to promote cross-cultural communication and culturally-responsive practices that help diverse communities connect. The cultural competencies gained through CDI's programs facilitate a learning environment where UH constituents are better equipped to understand multiple perspectives, practices, and promote a culture of inclusion.